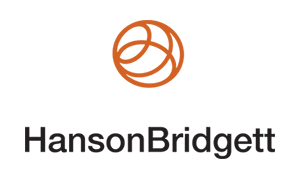 ---
Main Contacts Brandi HewlettDirector of Marketing
Hanson Bridgett LLP's Overview
Hanson Bridgett is a law firm with more than 150 attorneys in offices in San Francisco, Sacramento, the North Bay, the East Bay and Los Angeles. Serving clients since 1958, we are well known in Northern California and have earned a national reputation in many of our practice areas. Our diverse client list includes large national and global companies as well as many governmental entities, regional businesses and individuals. While we keep true to our California roots, our work increasingly takes us across state and national borders. We are a certified B Corp and are socially responsible members of our communities. Our firm is driven by a commitment to diversity, charitable giving, pro bono legal work and hands-on service.
Year this Office was Established: 1958
Number of Offices Worldwide: 5
Lawyers Worldwide: 164
Notable

Blogs
Briefly is designed to provide readers with updates on the latest litigation developments in California. Our focus is on general litigation as well as issues surrounding class actions, products liability, discovery, privacy, cybersecurity, and the professional practice of law.
© Hanson Bridgett LLP, 2017