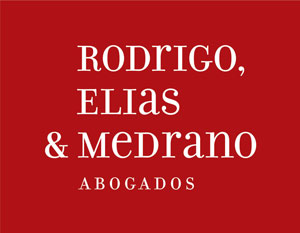 Rodrigo, Elias & Medrano Abogados
Legal Services | Peru
http://www.EstudioRodrigo.com
tel: +51 1 619 1900 | fax: +51 1 619 1919
Avenida San Felipe 758 | Lima | 11 | Peru
---
Rodrigo, Elias & Medrano Abogados's Overview

RODRIGO, ELIAS & MEDRANO ABOGADOS, established in 1965, is highly renowned and has been singled out by specialized legal publications as Chambers and Partners, Who's Who Legal, The Legal 500 Latin America, Latin Lawyer 250 and Client Choice Awards, as the leading firm in the country.

RODRIGO, ELIAS & MEDRANO ABOGADOS is a full-service firm, especially considered for its strong commitment to ethics, quality, efficiency and permanent innovation. Our firm's primary focus is oriented towards providing creative solutions to our clients, offering counsel in all areas of practice.

Over 150 fully qualified professionals guarantee our results, providing sound advice to our client's needs in a timely and cost-efficient manner. Each practice group has clearly become a market front-runner in its respective field, with an impressive strength in depth.

Year this Office was Established: 1965
Lawyers Worldwide: 130
Languages: Spanish, English, French, German, Italian and Portuguese.
Representative Clients
| | |
| --- | --- |
| ABB-Asea Brown Boveri; Airbus Industries; Allianz AG; Allianz Capital Partners; American Construction Equipment Company; Assurant Group; AT&T Latin America; Banco Bilbao Viscaya Argentaria - BBVA; Banco de Credito del Peru; Banco Europeo de Inversiones; Banco Santander Central Hispano; Banco Wiese Sudameris; Bankers Trust Company; Bear Steams; Barrick; Berlitz International; BHP Billiton; BNP Paribas; Boeing Commercial Airplane Group; British Aviation Insurance Group; British Telecommunications; C.E. Health, Ltd.; Cargill; Citibank; Compania Minera Antamina; COMSAT Corporation; Conagra Trading Company; Corporacion Andina de Fomento (CAF); Deutsche Bank; Disco Ahold; E.D. & F. Man; Ecolab Inc.; El Paso Natural Gas; Estee Lauder; ExxonMobil; Fluor Daniel; Fossil Inc.; General Electric; Global Crossing; Goldman Sachs; Goodyear; GTE Corporation; Hewlett Packard Financial Services; Hitachi, Ltd.; Hydro-Quebec International; Iberdrola Group; ING Bank; | Inter-American Development Bank (IDB); International Finance Corporation (IFC); International Lease Finance Corporation; J. Walter Thompson; JP Morgan; Kimberly-Clark; Korean National Oil Corporation; Lehman Brothers; Luz del Sur; Marriot International; Matsushita Electric Industrial; Mc Donalds Corporation; Merril Lynch & Co.; Microsoft Corporation; Mitsui & Co. Ltd.; Nediloyd Lines; Noranda; Oracle; Pegasus Aviation; Phelps Dodge; Placer Dome Latin America; Reckitt & Colman; Red Electrica Internacional; Repsol-YPF; Royal & Sun Alliance; Sempra Energy; Shell Prospecting and Development; Sodexho Alliance; Southern Copper Corporation; Standard Chartered Bank; Teck Cominco Ltd.; Telefonica del Peru; The Corporation of Lloyds; The Lego Foundation; The National Grid Company plc; Trafigura; Toyota; Turner Entertainment Co.; U.S. Aviation Underwriters; Unicapital; Unisys; United Artists Corporation; Viacom International Inc.; Xerox. |
Press
Rodrigo, Elias & Medrano Abogados appoints three new partners as of January 2016
Rodrigo, Elias & Medrano Abogados, January 2016

Rodrigo, Elias & Medrano Abogados is pleased to announce the promotion of three new partners as from January 2016. The new partners are Raúl Hidalgo, specialized in tax, Alejandro Manayalle, specialized in public services regulation and Jorge Trelles, who is an expert in banking and finance. The three lawyers have been part of the firm since they were interns and have been promoted because of their excellent personal and professional skills and their commitment to the organization...
Rodrigo, Elías & Medrano continues strengthening its teams by incorporating new professionals
Rodrigo, Elias & Medrano Abogados, January 2016

As part of the Firm's strategy, throughout 2015 and beginning 2016, Rodrigo, Elías & Medrano has continued strengthening its teams by incorporating seventeen new professionals (senior and junior associates) in areas such as Tax, Labor, Corporate, Mining, Litigation, International Trade and Customs, Intellectual Property and Public Law...
© Rodrigo, Elias & Medrano Abogados, 2016