Shepherd and Wedderburn LLP
Legal Services | Scotland
www.shepwedd.co.uk
tel: +44 (0) 1224 343 555 | fax: +44 (0) 1224 343 545
1 Berry Street | Aberdeen | AB25 1HF | Scotland
---
Main Contacts
Other Offices
Shepherd and Wedderburn LLP's Overview

Shepherd and Wedderburn is a leading UK law firm, with 63 partners and some 350 staff. We have offices in Edinburgh, Glasgow, London and Aberdeen. We provide corporate, commercial, public sector and private clients throughout the UK and abroad with a full range of legal services. Our client base includes not only large organisations, but also small and medium-sized enterprises, based both in the UK and increasingly further afield. Our approach is to acquire an in-depth understanding of our clients' businesses and the legal issues they face and to employ this knowledge in developing solutions-led advice.
Year this Office was Established: 2004
Lawyers Worldwide: 231
Languages: Farsi, French, German, Greek, Italian, Malay, Punjabi, Spanish, Urdu and Welsh
Representative Clients
The firm acts for corporate, commercial, public sector and private clients throughout the UK and abroad. Their impressive and expanding client base includes not only large, well-known organisations but also small and medium-sized enterprises, based both in the UK and increasingly further afield.
Clients include:-
Applus
Gamesa
Bord Gais Eireann
Covanta
Navitus Bay
Kyowa etc
Petroceltic International
RREEF
Aberdeen Asset Management
Alliance Trust
NAGE/Clydesdale Bank
Ministry of Defence
John Lewis
Amber Infrastructure
Baillie Gifford
Bowleven
British Land
Byzak
Chivas and Pernod Ricard
Cairn Energy Group
EEA/Leaf Clean Energy/Trading Emissions, Heineken
J Sainsbury's plc
London Development Agency
Mainstream Renewable Power
Numis Securities
The Royal & Ancient
Scottish Enterprise
ScottishPower
Sir Robert McAlpine
Taylor Wimpey
TEVA
The Actuarial Profession
The Miller Group



Professionals
Partners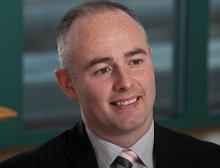 Paul DonaldPartner
Articles
Polls closed. Votes counted: What's ahead for the UK now?
Shepherd and Wedderburn LLP, June 2016

In the short term, the vote to leave the European Union doesn't signal an immediate change. It's business as usual for the UK and the EU. The EU Treaties and laws continue to apply without exception in the UK – as does the obligation to comply. The process of the UK exiting from the EU will, however, be the focus over the next few months. What's next? Challenging the referendum result?The European Union Referendum Act 2015 (Referendum Act) allows six weeks for parties to contest the number of ballot papers counted or votes cast in the referendum and to instigate proceedings for a judicial review...
The Risks of Sharing Data: Competition Law Considerations
Shepherd and Wedderburn LLP, March 2016

A company that obtains information from a number of competitors (for example, to create industry statistics or to provide price comparisons) should be careful not to facilitate the flow of confidential information between those competitors. Two recent cases highlight the potential competition law issues. We will then look at some practical considerations to keep in mind. AC TreuhandIn 2009 the European Commission fined 24 companies a total of over €173 million for their involvement in two illegal cartels in relation to plastic additives used as heat stabilisers. Since it was merely a consultant, AC Treuhand was not a participant in the heat stabilisers market...
Press
Execution in Counterpart – Shepherd and Wedderburn Give Evidence in Support
Shepherd and Wedderburn LLP, October 2014

As noted in our earlier article, The Legal Writings (Counterparts and Delivery) (Scotland) Bill was introduced into the Delegated Powers and Law Reform Committee of the Scottish Parliament. The Bill aims to introduce, amongst other things, execution in counterpart into Scots law. The Bill is currently at Stage 1 of the Parliamentary process and since its introduction the Committee has received written evidence from a number of parties in the legal sector, both north and south of the border. At the end of September Paul Hally and Dr...
Shepherd and Wedderburn acquire Scottish law firm,Tods Murray
Shepherd and Wedderburn LLP, October 2014

Shepherd and Wedderburn has today acquired out of administration the business and assets of Tods Murray, the Scottish law firm whose history spans 158 years. Tods Murray partners have agreed that the arrangement will preserve the maximum number of jobs and ensure continuity of service to clients. The arrangement will result in both an increased projected turnover and headcount at Shepherd and Wedderburn. Stephen Gibb, Chief Executive of Shepherd and Wedderburn stated: "We will be welcoming many new colleagues into our team, as part of Shepherd and Wedderburn...
© Shepherd and Wedderburn LLP, 2016