WSG Blog
2014 Annual Meeting Sneak Peek

The WSG 2014 Annual Meeting hosted by Deacons, being held in Hong Kong at the InterContinental Hotel is quickly approaching. We are very excited to feature our guest speaker, Mr. Tony Williams, Principal, Jomati Consultants LLP, the leading UK based international legal management consultancy. Mr. Williams will be speaking in regards to The Advance of Global Verein Firms - Threats and Opportunities. To what extent are the global verein structured firms a work in progress and what challenges do they face? Are they likely to succeed in meeting those challenges? What are the consequent threats and opportunities for independent firms?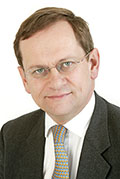 Mr. Williams has more than thirty years' experience in the legal profession, occupying senior management positions as well as direct client handling and fee earnings. Prior to establishing Jomati Consultants, Tony had almost 20 years' experience at Clifford Chance as a corporate lawyer, his last role as Worldwide Managing Partner. As principal of Jomati Consultants, Tony has worked for a range of international and domestic firms in the UK, US and Continental Europe, Asia and Australia. His advice covers such matters as management succession, partner appraisal and remuneration, peer reviews, firm strategy and its implementation including business planning and the positioning of law firms in their market.
For more information visit the online program.