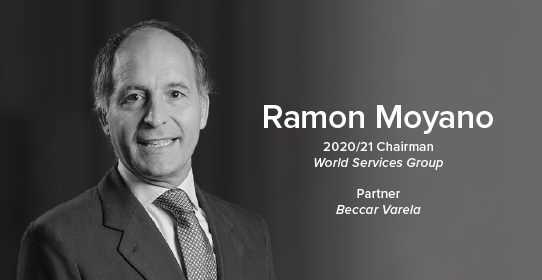 Foreword by Ramon Moyano
On behalf of all of World Services Group, I am delighted to welcome you to the third edition of our GC special reports, looking at the importance and impact of technology on the legal profession.
This issue of the report is indeed a timely one, as at no point in our professional lives has the profound effect of technology been more evident. Since the onset of the pandemic, private practice and in-house counsel alike have universally transitioned to new ways of working largely driven by technology, demonstrating on one hand the adaptability of the profession, while on the other, dispelling tired notions of lawyers as technological luddites.
As the legal leaders featured throughout the report illustrate, innovation - particularly as it pertains to technology - is apparent in every corner of the profession. Just as we saw in the first two editions, neither budget nor business size need to be obstacles to innovating, with much of the counsel-driven development originating from little more than an idea and an opportunity.
Yet as we celebrate the shared successes seen across the legal industry, we must remain cognizant that innovation is a journey on which we will never reach a final destination. And with evolution emerging from every corner, it would be all too easy to rest on our collective laurels instead of continuing to build on the progress made. So, while we look on at the innovators and their accomplishments detailed throughout the report, we should also consider what we can do to foster and facilitate the emergence of the next wave of visionaries, set to take the profession further still.
Here at World Services Group, we want to embody the change that we advocate for. As an organization, we have seen that investing in technology, talent and corporate sustainability best practices that foster social and economic development are essential elements for ongoing business success - all of which represent key commitments I have made for my tenure as Chairman in 2020-21. By taking a strategic approach to our proprietary digital platform, empowering emerging leaders across our network, as well as improving training and accessibility to technology for all our membership, World Services Group is committed to ensuring that we are properly prepared to capitalize on the growing wave of technological innovation, for the benefit of both our members and clients.
In closing, I'd like to thank all of those in the legal community who contributed their thoughts and insights as part of the research for this report. By sharing your own lived experiences along this journey, I have no doubt you will help to shape and inspire the coming generation of leaders and innovators, set to once again disrupt the idea of what it means to be a lawyer.
Ramon Moyano
Chairman
World Services Group

Partner
Beccar Varela