TRENDING TOPIC
27 December, 2018
Did you Know? 'Tis the Season Around the World
Traditions link us to our past, and create community. Check out some interesting rituals during the holiday season from around the globe.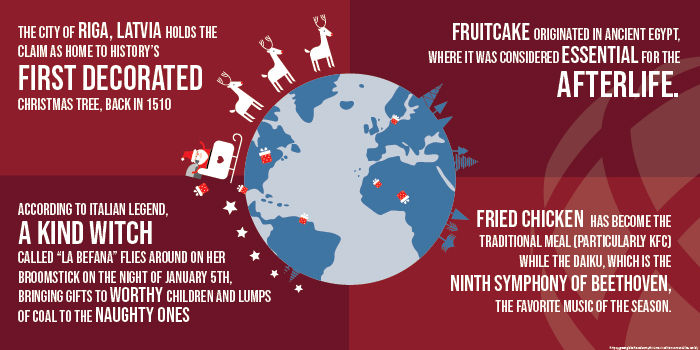 Mistletoe was held sacred by the Norse, the Celtic Druids, and Native American Indians, because it remains green and bears fruit during the winter when other plants seem to die. Druids thought the plant had the power to cure infertility and nervous diseases, and to ward off evil.
People in Iceland will often exchange books on Christmas Eve, then spend the rest of the night reading them and eating chocolate. The tradition is part of a season called Jolabokaflod, or "The Christmas Book Flood." As a result, Iceland publishes more books per capita then any other country selling most of them between September and November.
Germans made the very first artificial Christmas trees, using dyed goose feathers to look like needles of a pine or fir tree.
Native to Mexico, the poinsettia was originally cultivated by the Aztecs, who called it Cuetlaxochitl ("flower which wilts"). The plant's brilliant red color symbolized purity for the Aztecs, and they often used the plant to reduce fever.
The tradition of tinsel, which was invented in Germany in 1610, is based on a legend about spiders whose web turned into silver when they were spun in a Christmas tree.
Spider webs are common Christmas tree decorations in Poland because, according to legend, a spider wove a blanket for Baby Jesus. Many Polish people consider spiders to be symbols of goodness and prosperity.
Source: https://greenglobaltravel.com/christmas-traditions-around-the-world/