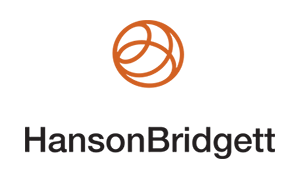 Hanson Bridgett LLP
Legal Services | California, USA
https://www.hansonbridgett.com/
tel: 877-342-6766 | fax: 415-541-9366
425 Market St., 26th Floor | San Francisco | California | 94105 | USA
---
Main Contacts Mary Enemark StoneDirector of Marketing and Business Development
Hanson Bridgett LLP's Overview
Hanson Bridgett is a law firm with more than 150 attorneys in offices in San Francisco, Sacramento, the North Bay, the East Bay and Los Angeles. Serving clients since 1958, we are well known in Northern California and have earned a national reputation in many of our practice areas. Our diverse client list includes large national and global companies as well as many governmental entities, regional businesses and individuals. While we keep true to our California roots, our work increasingly takes us across state and national borders. We are a certified B Corp and are socially responsible members of our communities. Our firm is driven by a commitment to diversity, charitable giving, pro bono legal work and hands-on service.
Year this Office was Established: 1958
Number of Offices Worldwide: 5
Lawyers Worldwide: 164
Notable

Articles
Applying for a Business License in 2020? You May Need to Consider Your Water Quality Impacts
Hanson Bridgett LLP, December 2019

With a new year comes changes. And one change is a law tying business license applications to California's water quality laws. Beginning January 1, 2020, Senate Bill 205 will require that certain applicants for either a new business license or a renewal from cities or counties show that they are complying with the federal Clean Water Act and California's Porter-Cologne Water Quality Control Act...
Final Opportunity Zone Regulations Released
Hanson Bridgett LLP, December 2019

On December 19, 2019, the U.S. Treasury Department and the IRS issued final regulations (T.D. 9889), which provide much-anticipated guidance on tax-favored qualified opportunity zone investments. The 544-page regulation package generally retains the same approach and structure of the proposed regulations issued in October 2018 and April 2019 (prior Hanson Bridgett analysis available). The final regulations were designed to "make the rules easier to follow and understand," but also include many taxpayer-favorable changes and additions. The Treasury Department also posted a series of helpful FAQs highlighting certain differences between the proposed and final regulations...
Press
Hanson Bridgett Announces New Partner Class
Hanson Bridgett LLP, January 2020

January 9, 2020 (SAN FRANCISCO, CA) – Hanson Bridgett is pleased to announce the elevation of Samir Abdelnour, Liza Bunker, and Natalie Wilson to partnership, effective January 1, 2020. "Through their hard work, tremendous dedication and boundless enthusiasm, these talented attorneys have earned well-deserved promotions. Their meaningful contributions have been a great asset to our clients, yielding favorable results and impressive accomplishments," said Managing Partner Andrew Giacomini. We are immensely proud of their high quality work and are excited to welcome them to the partnership and continue reaching new heights with them...
MMAC Sells Select Assets to DionyMed for $19.067 Million
Hanson Bridgett LLP, July 2019

July 24, 2019 (SAN FRANCISCO, CA) – MM Esperanza 2 LLC, doing business as "MMAC," has completed the sale of select assets, including its undeveloped 1.83 acre Los Angeles real estate parcel, to DionyMed Brands (CSE: DYME) (OTCQB: DYMEF). Under terms of the acquisition, DionyMed paid MMAC US$13.067 million in cash and issued US$6 million in DionyMed Series A Multiple Voting Shares...
Blogs
Briefly is designed to provide readers with updates on the latest litigation developments in California. Our focus is on general litigation as well as issues surrounding class actions, products liability, discovery, privacy, cybersecurity, and the professional practice of law.
© Hanson Bridgett LLP, 2020