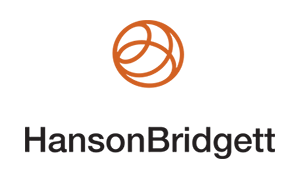 Hanson Bridgett LLP
Legal Services | California, USA
https://www.hansonbridgett.com/
tel: 877-342-6766 | fax: 415-541-9366
425 Market St., 26th Floor | San Francisco | California | 94105 | USA
---
Main Contacts Mary Enemark StoneDirector of Marketing and Business Development
Hanson Bridgett LLP's Overview
Hanson Bridgett is a law firm with more than 150 attorneys in offices in San Francisco, Sacramento, the North Bay, the East Bay and Los Angeles. Serving clients since 1958, we are well known in Northern California and have earned a national reputation in many of our practice areas. Our diverse client list includes large national and global companies as well as many governmental entities, regional businesses and individuals. While we keep true to our California roots, our work increasingly takes us across state and national borders. We are a certified B Corp and are socially responsible members of our communities. Our firm is driven by a commitment to diversity, charitable giving, pro bono legal work and hands-on service.
Year this Office was Established: 1958
Number of Offices Worldwide: 5
Lawyers Worldwide: 164
Notable

Articles
Ninth Circuit Rules ERISA Pension Plan Must Pay Survivor Benefits to Registered Domestic Partner
Hanson Bridgett LLP, June 2019

In a short, unpublished opinion, the Ninth Circuit Court of Appeals ruled that an ERISA pension plan administrator should have treated a deceased participant's registered domestic partner as a surviving spouse and granted his claim for survivor benefits. The cased turned on the fact that the pension plan document specifically incorporated California law, which has long required that registered domestic partners be given the same rights, protections, and benefits under law as are granted to spouses. The terms "spouse" and "married" were not defined in the plan document...
California Appellate Court Affirms Large Punitive Damages Award Against Insurer
Hanson Bridgett LLP, June 2019

Last month, a California appellate court rejected an insurer's arguments and affirmed a large punitive damages award against the insurer, providing a fresh roadmap for policyholders to obtain such relief when insurers engage in certain bad-faith practices. Mazik v. GEICO General Insurance Company (2019) 35 Cal.App.5th 455 involved a policyholder's claim for the $50,000 limits under his underinsured motorist policy. After a jury found that GEICO had unreasonably delayed paying those limits, it awarded the policyholder $313,508 in compensatory damages and $4 million in punitive damages...
Press
MMAC Sells Select Assets to DionyMed for $19.067 Million
Hanson Bridgett LLP, July 2019

July 24, 2019 (SAN FRANCISCO, CA) – MM Esperanza 2 LLC, doing business as "MMAC," has completed the sale of select assets, including its undeveloped 1.83 acre Los Angeles real estate parcel, to DionyMed Brands (CSE: DYME) (OTCQB: DYMEF). Under terms of the acquisition, DionyMed paid MMAC US$13.067 million in cash and issued US$6 million in DionyMed Series A Multiple Voting Shares...
Hanson Bridgett Named to Working Mother's 60 Best Law Firms for Women, Inaugural Hall of Fame
Hanson Bridgett LLP, July 2019

July 17, 2019 (SAN FRANCISCO, CA) — Working Mother announced the 2019 Working Mother 60 Best Law Firms for Women, recognizing firms leading the industry in creating and leveraging best practices in retaining and promoting women lawyers. Hanson Bridgett has been selected for this year's list of top 60 firms—which includes firms ranging in sizes from 59 attorneys to 2,155 attorneys. The firm ranked 2nd overall for the percentage of women equity partners (38%) and 2nd overall for women associates (61%). This will be the 10th year in a row that Hanson Bridgett has been selected for this prestigious list...
Blogs
Briefly is designed to provide readers with updates on the latest litigation developments in California. Our focus is on general litigation as well as issues surrounding class actions, products liability, discovery, privacy, cybersecurity, and the professional practice of law.
© Hanson Bridgett LLP, 2019