Garrigues
Legal Services | Spain
www.garrigues.com
tel: 34 983 36 14 75 | fax: 34 983 36 14 75
Rua Areal, 6 | Vigo | 36201 | Spain
---
Main Contacts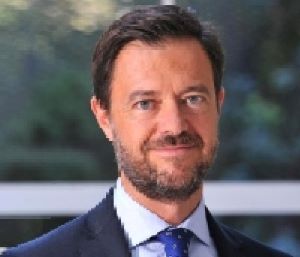 Rafael Calvo SalineroPartner
Offices
Vigo, Spain | Brussels, Belgium | São Paulo, Brazil | Las Condes - Santiago de Chile, Chile | Beijing, China | Shanghai, China | Bogotá D.C., Colombia | London, England | Col. Juárez – Mexico City, Mexico | Casablanca, Morocco | San Isidro - Lima, Peru | Warszawa, Poland | Lisbon, Portugal | Porto, Portugal | Alicante, Spain | Barcelona, Spain | Bilbao, Spain | La Coruña, Spain | Las Palmas de Gran Canaria, Spain | Madrid, Spain | Málaga, Spain | Murcia, Spain | Oviedo, Spain | Palma de Mallorca, Spain | Pamplona, Spain | San Sebastian, Spain | Santa Cruz de Tenerife, Spain | Seville, Spain | Valencia, Spain | Valladolid, Spain | Zaragoza, Spain | New York, New York
Garrigues's Overview
Garrigues is an international legal and tax services firm that provides business law advice in the main economic arenas of the global marketplace. Since its creation in 1941, the firm has been noted for its international outlook and innovative nature.

Our team is made up of two thousand people of twenty-four different nationalities who, under a single integrated management team and with the same quality standards, operate in thirteen countries across Europe, the Americas, Asia and Africa, through a well-established office and team structure. Additionally, Garrigues has international desks representing Asia-Pacific, France, Germany, India, Italy and the US.

All Garrigues professionals share the same hallmarks: empathy with the client, ongoing dedication to understanding client needs and strict compliance with ethical standards. These qualities, together with their broad experience, training and availability, make us one of the most prestigious and professional law firms in the industry.

Garrigues is one of the largest international law firms and is among the top law firms worldwide.


Languages: Spanish, English
Notable

Articles
COVID-19: Payments on Account and Depreciations for a Longer Period than the Maximum Period Established for Tax Purposes
Garrigues, September 2021

In the context of the current COVID-19 pandemic, new measures were approved to enable companies to increase their cash flows. Payments on account (FY2021) Taxpayers who are cooperatives or have obtained in the 2020 fiscal period a turnover up to the maximum limit set for their classification as medium-sized enterprises (i.e. EUR 50 million) are now allowed not to make the first and second payments on account when they verify that they will not obtain any taxable profits or the payment already made is enough to cover the estimated amount...
The Economy in the Post-COVID-19 Era: A Legal Perspective on the Accelerated Digital Transformation
Garrigues, June 2020

We analyze, from all areas of business law, the main digital and technological challenges that will face companies after the pandemic, and offer possible answers and legal solutions. The health crisis caused by the spread of COVID-19 has forced the majority of companies and organizations, of all sizes and across all industries, to accelerate -or implement in a very short period, where they were not already in operation - processes for the digital transformation of their ways of operating to allow them to continue with their activities as far as possible in the emergency situation, and to adapt to a change of habits among the public in general, and consumers in particular...
Press
Garrigues hires two new partners in Mexico
Garrigues, January 2016

Lawyers Gerardo Lemus and Santiago Chacón have joined Garrigues' Mexico office as partners to further consolidate the commercial and tax law practices. Gerardo Lemus, with over twenty-four years' experience, joins Garrigues' corporate/commercial law practice in Mexico from law firm Kuri Breña, Sánchez Ugarte y Aznar, S.C. An expert in corporate law, mergers and acquisitions, international finance, real estate law and telecommunications law, he is also well versed in economic competition matters. Gerardo has broad expertise in major acquisitions of shares and assets involving local and foreign companies, including private equity investment funds...
© Garrigues, 2021