MinterEllisonRuddWatts
Legal Services | New Zealand
http://www.minterellison.co.nz/
tel: +64 9 353 9700 | fax: +64 9 353 9701
PwC Tower, 15 Customs Street West | Auckland | 1010 | New Zealand
---
Main Contacts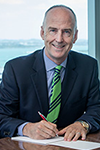 Lloyd KavanaghPartner
Offices
Auckland, New Zealand | Canberra, Australia | Darwin, Australia | Gold Coast, Australia | Sydney, Australia | Brisbane, Australia | Adelaide, Australia | Melbourne, Australia | Perth, Australia | Hong Kong, China | Beijing, China | Shanghai, China | London, England | Ulaanbaatar, Mongolia | Wellington, New Zealand
MinterEllisonRuddWatts's Overview
MinterEllisonRuddWatts is one of New Zealand's leading law firms, with offices in Auckland and Wellington. As a full-service law firm we advise our clients in a wide range of practice areas such as corporate and commercial law, mergers and acquisitions, competition and regulatory issues, finance, real estate, dispute resolution, public law, employment, and taxation.

Our lawyers work across industry sectors, specialist legal areas and offices, offering clients the benefit of their specialist expertise, industry knowledge and national support.

MinterEllisonRuddWatts was named New Zealand Law Firm of the Year at the Chambers Asia Pacific Awards in 2017 and again in 2020.

The firm is a member of the MinterEllison group, one of the largest full-service legal groups in the Asia-Pacific region, with more than 290 partners and 900 legal staff worldwide. Through an integrated network of offices in New Zealand, Australia, Asia, and the UK, our specialist lawyers support both local business and international companies with a range of services.
Number of Offices Worldwide: 2
Lawyers Worldwide: 200
Languages: English Spanish Arabic Cantonese French German Hindi Italian Korean Mandarin Maori Tongan
Notable
Articles
AML/CFT Act statutory review – Ministry of Justice calls for submissions
MinterEllisonRuddWatts, October 2021

Today, the Ministry of Justice (Ministry) released the consultation document for its statutory review of the Anti-Money Laundering and Countering Financing of Terrorism Act 2009 (AML/CFT Act). The Ministry has asked for submissions, or feedback through an online questionnaire, by 5pm on 3 December 2021. This consultation is a keystone component of that statutory review, which commenced on 1 July this year as required under s 156A(1) of the AML/CFT Act...
Can we vaccinate? Yes, we can.
MinterEllisonRuddWatts, October 2021

COVID-19 vaccinations are now on the list of topics to avoid at dinner parties (which are still virtual for those of us in Auckland). Globally, we have seen COVID-19 vaccinations create mixed emotions around civic responsibilities and bodily autonomy, and spark protests in breach of many "stay at home" orders. In New Zealand, the pressure is now on employers and private organisations to decide whether they will require their employees (and other workers) to be fully vaccinated against COVID-19. This is no easy task...
Press
Kainga Ora partners with leading banks for new shared ownership scheme for first home buyers
MinterEllisonRuddWatts, October 2021

With the support of two leading banks, Kāinga Ora has announced a new path to homeownership in New Zealand via a shared ownership scheme. As the country's house prices continue to skyrocket, and homeownership for many is pushed further out of reach, the new shared ownership scheme has been designed to help lower income families into homes where they cannot save a deposit. Under the new First Home Partner product scheme, Kāinga Ora will take an ownership share of the homes it helps families buy, and over time the new households would buy shares back to become homeowners. Leading law firm, MinterEllisonRuddWatts advised long-standing client Kāinga Ora on the scheme...
Stacey Shortall and Cathy Quinn recognised as leading legal influencers in power list
MinterEllisonRuddWatts, September 2021

MinterEllisonRuddWatts Partner Stacey Shortall and Consultant Cathy Quinn have again been recognised as leading legal influencers in New Zealand in this year's LawFuel's Power Lawyer List. The LawFuel Power List, in its fifth year of publication, is a list of the country's top 50 most powerful and influential lawyers. Former LawFuel Lawyer of the Year Stacey Shortall is recognised as a major influencer and philanthropic advocate as well as being an accomplished commercial lawyer. Stacey is regularly recognised and awarded for her leading legal expertise and as a change advocate in New Zealand...
© MinterEllisonRuddWatts, 2021