MinterEllisonRuddWatts
Legal Services | New Zealand
http://www.minterellison.co.nz/
tel: 64 4 498 5000 | fax: 64 4 498 5001
Level 17 | Wellington | DX SP20009 | New Zealand
---
Main Contacts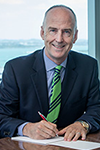 Lloyd KavanaghPartner
Offices
Wellington, New Zealand | Canberra, Australia | Darwin, Australia | Gold Coast, Australia | Sydney, Australia | Brisbane, Australia | Adelaide, Australia | Melbourne, Australia | Perth, Australia | Hong Kong, China | Beijing, China | Shanghai, China | London, England | Ulaanbaatar, Mongolia | Auckland, New Zealand
MinterEllisonRuddWatts's Overview
MinterEllisonRuddWatts is one of New Zealand's leading law firms, with offices in Auckland and Wellington. As a full-service law firm we advise our clients in a wide range of practice areas such as corporate and commercial law, mergers and acquisitions, competition and regulatory issues, finance, real estate, dispute resolution, public law, employment, and taxation.

Our lawyers work across industry sectors, specialist legal areas and offices, offering clients the benefit of their specialist expertise, industry knowledge and national support.

The firm is a member of the MinterEllison Legal Group, one of the largest full-service legal groups in the Asia-Pacific region, with more than 290 partners and 900 legal staff worldwide. Through an integrated network of offices in New Zealand, Australia, Asia, and the UK, our specialist lawyers support both local business and international companies with a range of services.
Notable

Press
MinterEllisonRuddWatts Advises TOMRA in Acquisition of BBC Technologies
MinterEllisonRuddWatts, March 2018

Norwegian-listed company, TOMRA has announced it has acquired BBC Technologies – a Hamilton based, but globally focused, developer and manufacturer of leading fruit sorting technology. The deal sees BBC Technologies' precision grading systems and innovative punnet and clamshell filling solutions for blueberries and other small fruits join TOMRA Food's own fruit inspection and grading technology portfolio. The deal follows TOMRA's acquisition of Auckland-based fruit sorting company Compac in 2016, and is aligned with the company's strategy to invest in well-managed businesses while adding to its capability...
Kraft Heinz acquires food and coffee business of Cerebos Pacific
MinterEllisonRuddWatts, November 2017

MinterEllison and MinterEllisonRuddWatts advised The Kraft Heinz Company on its acquisition of Cerebos Pacific Ltd's food and instant coffee business, including iconic brands Gravox, SAXA, Fountain and Foster Clark's. Cerebos Pacific is a Singaporean subsidiary of Japan's Suntory Beverage & Food. Under the agreement, The Kraft Heinz Company, via wholly-owned subsidiaries, will acquire Cerebos's subsidiary entities in Australia, New Zealand and Singapore for approximately $290 million AUD. Cerebos will retain its fresh coffee business in Australia and New Zealand which added to the complexity of the transaction...
© MinterEllisonRuddWatts, 2019