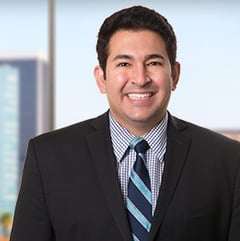 California-Southern, USA
Local Time: Wednesday 00:23
Practice Expertise
Areas of Practice
Appellate
Litigation
Appellate and Complex Motion Practice
Intellectual Property
Profile
James Azadian is a Member in Dykema's Los Angeles and Washington, D.C. offices and serves as the firm's West Coast Appellate Chair and co-leader of the nationwide Appellate and Complex Motion Practice. Mr. Azadian specializes in complex federal and state court commercial litigation raising cutting-edge and core business issues, the First Amendment to the Constitution, Article I of the California Constitution, and the application of California's anti-SLAPP statute in federal court. 
Mr. Azadian has served as counsel in more than 250 appeals and writ proceedings covering a wide variety of industries and subjects throughout the country. He frequently serves as special counsel to other law firms in preparing advocates for oral argument and in assisting with the preparation of appellate briefs as well as critical motions at the trial court level in cases where an appeal by either side seems inevitable or where the outcome of the case will impact an entire series of litigation for the client.  Mr. Azadian also frequently serves as embedded appellate counsel during trial, working to support Dykema's trial team and to ensure the case is best positioned for any forthcoming appeal.  In 2019 alone, he served as embedded appellate counsel in two major cases, helping guide both trial teams to jury verdicts in favor of Dykema clients.  He is widely published and frequently cited as a leading authority on appellate advocacy.
Mr. Azadian's regulatory practice spans the full spectrum of federal agency rule making, including regulations and Federal Advisory Committee resolutions, such as those promulgated under the U.S. Department of Agriculture and the U.S. Coast Guard/Department of Homeland Security. He also specializes in private company compliance with the 8(a) Business Development Program, as administered through the U.S. Small Business Administration. Additionally, Mr. Azadian has substantial experience in complex internal corporate investigations, high-profile congressional and U.S. Department of Justice investigations, and strategic media campaigns.
Mr. Azadian completed judicial clerkships with Ninth Circuit Judge Consuelo Maria Callahan and District Judge Ricardo Manuel Urbina of the United States District Court for the District of Columbia.  He serves as an adjunct professor, having taught courses in Appellate Advocacy at Pepperdine University School of Law, Law and Economics at UCLA, the Supreme Court Practicum at Northwestern University School of Law, and Legal Ethics at USC. Mr. Azadian is a member of the Advisory Board for the United States Court of Appeals for the Ninth Circuit, as appointed by Ninth Circuit Chief Judge Sidney Runyan Thomas. He also serves as a court-appointed mentor to civil practitioners through the Ninth Circuit Mentorship Program. Mr. Azadian served as the court-appointed Chair of the Ninth Circuit Appellate Lawyer Representatives, a group of approximately 20 appellate attorneys chosen as representing the very best in the field of appellate advocacy. He is the former Chair of the Orange County Bar Association's Appellate Law Section. In addition, he has served two terms as a court-appointed member of the Ninth Circuit's Advisory Committee on Rules of Practice and Internal Operating Procedures. Recently, the United States Court of Appeals for the Ninth Circuit appointed Mr. Azadian to serve on the Law Clerk Resource Group, a subsection of the Workplace Environment Committee, created in 2017 by Chief Judge Thomas to provide additional resources to help law clerks navigate their clerkship experience. Mr. Azadian serves on Pepperdine University School of Law's Board of Visitors and on the Board of Directors for the Boys and Girls Club of Laguna Beach.
Mr. Azadian has received numerous litigation accolades. The Los Angeles Business Journal included him in the 2020 Leaders Of Influence: Top Litigators & Trial Lawyers listing and "Thriving in Their 40's" listings. The Los Angeles Daily Journal and the San Francisco Daily Journal recently awarded him with its 2019 Top Appellate Reversals, for his work in leading Dykema's appellate team to secure the Ninth Circuit en banc court's June 2019 reversal of a three-judge panel's decision in a major appeal that defines the rules for settling nationwide class actions.  He has also been recognized as one of the Top 40 Under 40 Attorneys in California by the Los Angeles Daily Journal and the San Francisco Daily Journal, and as a Super Lawyers Rising Star in the field of Appellate Law each year since 2010. He was also recently recognized as one of Pepperdine University's inaugural 40 Under 40 Honorees. Additionally, he was elected to the American Registry as one of North America's Top Attorneys, in recognition for achieving consistently successful outcomes on appeal, and he was awarded the Chief Justice John Marshall Medal by the Supreme Court Historical Society for his excellence in appellate advocacy and his commitment to pro bono representation and the advancement of civic learning among youth. Mr. Azadian is also nationally recognized as one of The Best Lawyers in America®.
Bar Admissions

California, 2003
District of Columbia, 2007
Education
Pepperdine University School of Law, J.D., 2001 University of California, Los Angeles, B.A., 1997
Areas of Practice
Appellate and Complex Motion Practice
Articles
Meet our Firms and Professionals
WSG's member firms include legal, investment banking and accounting experts across industries and on a global scale. We invite you to meet our member firms and professionals.