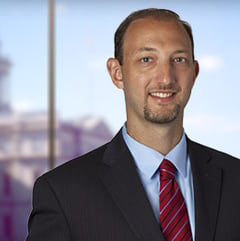 Practice Expertise
Gaming & Indian Law
Administrative Law & Regulation
Education
Energy Regulatory
Areas of Practice
Administrative Law & Regulation
Education
Energy Regulatory
Gaming & Indian Law
Government Policy & Practice
Health Care
Health Care Administrative Law & ...
Hospitality
Long-Term & Post-Acute Care Providers
Nonprofits & Tax-Exempt Organizations
Political Compliance, Elections & ...
View More
WSG Practice Industries
WSG Leadership
Energy Group - Member
Gaming/ Gambling Group - Member
Profile
Jason Hanselman advises clients in highly-regulated fields, such as energy, elections, education, and health care. He regularly represents those clients in complex business matters, legislative drafting on multiple jurisdictions, litigation before state and federal courts, and regulatory proceedings before administrative boards and commissions.
Energy
Mr. Hanselman regularly practices before the Michigan Public Services Commission and has advised and represented public utilities and other energy providers on complex matters involving rate increase requests, power supply and gas cost recovery, and certificates of public convenience and necessity for various types of facilities. Mr. Hanselman regularly represents Michigan's electric cooperatives on business, governance, and regulatory matters and serves as outside general counsel for Wolverine Power Marketing Cooperative. Mr. Hanselman assists clients in negotiating and drafting power purchase agreements and retail sales agreements.  Additionally, on behalf of several public utilities, he has facilitated franchises and consents with hundreds of municipalities in Michigan.
Elections
Mr. Hanselman also advises candidates, committees, and businesses regarding state and federal campaign finance law, election law, and compliance issues related to lobbying, ethics, and financial disclosure. He has advised Presidential campaigns, United States Senate campaigns, and gubernatorial candidates, as well as state house, senate, and judicial candidates. He also has advised a variety of local and statewide ballot questions and voter initiated proposals. Mr. Hanselman successfully defended President-Elect Trump and Detroit's incumbent mayor in two of the largest recounts in Michigan's history and has defended Michigan's Attorney General and more than a dozen state legislators against efforts to recall elected officials from office. He has also been appointed to serve as a Special Assistant Attorney General to represent the Michigan Secretary State in obtaining approval under the federal Voting Rights Act for Michigan's redistricting plan.
Gaming
Jason's experience related to gaming includes both commercial and tribal gaming projects in Michigan, Wisconsin, Indiana, New York, California, and Hawaii.  In the commercial gaming space, Jason has drafted gaming legislation in multiple jurisdictions, then represented casinos, suppliers, and vendors in obtaining licenses or license exemption determinations from state regulators.  He assisted Motor City Casino's owners with various issues, including gaming licensure, liquor licensure, bond financing transactions, and other matters on an ongoing basis, including representing the casino in its $1.1 billion acquisition financing in 2005.  His Indian gaming experience includes transactional work concluding business agreements between consultants, developers, management companies and tribes, negotiating tribal-state gaming compacts, and negotiating intergovernmental agreements involving tribes.  Jason's administrative law experience with regard to tribal gaming includes work on tribal fee-to-trust applications, the application of all of the Indian Gaming Regulatory Act's exceptions that permit gaming on "after-acquired lands," and approvals of tribal-state gaming compacts.  His Indian gaming financing work includes representing tribes, banks and investors and interacting with the National Indian Gaming Commission to obtain de facto approval of financing agreements.
Bar Admissions

Michigan, 2000
Education
University of Miami, J.D., cum laude
Journal of Psychology, Public Policy and Law, Student Editor
Michigan State University, B.A.
Areas of Practice
Administrative Law & Regulation
Education
Energy Regulatory
Gaming & Indian Law
Government Policy & Practice
Health Care
Health Care Administrative Law & Regulatory Appeals
Hospitality
Long-Term & Post-Acute Care Providers
Nonprofits & Tax-Exempt Organizations
Political Compliance, Elections & Campaign Finance
Professional Career
Professional Associations
Republican National Lawyers Association
Michigan Society of Association Executives
American Bar Association
Ingham County Bar Association Publications Committee
State Bar of Michigan, Publications and Website Advisory Committee
Michigan Association of School Boards Council of School Attorneys
Seminars
2007 - Republican National Lawyers Association Election Law School - "Importance of Roving Legal Teams and Legal Issues Facing Poll Watchers on Election Day"
2006 - Michigan Council of Charter School Authorizers Seminar - "Roles and Responsibilities of Charter School Boards"
2004 - Michigan Society of Association Executives Law Seminar - "Campaign Finance Law for Trade Associations"
2001 - Michigan Society of Association Executives 2001 Trade Association - "Legal Audits for Trade Associations"
Articles
Additional Articles
2007 - Ingham County Bar Association BRIEFS "Drawing Lines: Effect of Recent, Upcoming Elections on Redistricting"
2007 - Ingham County Bar Association BRIEFS "Privatizing Michigan''s lottery: Playing with numbers and Michigan''s financial future"
2007 - Ingham County Bar Association BRIEFS "Civic Resurgence: Record Turnout Takes Country and State in New Directions"
2006 - Ingham County Bar Association BRIEFS "2006 Ballot Proposals: A matter of life, death...for the doves"
2006 - Michigan Business Law Journal "Shuffle Up and Deal: A Primer on Charitable Gaming in Michigan"
2005 - Ingham County Bar Association BRIEFS "Politics as Usual: Don't Litigate - Legislate"
ICLE's Michigan Business Formbook, Nonprofit Entities, Second Edition
"Why Does A Contractor Need A Gaming License?", Construction Association of Michigan
Gaming Lawyers Website "http://www.gaminglawyers.net"
"Michigan Voucher Proposal and the Future of School Choice", with Richard D. McLellan and Sandra M. Cotter, presented by Richard D. McLellan on May 3, 2001 to the National Center for the Study of Privatization in Education, Teachers College, Columbia University
Meet our Firms and Professionals
WSG's member firms include legal, investment banking and accounting experts across industries and on a global scale. We invite you to meet our member firms and professionals.