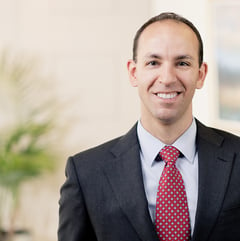 North Carolina, USA
Local Time: Tuesday 23:09
Practice Expertise
Commercial Litigation
Construction and Engineering
Business Litigation
Class Action, Multidistrict Litigation
Areas of Practice
Business Litigation
Class Action, Multidistrict Litigation
Commercial Litigation
Construction and Engineering
Consumer Products
Discovery and E-Discovery
E-Discovery
Energy Litigation
Environmental Compliance, Litigation and ...
Environmental Litigation
Financial Services Litigation
Labor and Employment
Litigation
Metaverse
Product and Mass Tort Litigation
Product Liability and Mass Tort Litigation
Retail
Retail and Consumer Products Litigation
View More
Profile
Ryan's diverse litigation experience with a wide range of businesses enables him to recognize risks and manage challenges faced by his clients.
Ryan represents many kinds of businesses—including national retailers, manufacturers, suppliers, financial institutions, and utilities—in a variety of commercial litigation, employment, and intellectual property matters. He regularly defends against class actions, product liability, and toxic tort claims. Ryan also has significant experience with internal investigations and routinely advises national clients on e-discovery and other electronic data storage issues.
Ryan has extensive oral argument experience, including at trial, and has handled multiple appeals. Always working to stay alert to legal trends and provide clients with practical resources, Ryan is an editor of the firm's Retail Law Resource blog, as well as a contributing author.
Relevant Experience
Retail and Consumer Products: Representing national retailers, manufacturers, and suppliers in complex multi-plaintiff and class action cases, including alleged property damage, environmental damage, and personal injury.
Retail and Intellectual Property: Representing national retailers in defense against alleged trademark infringement.
Antitrust: Representing national retailer in private litigation challenge to vertical merger.
Healthcare Products: Representing national conglomerate in consumer protection investigations concerning medical equipment.
Healthcare Services: Representing managed care organization in litigation concerning management and delivery of Medicaid disability and behavioral health services.
Environmental and Mass Tort: Representing major utility in defense again multi-plaintiff toxic tort claims, reaching favorable settlement.
Environmental and Regulatory: Representing national retailer and manufacturer in defense against putative consumer class concerning allegedly defective imported products, winning rare dispositive motion in federal court against claims brought under the Clean Air Act.
Financial Services and Consumer Lending: Representing financial institutions in litigation involving lending practices and federal and state consumer financial services laws, including the Truth in Lending Act, Fair Credit Reporting Act, Fair Debt Collection Practices Act, Telephone Consumer Protection Act, and state counterparts.
Financial Services and Fiduciary Obligations: Representing financial institution concerning its role as trustee, successfully arguing summary judgment motion disposing of breach of contract, fiduciary duty, and negligence claims.
Labor and Employment: Representing national retailer in wage-and-hour class action, reaching favorable settlement and avoiding publicity.
Government Compliance: Advising corporation concerning compliance obligations in response to North Carolina Department of Justice inquiry, avoiding fines and statutory penalties.
Internal Investigations: Coordinating confidential internal investigation into accounting practices for corporation following employee embezzlement.
Bar Admissions

North Carolina
South Carolina
Education
BA, Messiah College, Politics, magna cum laude, Boyer Scholar, 2002
Areas of Practice
Business Litigation
Class Action, Multidistrict Litigation
Commercial Litigation
Construction and Engineering
Consumer Products
Discovery and E-Discovery
E-Discovery
Energy Litigation
Environmental Compliance, Litigation and Defense
Environmental Litigation
Financial Services Litigation
Labor and Employment
Litigation
Metaverse
Product and Mass Tort Litigation
Product Liability and Mass Tort Litigation
Retail
Retail and Consumer Products Litigation
Professional Career
Significant Accomplishments
Representing a national building products distribution company in class action litigations and other multi-plaintiff suits involving product liability claims and allegations of construction and engineering defects.
Successfully obtained dismissal, leading to a favorable settlement, of a demand for punitive damages against a national buidling products distribution company based on claims of negligent hiring, retention, and entrustment.
Successfully argued motion for partial directed verdict, following a two-week jury trial, disposing of claims for breach of fiduciary duty and for an accounting brought against a non-profit corporation serving as trustee of a charitable trust.
Successfully argued summary judgment motion disposing of breach of contract, breach of fiduciary duty, and negligence claims against a national insurance company.
Successfully obtained dismissal of a federal lawsuit against a major financial institution based on allegations regarding overdraft fees.
Representing major electric utilities in defense against federal enforcement actions and suits brought by private citizen groups.
Representing a textile company before the North Carolina Business Court in a lawsuit involving breach of contract, unfair and deceptive trade practices, and trade secret claims.
Counseling major electric utilities regarding electronic data storage issues related to enforcement litigation.
Counseling a major financial services institution regarding data storage issues in response to government subpoenas and related civil litigation.
Representing a death-row inmate in habeas corpus proceedings in Alabama state and federal courts, where judge sentenced defendant to death despite a near-unanimous jury recommendation that defendant be sentenced to life imprisonment without parole.
Representing, by court-appointment, an indigent client in a Fourth Circuit appeal challenging allegations of criminal financial fraud.
Professional Associations
Mecklenburg County Teen Court Judge, 2016–Present
Participant in the Arts & Science Council's Cultural Leadership Training Program, 2017–18
Co-planner, 2014 View from the Bench CLE; Member, Bench Bar Liaison Committee, North Carolina Bar Association, 2013–Present
Member, Charlotte-Mecklenburg Community Relations Committee, Education Subcommittee, 2010–2012
Professional Activities and Experience
Selected as a Rising Star in Business Litigation, North Carolina Super Lawyers magazine, 2015–17. A description of the selection methodology can be found on Super Lawyers' webpage

Mecklenburg County Bar Volunteer Spotlight: Ryan Rich, Mecklenburg Bar News, June 2009
Articles
Additional Articles
Five Ways to Protect the Attorney-Client Privilege During Internal Investigations, Directors & Boards
3 Ways to Trim Self-Inflicted Harm in Internal Probes, Corporate Counsel
Meet our Firms and Professionals
WSG's member firms include legal, investment banking and accounting experts across industries and on a global scale. We invite you to meet our member firms and professionals.