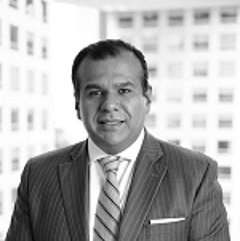 Sergio Barajas Perez
Partner

Practice Expertise
Foreign Trade, Customs and Regulatory
Areas of Practice
Foreign Trade, Customs and Regulatory
WSG Practice Industries
WSG Leadership
Trade and Investment Group - Member
Profile
Specialized in Foreign Trade, Customs, Regulatory and Tax-Customs issues, consultant and litigant, strategist in customs government affairs and advisor for Mexican Chambers and several organizations for customs cases.
He is member of the Strategic Committee of the Firm.
Sergio has more than 24 years of professional experience attending tax-customs, relevant cases, unfair practices in foreign trade, interpretation of treaties and agreements to which Mexico is Party, as well as administrative issues and optimizing operational instruments of the federal governments benefit to production and exportation.
He has given conferences in Mexico and abroad for multiple organizations on Customs and Foreign Trade matters.
Education
He obtained his law degree from Universidad Nacional Autonoma de Mexico (UNAM).
He has postgraduate studies in Tax Law, Administrative Law, Constitutional Defense, Commercial Law and Intellectual Property Law at the Universidad Panamericana.
He has law degree in "American Legal System" at the Universidad Panamericana, and "Unfair trade practice and safeguard actions " in the Mexican Bar Association.
Areas of Practice
Foreign Trade, Customs and Regulatory
Professional Career
Significant Accomplishments
He has been recognized by Chambers & Partners Global/Latin America, Legal 500, and "Best Lawyers" as one of the best foreign trade and customs lawyers in Mexico.
"Sergio Barajas of Basham, Ringe y Correa S.C. is highlighted by peers for his experience in both the public and private sectors. He has expertise spanning customs and tax matters. (Chambers & Partners Global-2019) Sergio Barajas is 'deeply experienced' in matters including customs and tariff work,
IMMEX (maquiladora) matters and anti-dumping, as well as negotiations, lobbying and litigation. He is currently the President of the Mexican Executives Foreign
Trade Institute (2016-20) and also has past experience at the Mexican tax administration service (SAT). (Legal 500-2019)
Sergio Barajas holds one of the most recognized foreign trade and customs practices in Mexico.
Professional Associations
Former President of the Mexican Executives Foreign Trade Institute (IMECE).
Former President in the committee of the regulatory matters for customs and foreign trade issues.
Former President in the committee of tariff classification
Articles
Additional Articles
He is director of the book "Expert in foreign trade and customs", as well as author of the chapters "Subsequent acts of the customs clearance" and "Customs defence", published by Thomson Reuters and IMECE.
He has been author of many legal-technical articles that have been published in specialized magazines.
Meet our Firms and Professionals
WSG's member firms include legal, investment banking and accounting experts across industries and on a global scale. We invite you to meet our member firms and professionals.