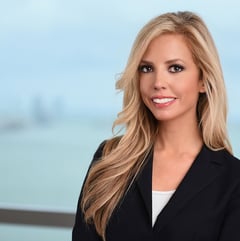 Florida, USA
Local Time: Tuesday 02:21
Practice Expertise
Business Litigation
Insurance Coverage Counseling and Litigation
Cyber Insurance
Insurance Coverage
Areas of Practice
Business Litigation
Cyber Insurance
Insurance Coverage
Insurance Coverage Counseling and Litigation
Cross-Border Insurance Coverage
Cyber Investigations and Privacy Litigation
Energy Sector Security Team
Litigation
National Security
Transactional Insurance
View More
Profile
Andrea finds risk management, risk transfer, and insurance recovery solutions for public and private companies.
Andrea is a partner in the firm's top-ranked insurance coverage practice where she co-leads the firm's cyber insurance practice. In 2021, she was one of two insurance coverage lawyers in the country to be named a "Rising Star" by The Legal 500 for Insurance: Advice to Policyholders. Andrea has been ranked by Chambers & Partners in Florida: Insurance for the last three years. Chambers USA quotes clients who say "[h]er approach is highly strategic and her execution is flawless. Her capacity for detail is amazing and her communication is timely and crystal-clear,"" that she "is technically astute and highly impressive," "very attentive to detail and very smart," and that they "have a lot of confidence in her abilities."
Andrea counsels clients on all types of insurance policies and coverage issues, with a focus on insurance for cyber risks (including ransomware, large scale data breach, and social engineering claims). She also has substantial experience advising clients on directors and officers liability and professional liability insurance issues; hurricane claims; and commercial general liability insurance disputes, including those arising out of construction defect claims, wrongful death, and pollution incidents.
Andrea helps clients proactively manage risk through insurance program audits; insurance due diligence for mergers and acquisitions; and contractual risk transfer in vendor contracts. When a claim occurs, she helps clients maximize insurance recovery by advising them through the claims process. She has also tried insurance coverage and bad faith cases to jury verdict and has handled appeals in state and federal courts across the country.
She is a prolific author and lecturer on insurance and risk management topics. She has presented at continuing education seminars, bar association conferences, and industry and client events nationwide.
Relevant Experience
Cyber Insurance
Serves as cyber insurance coverage counsel to several of the nation's largest asset management firms and private equity companies.
Representing critical infrastructure client as insurance coverage counsel with respect to internationally publicized cyber incident.
Works with clients to develop insurance protocols and procedures for cyber incident response plans and other disaster planning; participates in cyber tabletop exercises and provides executive, legal, and risk department education on cyber insurance and the claims process.
Counseled numerous clients on large cyber-related insurance claims arising out of social engineering and fraudulent transfer schemes, data breaches, cyber extortion, ransomware, and vendor cyber incidents.
Lead coverage counsel on over 20 multi-million dollar ransomware-related insurance claims.
Lead insurance coverage counsel for major hospitality client with respect to data breach; guided client through claims process from day zero of cyber breach through breach response and investigation, notification, and subsequent putative class action lawsuits for which insurer funded response and remediation, notification, defense costs in suits and settlement of suits.
Advised multinational retail client from day zero of cyber-attack through multi-million-dollar claims process.
Audited insurance programs for cyber risks for several major corporations, including Fortune 500 hospitality, retail, and financial services companies; private equity firms; start-ups; sharing economy clients; and energy industry companies.
Worked with client and broker to develop a comprehensive cyber insurance program for private equity investor and its over 50 portfolio companies, including drafting numerous manuscript amendatory endorsements that were accepted by insurer.
Represented client in coverage dispute arising out of three TCPA putative class action suits; obtained full insurer reimbursement for all defense costs and incurred and secured insurer funds for settlements.
Analyzed cyber insurance programs for global financial services, entertainment and gaming, technology, hospitality and retail clients; manuscripted policy language for endorsements; and negotiated with brokers and underwriters for improved language for renewal.
Litigation
Representing investment firm in insurance coverage action in New York Supreme Court Commercial Division wherein client is seeking to obtain recovery of defense costs and potential settlement or judgment amounts in foreign regulatory proceeding concerning the acquisition and restructuring of a financially distressed entity.
Representing several national hospitality and retail clients in coverage litigation throughout the country in order to recover losses arising out of COVID-19.
Representing major real estate developer in ongoing insurance coverage declaratory action in Florida federal court concerning subcontractor's general liability insurance coverage and OCIP coverage.
Representing major petroleum pipeline in insurance coverage action in federal court concerning recovery from pollution legal liability insurer for benefits owed arising out of environmental incident.
Part of team that preserved client's victory in $80 million insurance coverage dispute affirmed by Fifth Circuit Court of Appeals and for which certiorari was denied by Supreme Court of the United States.
Obtained jury verdict for policyholder in declaratory judgment action on post-loss condition compliance in seven-figure property insurance dispute.
Successfully resolved insurance coverage and bad faith litigation on behalf of major infrastructure construction client in coverage dispute arising out of subcontractor accident and insurer's failure to settle; wrote, argued, and won several key discovery and dispositive motions prior to settlement.
Represented client in seven-figure insurance coverage litigation under builder's risk policy over losses arising out of Hurricane Charley; won several motions in trial court before ultimately settling.
Represented individual clients in insurance recovery and bad faith action in Florida state court arising out of seven-figure benefits due under variable life insurance policy; prevailed on several key motions before settling.
Successfully resolved inverse condemnation and slander suit brought by aviation client through consent judgment and assignment of rights to pursue defendant's non-defending insurer; brought coverage suit against non-defending insurer, which was ultimately settled.
Drafted several insurance coverage appellate briefs, opposition briefs, and amicus briefs, including to Florida's Third District Court of Appeals, Florida's Fourth District Court of Appeals, Florida's Fifth District Court of Appeals, the Eleventh Circuit Court of Appeals, the Florida Supreme Court, the Fifth Circuit Court of Appeals, the Fourth Circuit Court of Appeals, and several state supreme courts.
While in law school, served as a clerk to the Colorado Office of the Attorney General: Appellate Division and a law clerk in the Colorado Governor's Office of Legal Counsel.
Claims
Lead counsel to a global private equity firm and all of its portfolio companies on insurance coverage for COVID-19 related losses.
Advising several national retailers and hospitality companies on coverage for riot and civil commotion losses and guiding these companies through the claims process.
Serves as coverage counsel for several nationally known retailers; advised clients on coverage for business interruption and contract losses arising out of natural disasters (sinkholes, collapses, fires, and hurricanes) and cyber events.
Serves as outside coverage counsel for nationally known residential real-estate developer and property management firm; representative experience includes successfully resolving coverage disputes and obtaining insurance funding for settlement of underlying wrongful death, bodily injury, property damage and construction defect suits; negotiating with crime and fidelity insurer to recover first party losses.
Advised major health care client on coverage under D&O and Errors and Omissions (E&O) policies for multidistrict litigation alleging violations of federal and state antitrust laws; successfully resolved insurance dispute through ADR.
Represented luxury residential real estate developer in coverage dispute arising out of significant delay to project caused by Hurricane Irma; successfully resolved coverage dispute with builder's risk insurer.
Successfully resolved numerous "large loss" property damage and business interruption claims through alternative dispute resolution, including claims involving 100+ insured locations.
Successfully resolved large loss first party property dispute arising out of sinkhole loss in Central Florida after filing Florida Civil Remedy Notice of Insurer Violation.
Advised clients through claims process under D&O, E&O and other professional liability, employment practices (EPLI), property, business interruption, commercial general liability (CGL), pollution legal liability (PLL), cyber (including privacy and security, reputation management, network interruption, cyber extortion, technology E&O and other cyber-related coverages), crime, fidelity, and other insurance policies.
Transactional Insurance Advice, Policy Audit, and Counseling
Conducted comprehensive insurance audit to identify coverage issues and gaps in insurance program (including captive policies) for nonprofit health insurer serving over four million members.
Conducted coverage analyses of publicly traded global travel company's Directors and Officers Liability, Side-A Directors and Officers Liability, Employment Practices Liability, Fiduciary Liability and cyber insurance program and recommended manuscript endorsements and other changes for renewal.
Completed insurance due diligence for several major transactions, including $3.5 billion energy industry acquisition.
Serves as coverage counsel for national franchise food service company; responsibilities include: providing advice on indemnity agreements and insurance requirements in contracts with third parties, representing client in coverage negotiations with insurers over defense and indemnity obligations under liability policies, assisting client with claim presentation and recovery of property damage and business interruption losses arising out of sinkholes and hurricanes, and analyzing client's insurance program for gaps in coverage in preparation for renewal.
Regularly advises clients on additional insured, indemnity, and required insurance provisions in vendor contracts and represents clients in negotiations with counterparties.
Bar Admissions

Education
BS, University of Miami, Communication, Dean's List, 2008
Areas of Practice
Business Litigation
Cyber Insurance
Insurance Coverage
Insurance Coverage Counseling and Litigation
Cross-Border Insurance Coverage
Cyber Investigations and Privacy Litigation
Energy Sector Security Team
Litigation
National Security
Transactional Insurance
Professional Career
Professional Associations
Co-Chair, ABA Section of Litigation: Insurance Coverage and Litigation Committee Hurricane Task-Force, 2017 through present
Member, ABA Standing Committee on Disaster Response and Preparedness, 2016 through 2019
Member, ABA Cybersecurity Task Force, 2017 through 2018
Member, ABA Tort Trial & Insurance Practice Section and Section of Litigation, 2012 through present
Member, ABA Section of Litigation: Insurance Coverage Litigation and Young Advocates Committees, 2012 through present
Professional Activities and Experience
"Rookie of the Year," Greater Miami Chamber of Commerce HYPE Awards, 2017
Articles
Additional Articles
The Arrival of Hurricane–and College Football–Season Underscores the Importance of Having Event-Cancellation Insurance in Place
Fear of the Unknown Cause of Contamination, Food Safety Magazine
The Privilege of Cooperation: What Insurers and Insureds Need to Know About Preserving the Privilege, FC&S Legal
The First 60 Days Post-Irma Are Critical to Your Insurance Recovery, Daily Business Review
Your Liability Insurer May Be Obligated to Provide a Defense in the Chapter 558 Process, Daily Business Review
Examining Event Cancellation Coverage As COVID Lingers, Law360
The Cyber Threat: Is Your Business Adequately Covered for a Cyber Event?
Ensuring Equity in Private Equity Insurance Coverage: The Top 5 Coverage Issues Private Equity Investors Should Consider, Bloomberg BNA Securities Regulation & Law Report
Delaware Court Weighs In on the CID Coverage Debate
Hurricane insurance claims: key causation and coverage issues, WestLaw Insurance
Harvey Reminds South Florida to Review Insurance Coverage Before Irma, Daily Business Review
Harvey Reminds South Florida to Review Insurance Coverage Before Irma, The American Lawyer
Ensuring Adequate Coverage for 3D Printing, Sharing Economy and Other Emerging Industries
Ensuring Equity in Private Equity Insurance Coverage: The Top 5 Coverage Issues Private Equity Investors Should Consider, Bloomberg BNA Mergers & Acquisitions Law Report
Key Insurance Considerations in a Record Hurricane Season, Risk Management
The Disparagement Dilemma: Insurance Coverage for the Defense and Indemnity of Product Disparagement Claims, Corporate Counsel
Florida Supreme Court: When It Comes To UM Damages Verdicts And Bad Faith, "What Is Good For The Goose Is Good For The Gander," FC&S Legal
Lessons Learned from the Storms of 2017, ABA's Insurance Coverage, Vol. 28, Issue 3
OFAC Cyber Ransom Guidance Has Insurance Implications, Law360
Cyberattacks Lead to Increased Scrutiny: How Can Companies Stay Ahead of the Curve?, Daily Business Review
Guest Post: Court Requires Insurers to Advance Insureds' Defense Costs, The D&O Diary
Examining the Restatement of the Law, Liability Insurance, Risk Management Magazine
After Matthew, The Insurance Storm Begins, Daily Business Review
Energy industry: Is Your Insurance Sufficient to Handle a Major Cyber Event?, Electric Light & Power
Riot-Related Damage, Income Losses Covered Under Most Business Owners' Policies, Daily Business Review
E-Discovery's Threat to Civil Litigation, 63 Rutgers L. Rev. 521
Insurance Tips For Mitigating DOJ Cyber Initiative Risks, Law360
Decision: Underwriting Discovery Is Not Categorically Prohibited in Insurance Coverage Cases, Daily Business Review
With Zika in South Florida, Questions Remain About How Insurance Can Help, Daily Business Review
Ensuring Your Business Has Adequate Insurance Coverage Before A Hurricane Strikes
A Young Lawyer's Guide to Navigating Discovery in Coverage and Bad Faith Disputes, ABA Section of Litigation
Florida Court Finds Fact Issues as to Insurer's Liability for Excess Judgment, American Bar Association Section of Litigation: Insurance Coverage Case Notes
Damages Available for Insurance Bad Faith Claims in South Carolina and North Carolina, North Carolina Bar Association Foundation CLE
How Cyber, D&O Insurance Can Mitigate Risk to C-Suite and Board Following a Cyber Attack, Corporate Counsel
3 Issues with Insurance for 3D Printing, Sharing Economy and Other Emerging Industries, Legaltechnews
Protecting Business Income When Disaster Strikes
A Cyber Coverage Warning for Hospitality Insureds
3 issues with insurance for 3D printing, sharing economy, emerging industries, PropertyCasualty360
On the Rise: Andrea DeField, DRB
Blogs
Updates, Analysis and Breaking News for Commercial Policyholders
Trends and Developments in Energy and Environmental Law
Meet our Firms and Professionals
WSG's member firms include legal, investment banking and accounting experts across industries and on a global scale. We invite you to meet our member firms and professionals.