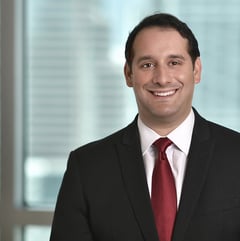 Florida, USA
Local Time: Thursday 17:58
Practice Expertise
Areas of Practice
Insurance Coverage
Bankruptcy, Restructuring and Creditors' ...
Crisis Management
Cross-Border Insurance Coverage
Cyber Insurance
Cyber Investigations and Privacy Litigation
Litigation
View More
Profile
Cary is an experienced litigator and advisor who represents policyholders in all types of insurance coverage and bad faith disputes.
With experience in the areas of insurance litigation, insurer bad faith and unfair insurance practices, Cary D. Steklof concentrates his practice on advising policyholders in connection with director and officer, error and omission, cyber, commercial general liability and commercial property insurance policies. Cary has directed litigation and handled claims across the spectrum of insurance products and has assisted his clients in obtaining tens of millions of dollars in coverage over the course of his career. In addition to litigating and securing substantial recoveries, Cary has reviewed the insurance programs of domestic and international companies to provide advice on mitigating risks and gaps in insurance coverage. This has included negotiating directly with insurance underwriters to assist clients in seeking the most comprehensive coverage that is commercially available. As a trusted resource for his clients, Cary frequently provides advice to in-house counsel, company executives, and risk managers regarding complex insurance litigation, sources of business exposure, and contract negotiations.
Cary also has extensive experience representing bankruptcy trustees, receivers, assignees and corporate entities in disputes with all types of insurers. He has successfully represented dozens of fiduciary clients seeking insurance proceeds under director and officer insurance policies in some of the country's highest profile bankruptcy cases. In recognition of his work, the Daily Business Review named Cary a finalist for the Most Effective Lawyers in Bankruptcy award in 2014. Nationally publicized cases in this area have included:
In re Rothstein Rosenfeldt Adler, P.A., United States Bankruptcy Court, Southern District of Florida – Secured $10 million in insurance proceeds under various liability policies on behalf of Chapter 11 trustee
In re Fontainebleau Las Vegas Holdings, LLC, et al., United States Bankruptcy Court, Southern District of Florida – Obtained $25 million in policy proceeds on behalf of Chapter 7 trustee pursuing debtors' directors and officers
In re CDC Corp., United States Bankruptcy Court, Northern District of Georgia – Achieved $6 million settlement with insurer on behalf of liquidating trustee and entity's directors and officers
Complementing his substantial litigation background, Cary also has extensive experience with mediation and alternative dispute resolution. He has represented clients in dozens of mediations over his career, a substantial portion of which resulted in resolutions. Cary is also certified by the Florida Supreme Court as a Circuit Civil Mediator in all courts throughout the state of Florida. This adds unique value to his own clients in the ADR context and also positions him to assist other parties in mediating all types of commercial disputes.
Cary has been published and is frequently invited to speak on numerous current insurance issues such as business interruption coverage for COVID-19 and catastrophic hurricane losses. He has also previously spoken and consistently written on topics including director and officer insurance, insurance issues unique to bankruptcy court, and institutional bad faith. Cary has been recognized by his peers and numerous outlets as part of Florida's legal elite in the field of insurance coverage.
Cary previously served as a judicial intern to federal Judge Robin S. Rosenbaum in the Southern District of Florida (currently on the Eleventh Circuit Court of Appeals) and as a legal intern in the Civil Division of the United States Attorney's Office in Ft. Lauderdale. He has also volunteered his time for numerous pro bono clients including ChemoCars, a 501(c)(3) that arranges free rides for cancer patients to and from treatment. Cary is admitted to practice before the US Court of Appeals for the Eleventh Circuit, as well as the US District Courts for the Southern and Middle Districts of Florida.
Certifications
Florida Supreme Court Certified Circuit Civil Mediator
Education
BA, Northwestern University, cum laude, 2007
Areas of Practice
Insurance Coverage
Bankruptcy, Restructuring and Creditors' Rights
Crisis Management
Cross-Border Insurance Coverage
Cyber Insurance
Cyber Investigations and Privacy Litigation
Articles
To Offset or Not to Offset: The Interaction between CARES Act Payments/PPP Loans and Insurance Recoveries Due to COVID-19, Business Law Today
Clock Ticks for Irma Insurance Claims: Don't Leave Money on the Table, Daily Business Review
Navigating Insurance Claims for Business Interruption after Hurricane Irma: Key Considerations to Avoid Leaving Money on the Table
Fla. Court Refuses to Apply So-Called 'Virus Exclusion' in COVID Insurance Lawsuit, Daily Business Review
For Businesses Suffering From Coronavirus Losses, Insurance Coverage May Offer a Remedy, Daily Business Review
When Worried About Collusion, Insist on Independent Counsel, Originally published in Texas Lawyer, also published in Corporate Counsel
Confronting Post-Claim Underwriting: An Approach for Policyholders, New Appleman on Insurance Law
Do You Have a Claim if Your Business Was Interrupted Due to a Hurricane?, Daily Business Review
Deciphering the Insurance Carrier's Thought Process: To What Extent Does the Attorney-Client Privilege and Work-Product Immunity Shield from Disclosure Otherwise Discoverable Evidence in Bad Faith Litigation?, American Conference Institute, National Advanced Forum on Bad Faith Litigation, Orlando, Florida
Proving Institutional Bad Faith, ABA Insurance Coverage Litigation Committee CLE Seminar
Groundbreaking Opinion: COVID Sufficient to Trigger Business Interruption Coverage, Daily Business Review
Blogs
Updates, Analysis and Breaking News for Commercial Policyholders
Meet our Firms and Professionals
WSG's member firms include legal, investment banking and accounting experts across industries and on a global scale. We invite you to meet our member firms and professionals.