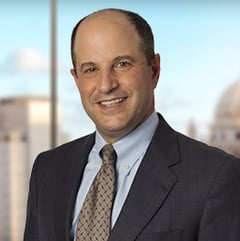 Illinois, USA
Local Time: Tuesday 20:44
Practice Expertise
Bankruptcy & Insolvency Litigation
Asset Purchases
Bankruptcy, Insolvency & Creditors' ...
Antitrust & Trade Regulation
Areas of Practice
Antitrust & Trade Regulation
Asset Purchases
Bankruptcy & Insolvency Litigation
Bankruptcy, Insolvency & Creditors' ...
Business & Commercial
Discovery Management & E-Discovery
Financial Services Litigation
Financial Services Litigation – Commercial
In- and Out-of-Court Restructurings & ...
Intellectual Property Litigation
Litigation
Privacy and Data Security
Real Estate Litigation
Representation of Financial Institutions in ...
View More
Profile
Edward S. Weil is an experienced, results-oriented attorney concentrating in financial services and general commercial litigation. He is the national co-leader of the Dykema's Commercial Mortgage-Backed Securities Special Servicer Group and serves as a member of the firm's Executive Board. Mr. Weil is also the immediate past Director of the Firm's Financial Industry Group, which brings together more than 140 Dykema lawyers who represent financial services firms in litigation, transactional, regulatory/compliance and restructuring capacities.
Throughout his career, Mr. Weil has been at the forefront of legal issues affecting financial institutions, special servicers, private equity firms, and all of the constituent parties in workouts and bankruptcies. He understands client needs in negotiations and disputes, and effectively handles all aspects of business litigation and workouts with pragmatism and detail, making him an invaluable counsel for business entities in today's economic environment. Mr. Weil's depth of experience in business litigation and workouts is reflected in the numerous cases that he has litigated throughout the U.S., some involving issues of first impression. Mr. Weil is a frequent lecturer on financial-related legal matters.
In his financial services practice, Mr. Weil represents financial institutions, special servicers, private equity firms, purchasers of non-performing commercial real estate and C&I debt, investors and title insurers in litigation matters including loan enforcement and foreclosure actions, fraudulent conveyance cases, pursuit of guarantors, defense of lender liability claims, Creditor Committee litigation, mechanic's lien and land-use claims, and bankruptcy litigation.  
In his general commercial litigation practice, Mr. Weil represents companies in industries ranging from telecommunications, food technology solutions, airport technology, real estate developers, home security and home furnishing manufacturers, hospitality firms, and business services providers. Mr. Weil litigates a wide variety of commercial matters, including fraud, business tort, breach of fiduciary duty, and trade secrets misappropriation and competition-related claims, as well as partnership disputes and corporate governance claims
Mr. Weil has been recognized in Illinois Super Lawyers, Benchmark Litigation and as an Illinois Leading Lawyer by Leading Lawyers Network for numerous years.
Significant Representations


Lead counsel for Unsecured Creditors Committee In re: Yellow Cab Affiliation, Inc. pending in U.S. Bankruptcy Court in the Northern District of Illinois Case No. 15-9539.

Representing several of the nation's largest CMBS special servicers in contested foreclosure and guarantee litigation involving assets located around the country in areas such as Illinois, Wisconsin, Florida and New Jersey.

Representing several funds in fund formation work and partnership disputes.

A favorable arbitration award was obtained for Bank of America in 2014, in a case pending before the American Arbitration Association (Bank of America v. River East Plaza Parking LLC et al). The dispute involved a mixed-use building in downtown Chicago that includes a 61-story condominium and a 15-story parking garage, plus retail space. Certain floors of the garage are used by the condominium unit owners for parking, while other floors are part of the commercial property. Bank of America and the Condominium Association disagreed on how the cost for a multi-million dollar garage repair project should be allocated. The bank's position prevailed. 

Represented Advanced Photonix, Inc. of Ann Arbor, MI in 2014 in a non-compete and trade secrets misappropriation case against several former employers who left to start a competing business.
Sahai Pty. Ltd. v. Sassy, Inc. (Northern District of Illinois, November-December, 2012) (Hon. Edmund Chang).  First-chaired a seven-day federal jury trial on behalf of an Australian distributor of baby products manufactured by an American developmental baby products company. The case involved claims that the American company breached the parties' distributorship agreement, as well as counterclaims asserted by the American company. After seven days of trial and two days of deliberation, a mistrial was declared after the jury reported that it was deadlocked. Thereafter, the case settled on mutually acceptable, confidential terms. Upon completion of the settlement, Sahai has resumed its prior role as Sassy's exclusive distributor in Australia and New Zealand. 
Grant Hospital v. Blue Cross of Illinois (October 2011). Obtained million dollar judgment, exclusive of interest and attorney fees, on behalf of Grant Hospital and 200+ of its creditors, against Blue Cross and Blue Shield of Illinois, after nine-day trial arising from an accounting and contract dispute under various provider agreements issued to several successive owners of the hospital.
Mobile Mark, Inc. v. Pakosz et al (August 2011). Obtained preliminary injunctive relief barring defendants from developing, marketing or selling knock-off antenna products which incorporated plaintiff's proprietary designs and other trade secrets. After a six-day evidentiary hearing, the magistrate judge issued a report recommending a finding that plaintiff was entitled to a preliminary injunction based on defendants' unauthorized acquisition, disclosure and use of plaintiff's trade secrets, and based on breach of contract. The court also recommended a finding for plaintiff under the "inevitable disclosure" doctrine. The case favorably settled thereafter.
Genesis Medical Technology v. Baldwin et al (October 2011). Defeated plaintiff's motion for a preliminary injunction for alleged misappropriation of trade secrets and breach of contract in case involving medical resonance imaging equipment.
B&C Realty v. Chicago Standup MRI (Summer 2010). Won two-week trial in quiet title action to nullify commercial real estate transaction based on alleged fraud and conspiracy.
Represented Infinium Capital Management in 2010-2012 in prosecuting trade secrets misappropriation cases against competitors and former employees.
Negotiated $4.2 million settlement of class action claims pending in the Delaware Supreme Court of seven trading firms and individual members of the Chicago Board of Trade in CBOT's landmark litigation with the Chicago Board Options Exchange (CBOE) over the equity and trading rights of CBOT members at CBOE upon CBOE's anticipated demutualization. (December 2009)
Defended a global telecommunications equipment manufacturer accused of stealing the trade secrets of its largest global competitor and of tortiously interfering with the competitor's business. At a two-week preliminary injunction hearing, the company defeated the competitor's motion to enjoin the company from employing the engineers. At a later trial proceeding, the company defeated the competitor's damage claims arising from the alleged downloading of confidential information. The client was awarded sanctions and the case settled favorably shortly thereafter.
Represented the founders of a pharmaceutical research company in an accounting and contract dispute with its Indian joint venture partner in federal Bankruptcy Court in Delaware. The case was favorably resolved with the negotiation of a long-term royalty agreement.
Secured permanent injunctive relief and damages on behalf of an international furniture manufacturer after a three-week hearing in federal court in New Jersey against a former reseller for copyright infringement and breach of contract.
Represented cancer screening medical technology company, and obtained permanent injunctive relief and monetary settlement in a trade secrets misappropriation and contract case brought in Gwinnet County, Georgia.
Obtained a multimillion dollar settlement after a week-long mediation in New York in a case alleging fraudulent concealment of funds spanning 40 years by the majority owners of New York apartment buildings.
Successfully defended lender in putative class action arising out of payment of a yield spread premium in violation of Veterans Administration cap on fees and the Illinois Consumer Fraud Act. (Kolle v. SGB Corp., 2002 U.S. Dist. LEXIS 18120) 
Bar Admissions

Illinois, 1986
Education
Northwestern University Pritzker School of Law, J.D.
Law Review, Editorial Board
Wesleyan University, B.A.
Areas of Practice
Antitrust & Trade Regulation
Asset Purchases
Bankruptcy & Insolvency Litigation
Bankruptcy, Insolvency & Creditors' Rights
Business & Commercial
Discovery Management & E-Discovery
Financial Services Litigation
Financial Services Litigation – Commercial
In- and Out-of-Court Restructurings & Liquidations
Intellectual Property Litigation
Litigation
Privacy and Data Security
Real Estate Litigation
Representation of Financial Institutions in Bankruptcy & Workout Matters