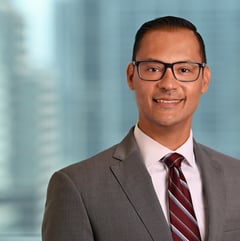 Florida, USA
Local Time: Tuesday 08:09
Practice Expertise
Acquisitions and Dispositions
Commercial Real Estate Lending
Finance and Restructuring
Aviation Litigation
Areas of Practice
Acquisitions and Dispositions
Aviation Litigation
Commercial Real Estate Lending
Finance and Restructuring
Latin America
Leasing
Real Estate, Development and Finance
View More
Profile
Gil brings over 17 years of experience to our capital finance and real estate team and is frequently recognized by Florida and national publications.
Gil represents investors, developers and lenders in commercial real estate transactions in the US and Latin America involving the financing, leasing, acquisition and disposition of retail, hotels, office buildings, multi-family apartment buildings, vacant land, mixed-use developments and residential luxury condominium and single-family residences.
He has an active pro bono practice, serving on the Miami Office Pro Bono Committee and providing legal assistance to clients dealing with immigration issues, landlord-tenant conflicts and economic hardship issues, among others.
As a first generation law student himself, Gil also serves as a volunteer mentor to first-generation law school students.
Relevant Experience
Refinancing of a $72 million mortgage loan secured by a hotel in Miami Beach, Florida, and the rental program cash flow from the adjacent branded residences.
Sale of a condominium development located in Florida by a joint venture for a purchase price of $41.5 million.
Acquisition by NASDAQ REIT of a publicly traded REIT for $4 billion, adding 126 industrial properties to client's portfolio.
Financing of $1.7 billion loan to a multinational financial institution secured by 88 properties located across the US, including due diligence, review of title and survey and zoning reports and other relevant documentation.
Landlord representation and leasing of Class-A office space in building of approximately 500,000 square feet of space, and subsequent representation of Landlord in disposition of building for approximately $184M.
Secured financing for the development, construction and operation of hotels in Panama.
Financing of loans for hotel portfolio in Florida.
Financing in connection with loan in the amount of $85.7 million for the acquisition of a 55 acre industrial park with 28 buildings located in Central Florida.
Tenant representation in connection with the negotiation of leases at multiple Class-A retail centers across the State of Florida.
Tenant representation of foreign banking group in connection with leasing and multiple lease modifications of 51,529 square feet of space in office building in Downtown Miami.
Acquisition by a real estate investment and development firm of multiple parcels of land located in a large mixed-use development district in Downtown Miami and financing of development of luxury condominiums in such parcels.
Development and leasing by a university health system authority of a $325 million mixed-used project.
Acquisition and related $355 million financing by a real estate fund of 10 senior living facilities in Florida, Texas and Georgia, and related acquisition of certain preferred equity interests and mezzanine loan interests.
Financing by banking group in connection with a $45.8 million loan for the construction of an apartment development.
Sale of a multi-state single family residential property portfolio by specialized alternative investment firm for $440 million, involving 1,750 residential properties.
Acquisitions and dispositions by ultra, very and high-net-worth individuals of their real estate residences and related financings.
Acquisitions, dispositions, financings and leasing of office buildings and warehouses of clients in the aviation industry.
Acquisition of approximately 117 acres of vacant land for development.
Education
BA, University of South Florida, 1997
Areas of Practice
Acquisitions and Dispositions
Aviation Litigation
Commercial Real Estate Lending
Finance and Restructuring
Real Estate, Development and Finance
Articles
Buyer Beware — The Foreign Investment in Real Property Tax Act, American Bar Association Section of Real Property, Trust & Estate Law
To Withhold, or Not to Withhold, That is the Question. A Step by Step Approach to the FIRPTA Income Tax Withholding, Florida Bar Journal, Volume 92, No. 4
Meet our Firms and Professionals
WSG's member firms include legal, investment banking and accounting experts across industries and on a global scale. We invite you to meet our member firms and professionals.