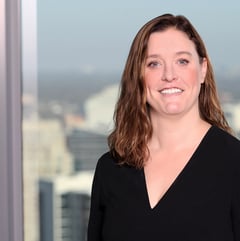 Kate Eberhardt
Senior Attorney

Practice Expertise
Acquisitions and Dispositions
Commercial Real Estate Lending
Finance and Restructuring
Leasing
Areas of Practice
Acquisitions and Dispositions
Commercial Real Estate Lending
Finance and Restructuring
Leasing
Corporate
Real Estate, Development and Finance
Structured Finance and Securitization
Warehouse and Structured Lending, Gestation ...
View More
Profile
Kate is an experienced lawyer with more than a decade of experience assisting clients in a range of commercial real estate and corporate finance transactions.
As a senior attorney in our Dallas office, Kate focuses on both commercial real estate transactions and structured finance transactions. She represents owners, tenants, developers, investors, borrowers, and lenders on a multitude of matters, including acquisitions and dispositions, financings, leasing, development and construction. These transactions involve a variety of asset types, including mixed-use development, office, retail, hotel, multifamily and residential and commercial property. She is well versed in construction financings, leasehold mortgage financings, co-lending and loan participations, and has counseled clients on loan workouts and restructurings. Additonally, she represents issuers, underwriters, lenders and mortgage services in structured finance transactions in a variety of transactions involving residential mortage loans and warehouse financings.
Prior to joining the firm, Kate worked for a private client where she managed various, complex legal issues ranging from eminent domain proceedings and corporate governance matters to commercial and personal construction matters, regulatory filings, governmental inquiries, employment matters and family office needs including estate planning matters such as establishing trusts, revising wills, and advising on charitable deductions and property tax emptions. Kate also has extensive experience in matters related to golf course and country club management and acquisitions from prior work at a hospitality law boutique firm. Additionally, she volunteers for pro bono client projects in Dallas with organizations such as the Genesis Women's Shelter, the Dallas Volunteer Attorney Program, and Catholic Charities, in addition to her national work with Amnesty International and the National Veterans Legal Services Program.
Relevant Experience
Represented lender providing warehouse financing to originators.
Drafted and negotiated documentation in connection with secured and unsecured lending transactions.
Advising both landlords and tenants clients in retail, restaurant, office and industrial lease transactions.
Assisted in representing global private equity fund clients in real estate related investments and joint ventures.
Represented a client in issuing a number of loans pursuant to the Main Street Lending Program under the CAREs Act.
The following represents experience prior to joining the firm:
Advised clients on 501(c)(7) entity formation as related to private clubs and drafted governing documents related to those entities.
Advised property owners associations on proper corporate governance and legal compliance issues.
Conducted due diligence for numerous resort property acquisitions and dispositions.
Oversaw outside counsel on cases ranging from cases of first impression regarding sovereign immunity to disputes over breach of contract.
Liaised with lobbyists in connection with the Texas Legislature regarding legislation related to short term rental regulation, government transparency and privacy rights.
Oversaw the activities of a political subdivision of the State of Texas in regards to compliance with the Texas Open Meetings Act and the Texas Public Information Act.
Education
BA, University of Virginia, 1999
Areas of Practice
Acquisitions and Dispositions
Commercial Real Estate Lending
Finance and Restructuring
Leasing
Corporate
Real Estate, Development and Finance
Structured Finance and Securitization
Warehouse and Structured Lending, Gestation Finance and Early Buyout (EBO) Facilities