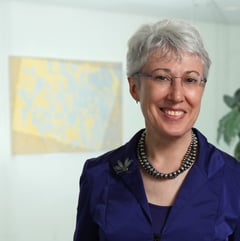 Practice Expertise
Insurance Coverage
Litigation
SAFETY Act
Cross-Border Insurance Coverage
Areas of Practice
Cross-Border Insurance Coverage
Insurance Coverage
Litigation
SAFETY Act
Arbitration and Mediation
International Arbitration and Transnational ...
National Security
Transactional Insurance
View More
Profile
A nationally recognized insurance coverage litigator, Lorie handles all aspects of complex, commercial litigation and arbitration for policyholders.
Chambers-ranked and recognized as a "top 10 Super Lawyer," Lorie has advised clients on a wide range of liability coverages, including insurance for environmental, employment, directors and officers, fiduciary, property damage, cyber, and other liabilities. She also handles various types of first-party property insurance claims, including claims under boiler and machinery, business-interruption, contingent business-interruption, extra expense, disability and other related coverages. Most recently, she has advised clients in a variety of industries on COVID-19 losses under a wide variety of first-party property and business-interruption policies and "package policies." She advises clients on how to structure insurance programs effectively and on captive insurance and other alternative risk-transfer mechanisms.

Lorie writes and speaks extensively on insurance coverage, technology, and litigation. Lorie has handled and tried cases in state and federal trial and appellate courts across the country and in arbitrations in the United States and abroad. At issue in these cases typically have been millions of dollars of insurance coverage for products and environmental liability, silicone gel breast implant claims, and other types of liability. Most recently, she has obtained multi-million dollar settlements under D&O, Side-A Only D&O and E&O policies. She served as lead trial counsel for policyholder in an action enforcing CGL insurance coverage for the then-largest property damage class action settlement ever. The National Law Journal called that jury's verdict one of the "most significant jury verdicts" of the year. She has also handled many other matters in litigation, arbitration, and settlement negotiations, recovering, collectively, billions of dollars for her clients. She has handled high-stakes insurance issues for individuals, enforcing disability, health and property insurance.

Lorie is co-author of Insurance Coverage Litigation, an in-depth legal treatise first published by Aspen Law & Business in 1997 and updated annually. She co-authored a second book, entitled Liability Insurance in International Arbitration: The Bermuda Form, which won the 2012 Book Prize from the British Insurance Law Association for "outstanding contributions to the literature on insurance," and is recognized as the seminal work on the issue of Bermuda Form arbitration. She was invited in 2010 to serve as an Adviser to the American Law Institute's ("ALI") RESTATEMENT OF THE LAW, LIABILITY INSURANCE, and served in that capacity until the publication of the RESTATEMENT in 2019.

A partner in the insurance coverage practice, Lorie's clients say she "is very good at explaining complicated issues, and then distilling them for commercial use," according to Chambers USA 2016, which ranks her in the upper echelons of her practice nationwide. She also was named a Top Ten Super Lawyer in DC for 2014 and 2015, among other recognitions.

In addition to her legal practice, she is active in diversity and inclusion matters and has represented many individuals and groups pro bono, including policyholders denied health care coverage and victims of human trafficking. In 2007, she obtained one of the first money judgments in the country under the Trafficking Victims Protection Act, after a trial in the federal court in the District of Columbia. She is Chair of the Board of the Human Trafficking Legal Center which helps survivors of human trafficking obtain justice and trains pro bono lawyers to advise and represent survivors.

Lorie has served on the Board of Governors of the American Bar Association (ABA) and, from 2016-2018, as Treasurer of the DC Bar Foundation, the largest funder of legal services in the DC area. She is very proud of her service in 2007-2008 as President of the Women's Bar Association of the District of Columbia ("WBA") and her role in helping to organize the WBA's centennial celebrations in 2016-2017. She helped to found the American College of Coverage Counsel and served as its second President in 2013-2014. She served as national Policyholder Chair of the Insurance Coverage Litigation Committee of the ABA Section of Litigation, 2000-2003. From 2006-2010, she served on the District of Columbia Court of Appeals' Committee on Admissions.

Lorie is admitted to practice in the US Supreme Court, US Court of Appeals for the District of Columbia Circuit, US Court of Appeals for the Fourth Circuit, US District Court for the District of Columbia, US District Court for the District of Maryland, US District Court for the Eastern District of Michigan, US District Court for the Southern District of New York, the US District Court for the Northern District of Ohio, the US District Court for the Southern District of Ohio, and the US District Court for the Eastern District of Texas. She ran for attorney general in the District of Columbia's first-ever election for that position in 2014.
Relevant Experience
Advises on and litigates COVID-19 insurance recovery claims related to business interruption and other related policies.
Represented the general contractor in an insurance coverage dispute and other related actions. 2200 M Street, LLC, et al. v. St. Paul Fire & Marine Ins. Co., et al., Index No. 127209/02 (N.Y. Sup. Ct.); Carol Anderson v. Millennium Partners, LLC, et al., Civil Action No. 04-7454 (DC Super. Ct.); Federal Ins. Co. v. Bovis Lend Lease, et al., Civil Action No. 04-0008306 (DC Super. Ct.); Alyson Gannon v. Ritz-Carlton Hotel Co. LLC, et al., Civil Action No. 05-ca-001130 (DC Super. Ct.); 2200 M Street LLC v. Bovis Lend Lease, Inc., et al., Index No. 0602690/2003 (N.Y. Sup. Ct.). The main action, 2200 M Street v. St. Paul, involved coverage under a construction "wrap-up" insurance programs ("OCIPs" and "CCIPs") for underlying cases alleging mold injury and damage resulting from purported construction defects. Handled for Bovis the successful mediation of the coverage action and other aspects of the construction coverage disputes.
Represented the New Century Liquidating Trust, successor to New Century Financial Corporation and its affiliated companies, in an arbitration to recover millions of dollars in defense costs incurred by the Debtor in an underlying ERISA action seeking damages for alleged breaches of duty under certain employee benefits plans. New Century Liquidating Trust: In re: New Century TRS Holdings, Inc., Case No. 07-10416 (KJC) (D. Del.); and In re Arbitration Involving New Century Liquidating Trust against Philadelphia Indemnity Insurance Co. The matter settled in December 2011, on the eve of trial, for a significant sum (which is confidential). Advised the Trust (and, before the Trust arose, the Debtor) on myriad coverage issues that had arisen in the bankruptcy and liquidation proceedings.
Represents large and small companies, trade associations and individuals seeking to enforce their insurance coverage. Lead trial counsel for a major chemical company in a coverage case resulting in a jury verdict named by The National Law Journal as one of the most significant of 1997.
Represented current and former executives of Fortune 50 financial-services company to secure Side-A D&O coverage in connection with multiple government investigations and in derivative lawsuits filed in federal and state courts. The coverage issues involved a complex overlay of financial-services regulatory agency investigations. The firm's coverage advice facilitated settlement in one of the largest derivative settlements of all time.
Served as lead counsel in numerous matters obtaining millions of dollars in recoveries in environmental coverage cases and has succeeded in helping clients find millions of dollars in "lost insurance" policy assets.
Represented policyholders in litigation to enforce the primary insurers' duty to defend the policyholder in actions alleging environmental contamination. Tyson Foods Inc. v. Allstate Ins. Co., et al., No. 09C-07-087 (MJB) (Del. Super. Ct. Aug. 31, 2011). In reaching this result, the court rejected the insurers' various policy defenses, most importantly arguments under the "absolute" and "sudden and accidental" pollution exclusions.
Served as lead counsel in a case awarding full policy limits, plus attorney fees and interest, to the policyholder under a contract requiring arbitration in London, obtaining what at that time (2003) was the largest award ever in a Bermuda Form arbitration.
As discussed in public bankruptcy proceedings in 1996, represented with Dow Corning, helping achieve a settlement for millions of dollars in insurance coverage for silicone gel breast implant claims pending against Dow Corning. Settlement was consummated on the eve of the final arbitration hearing. In re the Matter of an Arbitration Between XL Ins. Co., Ltd., and Dow Corning Corp.
Served as lead trial counsel in court litigations and arbitrations both in the US and internationally enforcing insurance coverage for asbestos bodily injury and property liability; CERCLA; groundwater and other alleged environmental contamination; silicone gel breast implant claims; polybutylene plumbing and other products liability claims; employment liability; and property and business-interruption losses.
Advises directors, officers, executives and companies on Directors and Officers and Fiduciary Liability insurance programs, claims and governance issues, including issues related to Side A-Only and DIC policies.
Enforces coverage for high-value personal lines insurance claims, including disability, property, umbrella and health insurance claims.
Education
AB, Georgetown University, cum laude, 1977
Areas of Practice
Cross-Border Insurance Coverage
Insurance Coverage
Arbitration and Mediation
International Arbitration and Transnational Litigation
National Security
Transactional Insurance
Articles
Additional Articles
With the EU's Data Protection Regulation Quickly Approaching, Policyholders Should Act Now to Maximize Insurance Coverage for Its Potentially Staggering Liabilities, SA Financial Regulation Journal
Risk Landscape: Coverage Trends to Watch, Risk Management Monitor
Examining the Restatement of the Law, Liability Insurance, Risk Management Magazine
Federal Courts Make 2 Basic Errors In Virus Coverage Rulings, Law360
Landmark Montana Supreme Court Decision Series: The Duty to Defend, The ALI Adviser
Understanding Coverage Options for Cyber Threats, ABA Banking Journal
How Retailers Can Protect Themselves Against Mobile Payments Risks, Internet Retailer
To Incorporate or Not to Incorporate? That is the Captive Cell Question, Business Law Today
The Bermuda Form and Arbitration of Disputes in London, ABA Dispute Resolution Journal (DRJ), Vol. 73, No. 1
Rethinking Insurance Coverage for Autonomous Vehicles, ABA SciTech Lawyer Magazine
Optimizing Antitrust Coverage in Private Company D&O Policies, Marsh Newsletter
Blockchain: Tapping Its Potential and Insuring Against Its Risks, ABA Business Law Today
Calif. Ruling Creates Uncertainty For Long-Tail Claims, Law360
The American Law Institute's Restatement of the Law, Liability Insurance: Scholarship and Controversy, Connecticut Insurance Law Journal
A Deeper Dive into the Test Case Decision by the English High Court - An analysis of the Test Case, including potential impacts of the ruling, ongoing negotiations, and potential appeal, Law.com
Maximizing Insurance Coverage for Concussion Injury Claims, Risk Management Magazine
Security Alert: So You Think You Are Fully Insured? Think About Cyber Breaches And Then Think Again
Key Questions for Financial Institutions Seeking to Maximize Insurance for "Cyber" Risks, FC&S Legal
Year in Review: Notable Insurance Coverage Developments of 2017!, Thomson Reuters Westlaw®
"Plain Meaning" and the Meaning of "Plain": Section 3 of the Restatement of the Law, Liability Insurance, The Brief
Couch's "Physical Alteration" Fallacy: Its Origins and Consequences, Tort Trial & Insurance Practice Law Journal
With the EU's Global Data Protection Regulation Quickly Approaching, Policyholders Should Act Now to Maximize Insurance Coverage for Its Potentially Staggering Liabilities, SA Financial Regulation Journal
Insurance coverage for claims stemming from the national opioid crisis, PropertyCasualty360.com
A Deeper Dive into the Test Case Decision by the English High Court — An analysis of the Test Case, including potential impacts of the ruling, ongoing negotiations, and potential appeals, Coverage Law Center
After SARS, insurers changed policies covering businesses, The Washington Post
Will Insurers Invoke the "War Exclusion" to Deny Coverage for Losses from Ransomware?, ACCC
Key Considerations For D&O Policy Related-Claims Clauses, Law360
Protect Your Insurance Recovery After California Fires, Law360
Practitioner Insights: Coal Ash Poses Slew of Coverage Issues, Bloomberg BNA
Cybersecurity Insurance – Mitigating Compliance Risk Under the DFARS and Other Federal Regulations, Contract Management
Setting the Correct Prism for Construing Policy Language in COVID-19 Business Interruption Cases Can Be Outcome Determinative, National Law Review
Using the War Exclusion to Deny Computer Virus Claims, The Risk Report
COVID-19 Business Interruption Coverage: A Policyholder's Perspective, The Record
The New Bermuda Triangle: Arbitration of Coverage Disputes Under the Bermuda Form, American College of Coverage Counsel Member News Article of the Month
D&O Insurance Issues Arising from the COVID-19 Crisis, The D & O Diary
Blogs
Analysis and Insight in Blockchain Law
Updates, Analysis and Breaking News for Commercial Policyholders
Meet our Firms and Professionals
WSG's member firms include legal, investment banking and accounting experts across industries and on a global scale. We invite you to meet our member firms and professionals.