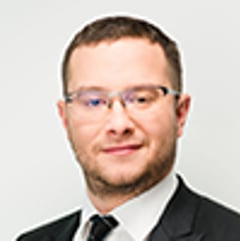 Vienna, Austria
Local Time: Wednesday 01:59
Practice Expertise
Areas of Practice
WSG Practice Industries
WSG Leadership
Technology, Media & Telecommunications Group - Group Leader
WSG Coronavirus Task Force Group - Member
Profile
Nino Tlapak joined DORDA's IT and Data Protection team in 2013 and is a partner since 2021. He focuses on data protection and IT-security law. Further areas of practice include e-commerce and outsourcing. Nino is well known for his data protection activities and also functions as coordinator of DORDA's data protection unit.
In addition, Nino regularly publishes articles in the field of data protection and holds lectures at the Danube-University Krems (Data Protection and Privacy – certified program), the technical colleges FH Technikum Wien and FH Campus Wien as well as the IT-Law LL.M. postgraduate program of the University of Vienna.
Bar Admissions
Admitted to the Austrian Bar in 2017
Education
Nino studied law at the University of Vienna (Mag iur 2012) and completed the postgraduate programme "Information and Media Law" (LL.M. 2013).


Professional Career
Significant Accomplishments
- Long-standing assistance of the UNIQA Group in all data protection matters with a focus on sensitive data, dealing with data subject rights and DPIA
- Due to our years of support of the Erste Bank Group, we are also supporting the IT service provider of the Group, IT Solutions AT Spardat GmbH, for years on all local data protection and GDPR topics
- Acting as external data protection officer of twinformatics GmbH, the internal IT service provider of the Vienna Insurance Group
- Ongoing data protection support for the ZKW Group with a focus on intra-group data transfer and innovative research projects
- Advising and representing various leading companies, especially in the regulated environment, ie banks, insurance companies and in the pharmaceutical industry, as part of comprehensive data protection projects
Seminars/ Presentation
Nino Tlapak performs regularly at the University of Vienna, the Danube University Krems, the Pharmig Academy, the Austrian "IT Law Day", the ARS Academy for Law, Taxes and Economics, the IIR Institute for International Research, at WiFi and directly at clients.
Professional Activities and Experience
- Business law firm, Vienna, trainee, 02/2009 - 06/2012
- WienIT, Dr. Jast, Vienna, legal assistant, 07/2009 - 08/2009
- Pierre Lang, Vienna, intern, 08/2005, 01/2009 - 02/2009
- Fernwarme Wien, Vienna, intern, 08/2004
- Schrack Seconet AG, Vienna, intern, 08/2003, 07/2008
Articles
He is the author of numerous specialist publications, below are listet some of the latest:
- GDPR in an Employment Context (2019)
- AUSTRIAN DATA PROTECTION AUTHORITY ISSUED THE "BLACK LIST" (2018)
- Private Client 2018 (2018)
- The new Austrian data protection regime (2018)
- "Datenschutzfremde" Vorhaben in der österreichischen Sammelnovelle "versteckt" (2018)
- Weitere Änderungen durch das Datenschutz-Deregulierungs-Gesetz 2018 (2018)
- Die Novelle der Novelle des Datenschutzgesetzes (2018)
- "WHITE LIST" DRAFT - DATA PROTECTION AUTHORITY ENVISAGES FAR-REACHING EXCEPTIONS TO DATA PROTECTION IMPACT ASSESSMENTS (2018)
- BACKUPS AND MEMORY LIMITATION (2018)
- BACKUPS UND SPEICHERBEGRENZUNG (2018)
- ERSTE NOVELLE DES DSG 2018: KLARHEIT ZUM DATENSCHUTZ JURISTISCHER PERSONEN (2018)
Meet our Firms and Professionals
WSG's member firms include legal, investment banking and accounting experts across industries and on a global scale. We invite you to meet our member firms and professionals.