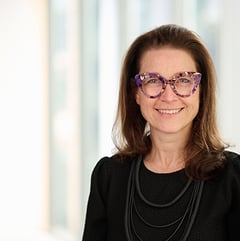 Sarah Barker
Partner and Head of Climate Risk Governance

Melbourne, Australia
Local Time: Wednesday 03:38
Practice Expertise
Areas of Practice
Profile
I apply a cross-disciplinary approach, harnessing experience in areas from atmospheric science to finance and investment. My work at the forefront of international developments with institutions from the Bank of England, United Nations and the European Union, allows me to provide practical, forward-thinking advice to my clients across the financial services, mining & resources, industrials, retail, agriculture, infrastructure, development and government sectors.
I am Australia's representative on the cross-jurisdictional Commonwealth Climate and Law Initiative. I sit as an academic visitor at Oxford University's Smith School and teach sustainability in corporate governance for Cambridge University's Institute for Sustainability Leadership.
I bring the practical perspective of an experienced professional director, currently sitting on the board of one of Australia's largest superannuation funds, and as the only lawyer on the Steering Committee of the Australian Sustainable Finance Initiative.
Career highlights
Recent international experience
Faculty member, Cambridge University Institute for Sustainability Leadership; academic visitor, Oxford University Smith School of Enterprise and the Environment Sustainable Finance Programme
Commonwealth Climate and Law Initiative – founding partner and non-executive director involved in work across Australia, the UK, Europe, Canada, South Africa and Singapore
Bank of England Prudential Regulation Authority – report on Climate Risks for the Insurance Sector, on which Mark Carney's seminal 'Tragedy of the Horizon' speech at Lloyds of London was based (September 2015)
Guidance for directors by the United Nations Principles of Responsible Investment and United Nations Environment Programme Finance Initiative: Fiduciary Duty in the 21st Century (2016)
Legal risk partner in a global consortium report commissioned by the European Union on Financial System Risks Arising from the Energy Transition (2016-17)
United Nations PRI – recipient of Sustainalytics Prize for Responsible Investment Research (September 2014).
Recent Australian experience
Governance and reporting/disclosure advisor to a range of ASX100 and multi-national listed corporations (and their boards) in the financial services, mining and resources, retail, manufacturing, and development sectors
Advisor on climate-related litigation risk exposures to Australian and international government agencies, financial services institutions and professional services organisations
Instructing solicitor on briefs to Mr Noel Hutley SC (October 2016 and March 2019) that is widely cited as the authoritative exposition on directors' duties with regard to climate change risk in Australia.
Selected recent publications
External
Barker, Sarah, Ellie Mulholland and Ben Caldecott, 'Directors' Liability and Climate Risk: Navigating the Step-Change in Disclosure and Governance Expectations', in Beekhoven van den Boezem, Jansen and Schuijling (eds.), Sustainability and Financial Markets, Wolters Kluwer, Deventer, 2019, Chapter 9 pp231-254.
Barker, Sarah, Ellie Mulholland, Cynthia Williams, and Robert G. Eccles, 'Climate Change and Directors' Duties: Closing the Gap Between Legal Obligation and Enforcement Practice', in Richard LeBlanc (ed.), The Handbook of Board Governance (2nd ed), Wiley, April 2020.
Barker, Sarah, Ellie Mulholland and Jackie Peel, 'Australia's international climate change commitments – Associated accounting assumptions and auditing of climate risk disclosures', report to CPA Australia, January 2020.
Barker, Sarah, 'Lifting The Corporate Veil: An Introduction To Directors' Liability Exposures For Stranded Asset Risks', in Caldecott, Ben (ed.), Stranded Assets Anthology, Routledge, 2018.
Barker, Sarah, Mark Baker-Jones, Emma Fagan and Emilie Barton, 'Climate change and the fiduciary duties of pension fund trustees – lessons from the Australian law', (2016) 6(3) Journal of Sustainable Finance & Investment 211.
Barker, Sarah and Jay Youngdahl, 'Momentum building on climate risk', Pensions and Investments, August 2015.
Barker, Sarah, 'Shareholder climate action…but not as you know it', Energy & Resources Law Bulletin, March 2015.
Barker, Sarah, 'Directors' Personal Liability for Corporate Inaction on Climate Change', Governance Directions, February 2015.
Education
B.COMM, LLB (HONS), M.ENV (HONS), MAICD
Professional Career
Professional Associations
Australian Institute of Company Directors, Facilitator, Company Directors Course (Diploma), 'The Legal Environment'
Articles
Additional Articles
Climate change risks for local governments


Local governments will have to address risks to physical assets and infrastructure, economic transition issues and litigation factors arising from the effects of climate change.

Judgment or not, superannuation trustees must not ignore climate risk


Superannuation trustees and company directors had been keenly anticipating the outcome of the claim by Mark McVeigh against the trustee of REST Super. The case was regarded as the first opportunity globally for the courts to make a call on strategy and risk management oversight regarding climate change-related financial risks. However, on 2 November, the case was dismissed. But what does this mean for superannuation fund trustees and the financial services sector more broadly?

Climate change - a plain language guide for business
We explore some of the background to issues that businesses face when addressing climate change.
Are Australian companies facing a watershed on climate change?


Banks and superannuation funds are driving a step-change in emissions reduction expectations. Today, we saw an announcement from one of Australia's Big 4 banks to significantly strengthen its ambition to reduce greenhouse gas emissions across both operations and lending portfolios. What does this mean for Australian companies?

2020's 'new normal': climate change risk review and governance issues to watch in the year ahead


Our Climate Risk Governance team outlines developments in climate change risk across five key areas - climate risk disclosure and reporting, directors' duties, equity markets, debt finance and emissions reductions policies - and flags developments to watch in 2020.

Is competition law a roadblock to sustainability initiatives?


Competition law concerns about collaborating with competitors can create a barrier for businesses to innovate and respond to the threats associated with climate change. We identify some lessons from the regulatory response to the pandemic as well as international regulatory developments to explore the role of competition law to facilitate climate-related financial risk mitigation and adaptation and how the ACCC can help.

Mandatory climate risk disclosure for UK companies and pension funds?
The latest UK Environmental Audit Committee report has called on the UK government to make climate risk disclosure (in line with the Task Force on Climate-related Financial Disclosures (TFCD) recommendations) mandatory for listed companies and pension funds by 2022. An overview of the UK report findings and a brief comment on the Australian position, with respect to climate reporting, is below.
BlackRock CEO Larry Fink's Annual Letter 2020: 'Climate risk is investment risk'


BlackRock Inc has released its chairman and CEO Larry Fink's 2020 annual letter to CEOs. The necessity of managing, planning for and reporting sustainability risk, and more particularly, climate risk is the theme.

Understanding directors' duties and climate risk: An interview with Philippe Joubert, CEO of Earth on Board


In many nations – and many companies – the race towards net zero emissions is already underway. More and more business ers now realise that climate action is not just a moral responsibility, but a matter of plain common sense.

Why is APRA's position on climate change risk all over the papers? And how should we respond?


As has been heavily covered in the financial press, there has been a significant shift in APRA's position on the relevance of climate change risk to the financial sector.

ASIC issues new greenwashing guidance, urges issuers (and others) to review their current practices


ASIC INFO 271 aims to help issuers avoid greenwashing by both outlining existing regulatory prohibitions against it and clarifying the regulator's expectations around how issuers market their 'green' products. We summarise the key points.

New expert opinion cautions that 'greenwashing' could expose companies (and directors) to the risk of litigation


A brief overview of the key points in the new supplementary opinion by Noel Hutley SC and Sebastian Hartford Davis on climate change and directors' duties.

New developments impact climate change related risks


Several recent developments that are likely to impact the way that Australian listed companies consider climate change related risks.

Bank of England eyeballs the financial sector on climate risk
Sarah Barker and Maged Girgis analyse the impact of recent regulatory developments on climate change risk management and disclosure for Australian financial services sector participants.

Key trends to emerge from the 2016-2018 AGM season


This insight provides a high level snapshot of trends from the AGMs of Australia's largest public companies (ASX 100) over the course of three years from 2016 to 2018.

The science is in – so what now? Implications of the new IPCC report for corporate and government decision-makers


The IPCC has released its landmark 6th Assessment Report on the physical impacts of climate change. The report's findings are highly significant for both government and corporate decision-makers.

Top five considerations for meaningful climate-related corporate governance


Investor and regulatory expectations on corporate governance of climate-related risk continue to intensify. Our team considers key questions to help guide your assurance and disclosure process in the FY20 reporting season.

New Hutley Opinion: What does it mean for directors?


Analysis of the further supplementary opinion on Climate Change and Directors' Duties

Key trends to emerge from the 2016-2019 AGM season


We provide a high level snapshot of trends from the AGMs of Australia's largest public companies (ASX 100) over 2016 to 2019.

The 'third wave' of climate litigation: greenwashing


With the sharp evolution of sustainability into a material financial issue, greenwashing has become an acute legal risk for organisations. How can you manage the risk?

Carbon Markets: The international and domestic state of play


Recent developments are creating new opportunities for carbon markets to provide a supporting role in achieving emission reduction targets.

Five tips for 'climate-conscious' contractual drafting and negotiation


How do your current precedent contracts deal with the risks (and opportunities) of a changing climate? We can help guide your approach to 'climate-conscious' contractual drafting and negotiation.

Grey clouds and silver linings – climate change a financial reality for Australian business


The business sector has begun to recognise the significant economic and financial risks associated with climate change and wades in on what was, to date, an issue for environmentalists.

Straining at the floodgates - international developments in climate risk disclosure and litigation


International developments raising the bar on corporate governance and disclosure of financial risks associated with climate change.

ACCC 2022/23 Priorities | The green light to target greenwashing


The ACCC has announced its 2022/23 enforcement priorities including a focus on a key risk – mising environmental and sustainability claims.

How to prepare for financial reporting sustainability requirements


We discuss emerging regulatory requirements and how to treat climate change risk in the context of your practices and market disclosures.

Recent UK cases have implications for how climate change policies are administered in Australia


While Government policy decisions are generally regarded as non-justiciable, and beyond the realm of legal challenge, a unanimous decision by the Irish Supreme Court illustrates the real potential for challenge to the manner in which climate change-related policies are administered, on both statutory compliance and human rights grounds. We consider the potential implications of that decision for Australian government entities, and make key recommendations to guide the review of current administrative decision-making frameworks.

Institutional investment, corporate governance and climate change: what is a trustee to do?


Recent publicity surrounding the exclusion or divestiture of stocks in carbon-intensive industries shows that ing investors are reviewing the financial risks (and opportunities) associated with climate change. However, with debate on climate change often pitched around ideological poles, many superannuation fund trustees are struggling to translate these developments into prudent governance practice, consistent with their statutory and general law duties. This article looks beyond the political debate to consider what recent developments on climate change mean for the legal obligations of fund trustees, and the implications for boardroom practice. In doing so, they note that focus on the outcomes of investment (or divestment) decisions may have obscured the key legal issue – that of diligent process.

Climate risk governance: What directors need to know


MinterEllison has partnered with the Australian Institute of Company Directors (AICD) to release a plain-language guide to assist directors with their climate risk journey.

Why financial services needs a holistic approach to managing ESG


As stakeholder expectations around environmental, social and governance (ESG) issues continue to rise, many organisations still don't fully understand the extent of the challenge – or how best to tackle it.

Key trends to emerge from the 2020 AGM season


We provide a high level snapshot of trends from the AGMs of Australia's largest companies (ASX100 listed) over the course of the last five years.

Heightened expectations of climate-related disclosure and assurance


As reporting season approaches, financial report preparers are grappling with new expectations concerning the disclosure of financial impacts associated with climate change.

Companies are about more than maximising profits? 
Business Roundtable has issued a statement redefining the purpose of a corporation to include delivering benefits to all stakeholders
The 'next normal': climate change risk governance in a pandemic age – Part 1


Corporate climate risk assessment and disclosure expectations in FY20.

Understanding directors' duties and climate risk: An interview with Philippe Joubert, CEO of Earth on Board


In many nations – and many companies – the race towards net zero emissions is already underway. More and more business ers now realise that climate action is not just a moral responsibility, but a matter of plain common sense.

Misleading climate-related disclosure: are your verification and disclosure processes defensible?


A new Federal Court claim has implications for issuers, their advisors and individual officers. Our Climate Risk Governance team provides practical guidance to guard against claims for mising climate-related fundraising disclosures.

Climate risk and sustainability: ASIC guidance developments


The Australian Securities & Investments Commission (ASIC) has released revised guidance on climate change-related financial disclosures.

September 'Global Climate Strikes': what employers need to consider


Global climate protests on 20 September pose reputational risks for businesses if they do not prepare to manage a number of issues. These include requests about employee participation, increasing external stakeholder interest in climate change and broad based demands for governments to take action.

Why agribusiness is a sector to watch


Despite a perfect storm of challenges during 2020, Australia's agribusiness sector continues to grow. Our new report, Ahead of the Harvest: 2020 – 2022, explores why, and where the greatest investment opportunities lie.

Litigation as a risk for adaptation and adaptation finance


What are the legal implications of adaptation to climate change-related impacts? Our team explores these issues in a new report, produced for the UNEPFI.

Navigating climate dynamics: three key matters for energy & resources


Climate change is a material and accelerating financial risk and opportunity. The energy and resources sector faces unique challenges in navigating this dynamic issue. We provide three key climate change and carbon matters that boards and executives in this sector should be considering.
Meet our Firms and Professionals
WSG's member firms include legal, investment banking and accounting experts across industries and on a global scale. We invite you to meet our member firms and professionals.