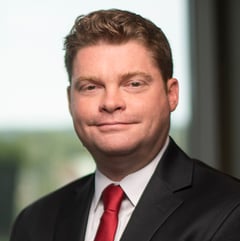 Bradford Currier
Senior Attorney
Practice Expertise
Areas of Practice
Profile
Brad Currier's practice is focused on communications matters, with an emphasis on advocating for service providers and other industry stakeholders before federal and state agencies regarding broadband infrastructure deployment and government funding opportunities. He also advises established and start-up service providers on federal wireless spectrum policy, including spectrum auctions involving mid- and high-frequency bands supporting 5G technologies. In addition, he assists clients in completing regulatory due diligence for transactions involving mergers, acquisitions, and service agreements.
His experience covers a wide range of communications-related rulemakings, investigations, audits, and enforcement actions. He regularly represents clients in mediation, litigation, and other disputes with service providers regarding service terms and billing issues. Brad currently serves as co-chair of the Enforcement Committee of the Federal Communications Bar Association, helping to educate industry stakeholders about the FCC's investigation and enforcement processes.
Prior to joining Bradley, Brad served as an assistant division chief in the FCC's Enforcement Bureau, ensuring compliance with licensing, public safety, equipment certification/marketing, and open internet regulations. He also served as legal advisor to the FCC Enforcement Bureau on consumer protection and network security matters involving unauthorized operations, deceptive marketing, truth-in-billing, call spoofing, data security, and emergency communications. Brad is a recipient of the Enforcement Bureau Chief's Award for his substantial contributions to the FCC's public service mission.
Bar Admissions

Alabama, 2021
District of Columbia, 2011
Court Admissions
United States Court of Appeals, District of Columbia Circuit
Education

George Washington University Law School, J.D., 2010, with honors; Presidential Merit Scholar; Thurgood Marshall Scholar; Mock Trial Board; Moot Court Board; Federal Circuit Bar Journal
Boston University, B.A., 2007, summa cum laude; Trustee Scholar; Phi Beta Kappa