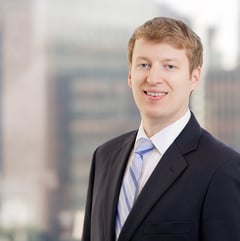 Practice Expertise
Commercial Litigation
Business Litigation
Energy and Environmental Litigation
Construction and Engineering Litigation
Areas of Practice
Business Litigation
Commercial Litigation
Construction and Engineering Litigation
Energy and Environmental Litigation
Energy Litigation
Litigation
Mergers and Acquisitions Litigation
Trademark Proceedings
View More
Profile
A former law clerk in federal district court, Brian is an experienced trial lawyer who treasures the opportunity to make his clients' cases in courtrooms and other forums.
Brian loves going to trial. Although he typically represents corporate defendants, he has obtained nearly $100 million in combined awards and judgments for his corporate clients when they find themselves as plaintiffs. When litigation becomes necessary in business, he relies on his experience representing clients in a wide array of commercial disputes—including construction litigation, contract claims, corporate torts, insurance claims, trademark infringement claims, and post-M&A disputes—to position the case well for presentation to a judge, jury, or arbitrator. But just as importantly, Brian is skilled in helping clients find workable business solutions to resolve their commercial disputes without the hassle, expense, and uncertainty of litigation.
Brian demonstrates the same versatility in his pro bono practice. He often represents low-income tenant-defendants facing eviction. He has been a steady presence in Richmond-area general district courts, where he frequently takes cases to trial. Brian is proud to have helped keep many tenants in their apartments over the years by defeating their landlords' eviction actions. On the plaintiffs' side, he has won a number of favorable verdicts and secured monetary settlements for tenants who have been wrongfully evicted or seen their security deposits improperly withheld. From 2019 through 2021, Brian served as the housing-law "champion" for the Greater Richmond Bar Foundation-Central Virginia Legal Aid Society's Triage program, for which he recruited, trained, and mentored other attorneys who were new to pro bono housing cases.
Brian is admitted to practice before the U.S. District Court for Eastern District of Virginia, the U.S. District Court for the Western District of Virginia, the U.S. Court of Appeals for the Fourth Circuit, and Virginia state courts.
Prior to joining the firm, Brian served as a law clerk for the Honorable Norman K. Moon of the U.S. District Court for the Western District of Virginia. Before law school, he worked in the defense industry in the Washington, DC area, first as an economist with the Department of Defense and then as a senior consultant with a top management consulting firm.
Relevant Experience
Served as trial counsel in a federal bench trial in a trademark-infringement dispute—delivering the opening statement, cross-examining a key witness, and defeating a Rule 52(c) motion for judgment on partial findings. Having obtained a permanent injunction before trial to stop the infringement, our trial team then won a nearly $43 million judgment and proved that this was an "exceptional case" deserving an award of attorneys' fees.
As co-lead trial counsel, won a $50+ million award for a wireless-telecommunications client after a five-day arbitration, defeating more than $19 million in counterclaims.
Argued for and obtained dismissal of claim for punitive damages in Delaware Superior Court, leading to favorable settlement of remaining claims for breach of contract and fraud in a post-M&A dispute.
Argued for and obtained summary judgment for individual defendant named as a fiduciary in an ERISA action brought by the Department of Labor.
Obtained dismissal for client accounting firm facing claims of malpractice, breach-of-contract, and fraud.
Defended project owners in construction litigation against contractors' claims for additional compensation, schedule extensions, inefficiencies, and acceleration costs.
Pursued project owners' counterclaims against contractors for liquidated damages and other remedies for construction delays.
Defended a natural gas utility in carbon-monoxide-exposure action involving multiple plaintiffs and defendants.
Represented private equity firm asserting claims against seller for indemnification under an Asset Purchase Agreement.
Represented a holding company in a net-working-capital dispute after a corporate acquisition.
Consulted in the drafting of a User Agreement to reduce litigation risk.
Advised on the application of the Copyright Act, including the Fair-Use Doctrine.
Excelled at the nation's premier trial-lawyer training program, the National Trial Advocacy College at the University of Virginia School of Law (2020)
Bar Admissions

Education
BS, The Pennsylvania State University, Economics, with honors and with distinction, 2004
Areas of Practice
Business Litigation
Commercial Litigation
Construction and Engineering Litigation
Energy and Environmental Litigation
Energy Litigation
Litigation
Mergers and Acquisitions Litigation
Trademark Proceedings
Professional Career
Significant Accomplishments
Commercial Litigation: Represented private equity firm involved in ongoing multi-jurisdictional litigation and arbitration.
Energy Litigation: Advised energy producer in connection with federal interpleader litigation arising out of land rights dispute.
Internal Investigations: Investigated whistleblower allegations reported through manufacturer's internal tip line.
Commercial Litigation: Defended third party (non-client) claims against law firm.
Pro Bono: Represented disabled veterans seeking disability benefits.
Professional Associations
American Bar Association – Construction Law Forum
Richmond Bar Association
Articles
Take Your Marks: An Associate's Guide To Your 1st Big Trial, Law360
5 Ways You Can Proactively Protect your Business, Construction Business Owner
Five Tips to Reduce Litigation Risks on Major Construction Projects, ForConstructionPros.com
Reduce Litigation Risk to Major Construction Projects, Construction Business Owner
Blogs
Connecting You To the Flow of Latest News and Industry Information
Trends and Developments in Energy and Environmental Law
Meet our Firms and Professionals
WSG's member firms include legal, investment banking and accounting experts across industries and on a global scale. We invite you to meet our member firms and professionals.