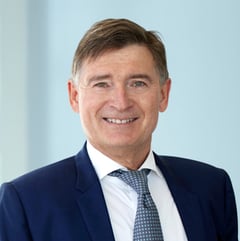 Christian Th. Kjølbye
Partner, LL.M.

Copenhagen, Denmark
Local Time: Tuesday 17:18
Practice Expertise
Corporate Law
Capital Markets
Dispute Resolution
Areas of Practice
Capital Markets
Corporate Law
Dispute Resolution
Foundations
IP Law
M&A
View More
Profile
Christian Th. Kjølbye is a partner in our Dispute Resolution team.
Christian's focus areas are:
M&As
Structured sales processes
Listed companies – take-over bids
Foundation law – commercial and non-commercial foundations
Arbitration proceedings – Danish and international arbitration, especially in M&As and transaction-related cases
Christian's track record includes some of the largest M&As in Denmark. Christian also has in-depth sector specialisation, eg in telecommunications, IT/consultancy businesses, logistics businesses and the food/beverage segment. He advises clients on take-over bids and management and governance.

Christian is one of Denmark's leading foundation law advisors. He advises a range of the largest commercial foundations in Denmark on strategic issues related to the foundation's businesses and objects, eg in relation to grants, governance and object amendments etc.

Moreover, he is chairman and a member of various boards of trustees. Christian was an expert member of Erhvervsfondsudvalget (commercial foundations committee) in 2012 and contributed to the travaux preparatoires of the Danish Act on Commercial Foundations.

Christian is also highly experienced in arbitration proceedings. Christian has conducted a series of important international arbitration proceedings relating to M&A guarantee requirements, loyal duty of disclosure and other transaction-related disputes with a high degree of complexity, expert witnesses etc. Christian has also served as arbitrator and umpire in a range of Danish and international arbitration proceedings.

Christian has an LL.M from New York University and lectures in and gives presentations on corporate law and foundation law subjects.
Highlights
Brdr. Hartmann - public take-over bid from Lactosan-Sanovo
Dagbladet Børsen - advisor to Bonnier, the Swedish media group, in connection with Bonnier's sale of the Danish business daily Dagbladet Børsen to JP/Politikens Hus
Danisco A/S - DuPont's take-over of Danisco (via a public take-over bid)
Danske Færger - establishment of Danske Færger through a merger between Bornholmstrafikken A/S, Sydfynske A/S (which was an indirectly wholly-owned subsidiary of Clipper Group A/S) and Færgen
Louis Poulsen Lighting A/S - sale of Louis Poulsen Lighting A/S to Polaris
Post Nord - merger between Post Danmark A/S and Posten AB
Sanistål - rights issue
Sanovo Greenpack Embalagens do Brasil Ltda - Brdr. Hartmann's acquisition of Sanovo Greenpack Embalagens do Brasil Ltda from Lactosan-Sanovo Holding A/S
Scandlines - sale of ferry company Scandlines
Skagen Designs - sale of Skagen Designs to US company Fossil
Telenor - contemplated merger between Telenor's and Telia's Danish businesses in a new joint company
Trustpilot - advisory services related to Vitruvian Partners' investment in Trustpilot
Trustpilot - venture investments in Trustpilot
Welltec - PFA's investment in Welltec
Arbitration
International arbitration proceedings as attorney for a German company which filed a complaint against a global Danish company in a case involving the Danish company's sale of a subsidiary to the German buyer. Extensive claim for damages on the basis of non-performance of financial guarantees and violation of the seller's loyal duty of disclosure as well as production of evidence of the size of the loss, eg on the basis of the DCF loss calculation
Attorney for a distributor (in Germany, Switzerland and Austria) against a Danish company regarding the Danish company's wrongful termination of the distribution agreement, with completion of a material claim for damages against the Danish company
Umpire of arbitration tribunal in a case involving the cancellation of an acquisition of a share in a limited partnership in Germany based on incorrect information in the underlying prospectus documents
Arbitrator in international arbitration proceedings between a US company and a Swiss company involving questions about the determination of the purchase price in an international business transaction
Extensive experience in general as an attorney or arbitrator in cases involving shareholders' agreements in connection with arbitration proceedings and arbitration complaints related to M&As, especially regarding the alleged violation of the seller's loyal duty of disclosure, financial guarantees and tax guarantees, not to mention purchase price calculations
Bar Admissions
Danish Association for Corporate Law
Danish Association for the Protection of Industrial Rights
Danish Competition Law Society
International Bar Association (IBA)
Education
1991 Admitted to the Danish Supreme Court1987 LL.M., New York University1985 Admitted to the bar1982 Master of Laws, University of Copenhagen
Areas of Practice
Capital Markets
Corporate Law
Dispute Resolution
Foundations
Professional Career
Professional Activities and ExperienceAccolades
2022 Legal 500 Hall of Fame
2022 Chambers Global
2019 2020 2021 2021 2022 IFLR
2021 Legal 500 Hall of Fame
2021 Chambers Global
2020 Legal 500
2020 Chambers Global
2019 Legal 500
2019 Chambers Global
2018 Legal 500 Hall of Fame
2018 Chambers Global
2018 Legal 500
2018 IFLR
2017 WhosWho
2017 Chambers Global
2017 Legal 500
2017 IFLR
2016 Chambers Global
2016 Legal 500
2016 IFLR 1000
2016 WhosWho
2015 Chambers Global
2015 Legal 500
2015 IFLR 1000
2015 Expert guides
2014 Chambers Global