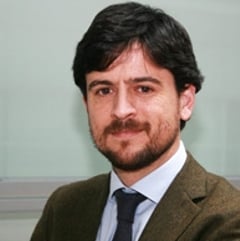 David Arias Guedón
Partner

Practice Expertise
Administrative Law
Environmental
Tourism and Hotels
Areas of Practice
Administrative Law
Environmental
Tourism and Hotels
Profile
David is a member of Garrigues' Administrative Law and Zoning Department, where he has pursued his professional career since 2001.
Throughout this time, David has advised both the public and private sectors across all areas of administrative law.
In this area, David has advised on the reorganization of the public authorities, industry privatization processes and changes in public service management methodology, the design, construction, management and liquidation of special purpose vehicles, as well as preparing draft legislation and regulations.
Also worthy of note is his advice to the public authorities on the bids to host international events such as the Olympic Games or the Ryder Cup, playing an active role in the design of the admin structure and the relevant instruments for administrative coordination.
David can boast a wealth of experience in the field of public procurement and administrative concessions (highway infrastructure, hospitals, integrated water cycle, port terminals, retirement homes, etc.), providing advice to both the public authorities and the private management or financial institutions involved in such projects.
For several years now, Arias has broadened his area of expertise to take in industries such as online gaming (advising operators on the obtainment of licenses and dealings with the Directorate-General of Gaming), defense (supply of military equipment and major arms programs) and renewable energies (wind and photovoltaic).
The advisory services provided by David take in everything from the design and start-up of projects and the preparation of due diligence reviews and legal opinions to the management of appeals via administrative and judicial review channels, where he can also boast extensive experience.
David is a member of the Madrid Bar Association.
Education

Degree in Law (Special End of Degree Prize) from CU María Cristina - El Escorial (Universidad Complutense de Madrid).
Regular speaker at numerous seminars and conferences on public law staged by the Firm and an array of specialist centers (Unidad Editorial, IFAES, IEB, IIR, etc.).

Articles
Contributor to the collective work "Comments on and Concordances of the Law on Safeguards for and the Rational Use of Medicinal Products and Health Products" (Colección Garrigues. Editorial Marcial Pons. Madrid, 2007).
Contributor to the collective work "Legal Studies of Corporate Restructuring Transactions" (Colección Garrigues. Editorial Marcial Pons. Madrid, 2009).
Meet our Firms and Professionals
WSG's member firms include legal, investment banking and accounting experts across industries and on a global scale. We invite you to meet our member firms and professionals.