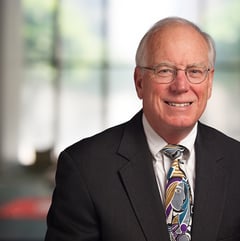 David Barbour
Special Counsel

Practice Expertise
Banking and Finance
Capital Markets and Securities
Asset-Backed Securitization
Corporate
Areas of Practice
Asset-Backed Securitization
Banking and Finance
Capital Markets and Securities
Corporate
Energy Finance and Securitization
Finance and Restructuring
Hospitality (Real Estate Version)
Hotel REITs
Latin America
Mortgage REITs
North America
Real Estate Capital Markets
Real Estate, Development and Finance
Residential Mortgage-backed Securities
Single Family Rental (SFR) Financing and ...
Structured Finance and Securitization
Warehouse and Structured Lending, Gestation ...
View More
Profile
David's practice includes expertise in various commercial transactions on a national and international basis.
He represents issuers and underwriters in public and private offerings of equity and debt securities, with an emphasis in structured and restructured issuances of mortgage-backed and asset-backed securities. He also advises clients regarding the negotiation and structuring of various corporate and real estate financings and asset and stock acquisitions. Finally, David is experienced in handling a variety of other general corporate, mortgage banking, real estate and securities transactions.
Representative Experience
Serves as outside general counsel to NYSE-listed mortgage REIT
Represented issuers in over 500 mortgage and asset-backed securitizations
Represented buyer in $2 billion commercial mortgage loan repurchase facility
Represented hedge fund in acquisition of specialty finance company through bankruptcy proceedings
Represented Fortune 100 company in commercial mortgage leaseback securitization of its corporate headquarters
Represented a multilateral finance organization in drafting of mortgage-backed securitization legislation for Russia and Ukraine
Represented hospitality REIT in its IPO and subsequent common and preferred equity offerings
Education
BBA, The University of Texas, with highest honors, Phi Kappa Phi, Beta Gamma Sigma, Sigma Iota Epsilon, 1971
Areas of Practice
Asset-Backed Securitization
Banking and Finance
Capital Markets and Securities
Corporate
Energy Finance and Securitization
Finance and Restructuring
Hospitality (Real Estate Version)
Hotel REITs
Latin America
Mortgage REITs
North America
Real Estate Capital Markets
Real Estate, Development and Finance
Residential Mortgage-backed Securities
Single Family Rental (SFR) Financing and Securitization
Structured Finance and Securitization
Warehouse and Structured Lending, Gestation Finance and Early Buyout (EBO) Facilities
Articles
AK Migration: DC Circuit Panel Vacates Proxy Access Rule
AK Migration: SEC Replaces Credit Ratings with New Wide Market Following Test for Shelf Registration Statement Eligibility
AK Migration: SEC Proposes Rules for Compensation Committees and Compensation Advisers
AK Migration: Recent Ruling Allows a Shareholder Lawsuit to Proceed After a Negative Say-on-Pay Vote: Quirk or Harbinger?
AK Migration: DC Circuit's Proxy Access Decision to Stand, but SEC to Allow "Private Ordering" of Proxy Access
AK Migration: Next Wave of MBS Litigation Focuses on Issuers, Underwriters
Clark Contracting: Texas Lien Assignees Unperfected?
Meet our Firms and Professionals
WSG's member firms include legal, investment banking and accounting experts across industries and on a global scale. We invite you to meet our member firms and professionals.