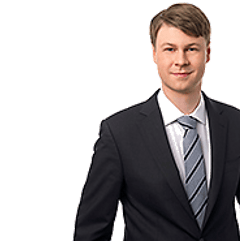 Dimitrios Berger
Senior Associate

Practice Expertise
Areas of Practice
Corporate & Commercial
Corporate Finance & Capital Markets
Healthcare & Life Sciences
Industry & Commerce
Mergers & Acquisitions
Private Equity & Venture Capital
View More
Profile
Dimitrios Berger is an attorney in the Corporate/M&A team of Walder Wyss. His practice focuses on national and international M&A transactions, public tender offers, private equity and venture capital transactions and general corporate law. He also advises FinTech companies on complex regulatory matters and represents market participants before the Swiss regulatory authorities.
Born in 1989, Dimitrios Berger studied law at the University of Lucerne, Switzerland (MLaw 2014), and at the Singapore Management University. He is a graduate of the Berkeley Venture Capital Academy. Before joining Walder Wyss, Dimitrios Berger gained working experience as a trainee in a leading business law firm in Zurich. He was admitted to the bar in 2017.
Dimitrios Berger practices mainly in German and English and speaks French.
Areas of Practice
Corporate & Commercial
Corporate Finance & Capital Markets
Healthcare & Life Sciences
Industry & Commerce
Private Equity & Venture Capital
Professional Career
Significant Accomplishments
Astorg acquires CordenPharma from ICIG
Mökah AG acquires H. Jakober AG
Teylor AG announces CHF 6.5 million Series A2 Financing Round
Swiss medtech company Distalmotion SA closes USD 90m Series E Financing Round
A.P. Moller Holding acquires Unilabs
Infoniqa acquires Run My Accounts AG
CRK wird Teil der MYTY Group
Gold Tree Basel Limited acquires G.A.T.E.S., Hôteliers & Restaurateurs SA
Novartis übernimmt Arctos Medical
Montana Aerospace (SIX: AERO) acquires Asco Industries
TX Group, Ringier, die Mobiliar und General Atlantic gründen Joint Venture im Bereich der digitalen Marktplätze
Astrocast SA lists on Euronext Growth Oslo
Naxicap Partners erwirbt myStromer AG
Sulzer & Schmid Laboratories AG hat eine Serie-B-Finanzierungsrunde abgeschlossen
Naxicap erwirbt Stromer
Erwerb der Mehrheitsbeteiligung an der fedafin AG
Erwerb der Beteiligung von Fedro S.A. an Freesailors Coöperatief U.A., dem Mehrheitsaktionär von lastminute.com N.V. (SIX: LMN)
Infoniqa erwirbt Sage Schweiz AG
Walder Wyss AG hat die Konsortialführer bei der Bezugsrechtsemission der Swiss Steel Group beraten
Mökah AG übernimmt Schneider Kanalreinigung AG
Serie B-Finanzierungsrunde über CHF 7,8 Mio. der 1plusX AG
Dovista erwirbt die Fenstersparte von Arbonia
CHF 14 Mio. Series B Finanzierungsrunde von Memo Therapeutics
Studer Family Office AG übernimmt NSM Holding AG
Groupe Mutuel erwirbt Mehrheitsbeteiligung am Versicherungsberater Neosana
Wise Road Capital übernimmt Huba Control von Siemens
Sulzer übernimmt Haselmeier-Gruppe
Crédit Mutuel Equity (Schweiz) investiert in die aventron AG
Celanese Corporation (NYSE: CE) schliesst Übernahme des Geschäfts mit redispergierbaren Polymerpulvern (Elotex) von Nouryon ab
SEED erwirbt Mehrheitsbeteiligung an der Sensimed AG
Walder Wyss berät Deutsche Börse bei der Abwicklung von Wertpapiertransaktionen mittels Distributed-Ledger-Technologie (DLT)
Suntel Group erwirbt EnKom AG
Walder Wyss berät Nestlé beim CHF 10.2 Mrd. Verkauf ihres Skin Health Business
Sobi erwirbt NovImmunes Immunologie Sparte in CHF 515 Mio. Transaktion
Schweizer FinTech Startup Tradeplus24 mit CHF 120 Mio. Serie A Finanzierungsrunde
CHF 15,5 Millionen Finanzierungsrunde des Schweizer Startups Oculis SA
Flexera übernimmt Brainwaregroup
Articles
Blockchain und Kryptowährungen – Steuer- und gesellschaftsrechtliche Implikationen
Swiss Federal Council Sets Forth Key Elements of a Swiss Investment Control Regime
Doing Business in Switzerland – A Practical Guide
Schweiz prüft die Einführung von Kontrollen für ausländische Direktinvestitionen
Blockchain und Kryptowährungen: Steuer- und gesellschaftsrechtliche Implikationen
Blockchain und Kryptowährungen: Steuer- und gesellschaftsrechtliche Implikationen
Fintech aus rechtlicher Sicht: DLT und ihre Anwendungsfälle
Angepasste Offenlegungsregeln im Rahmen des schweizerischen Gesellschaftsrechts (sogenannte FATF-Regeln); strafrechtliche Sanktionen kommen zur Anwendung
Meet our Firms and Professionals
WSG's member firms include legal, investment banking and accounting experts across industries and on a global scale. We invite you to meet our member firms and professionals.