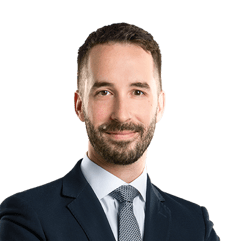 Quebec, Canada
Local Time: Thursday 22:32
Practice Expertise
Aviation Law
Commercial Litigation
Damage Insurance
Aviation and Aerospace
Areas of Practice
Aviation and Aerospace
Aviation Law
Commercial Litigation
Damage Insurance
Financial Products and Services
Insurance
Product Liability
Professional Liability
Special Risk Insurance
View More
Profile
Partner
Dominic is a member of the firm?s Litigation Group. His practice is primarily focused on insurance law and civil liability. Since his call to the Barreau du Québec, he has developed his expertise in several specialized areas, particularly insurance coverage dispute and the distribution of financial products and services.
He regularly advises Canadian and foreign corporations, including entrepreneurs, manufacturers, insurers and transport companies, and represents them before the courts. He is accustomed to managing complex files and favours a innovative and professional approach to serving his clients' interests and finding practical solutions to their problems.
Dominic frequently publishes articles on topical legal topics, particularly regarding changes in the insurers? coverage obligations, and occasionally gives accredited training courses on various topics of interests.
In addition to a stint with an international law firm, Dominic previously acted as legal counsel for an important association of healthcare establishments, where he worked with several insurance programs and managed the claims and litigation relating to professional liability. 
Education

LL.B., Université de Montréal, 2011
Introduction to Chinese Law Certificate, China University of Political Science and Law (Beijing), 2010
Areas of Practice
Aviation and Aerospace
Aviation Law
Commercial Litigation
Damage Insurance
Financial Products and Services
Insurance
Product Liability
Professional Liability
Special Risk Insurance
Professional Career
Professional Associations
Canadian Bar Association
Young Bar Association of Montreal
Jeune Chambre de commerce de Montréal
Professional Activities and ExperienceAccolades
Articles
Additional Articles
OSFI's new expectations with respect to the governance of federally-regulated financial institutions
On appeal from a judgment on a Wellington-type motion
Nullity ab initio – misrepresentations during policy underwriting process
Increased risk: the importance of questions to policyholders
Wellington-Type Motion And Reserve Of Rights Letter
Care, Custody or Control Exclusion Clause in Insurance—The SCC's Interpretation
Bill 141 and divided Co-ownerships: What changes in insurance for co-owners?
Insurers' Duty to Defend: The Court of Appeal makes a new ruling
Are you protected against phishing email? What the Court of Appeal said in insurance matters
Insurer's Duty to Defend: Bill 82 Opens the Door to Possible Limitations
Adoption of Bill 82: The insurer's duty to defend can now be adjusted
Insurer's Duty to Defend: The Court Rules in a Case of Contractual Breach
Limitation of insurer's duty to defend: The Draft Regulation specifying the categories of contracts covered is published
Amendments to the categories of contracts covered by the exemptions to the obligation of an insurer to assume an insured's defence—the Regulation to come into force
Complaint processing: New framework to come for financial institutions and financial intermediaries
Clarifications regarding insurance products offered on the Internet
Insurers: Two-headed hydras
Bill 30 – legislative changes concerning insurance
Meet our Firms and Professionals
WSG's member firms include legal, investment banking and accounting experts across industries and on a global scale. We invite you to meet our member firms and professionals.