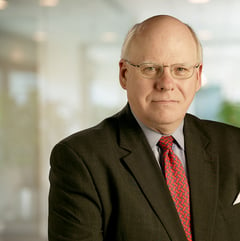 Practice Expertise
Asset-Backed Securitization
Capital Markets and Securities
Corporate Governance and Board Advisory
Corporate
Areas of Practice
Asset-Backed Securitization
Capital Markets and Securities
Corporate
Corporate Governance and Board Advisory
Derivatives
Initial Public Offerings (IPOs)
International and Cross-Border Transactions
Structured Finance and Securitization
View More
Profile
Dudley Murrey practices in numerous areas of corporate finance, securities and corporate law.
He represents multinational companies and others in domestic, cross-border and international corporate finance transactions, including public and private securities offerings, structured finance transactions, and commercial lending arrangements. Dudley regularly advises clients on securities law compliance, corporate governance matters, compliance with the New York Stock Exchange, the NASDAQ Stock Market and other exchange rules, and compliance with the Dodd-Frank Act, including the swap regulations adopted under the Dodd-Frank Act. In addition, he has represented clients in connection with mergers and acquisitions, corporate restructurings, facility and equipment financings, the acquisition and financing of commercial and corporate aircraft, and internal and regulatory investigations and inquiries.
In his more than four decades of practice, Dudley has represented a wide range of companies, from Fortune 150 companies to small, privately-held companies. His work for those clients has included representing them in some of their most important financings and transactions, ranging from international financings and acquisitions to the sale of the family business, as well as counseling them regarding matters affecting their daily operations and regulatory compliance.
Representative Experience
Since early 1998, Dudley has represented a Dow 30 company in numerous public offerings of more than a total of $100 billion of debt securities, including acting as the client's U.S. counsel with respect to public offerings in Japan.
Financings and transactions representative of Dudley's experience are:
Representation of a Dow 30 company in its offering of $16 billion aggregate principal amount of its notes
Representation of a leading, world-wide retailer in connection with its public offering of $16 billion of its senior unsecured notes of nine different series, a portion of the net proceeds of which would be used to finance a planned acquisition by the issuer
Representation of NASDAQ-listed bank holding company in its initial public offering, in a follow-on equity offering and in subordinated debt offerings
Representation of a Dow 30 company in the amendment and extension of a $7.5 billion 364-day credit facility, a $5.0 billion five-year credit facility and a $1.75 billion letter of credit facility
Representation of a leading, worldwide retailer in connection with debt tender offers with an aggregate maximum consideration of over $16 billion
Representation of the issuer in a Rule 144A placement of $500 million of put reset notes
Representation of a Fortune 150 company in its $245 million synthetic lease financing of a major data processing facility
Representation of a Fortune 150 company in its sale of $150 million of receivables
Representation of borrowers in the negotiation and documentation of in excess of $100 billion of credit facilities, including a number of multi-currency credit facilities
Representation of an aircraft finance company in the purchase, financing, lease and disposition of nine Airbus A319 aircrafts
Representation of an international finance company in the $750 million restructuring of an international broadband communications provider
Representation of originator in connection with securitization of $4 billion of government receivables
Education
BA, Southern Methodist University, with high honors, 1971
Areas of Practice
Asset-Backed Securitization
Capital Markets and Securities
Corporate
Corporate Governance and Board Advisory
Derivatives
Initial Public Offerings (IPOs)
International and Cross-Border Transactions
Structured Finance and Securitization
Articles
AK Migration: SEC Proposes Enhanced Short-Term Borrowing Disclosure Rules
AK Migration: ISS Publishes 2012 Updates to Benchmark U.S. Proxy Voting Guidelines
Expanded NYSE MKT Material News Notification Policy Now Effective
Delaware Chancery Court Holds Director Equity Awards Issued Under a Stockholder-Approved Plan Subject to Review under the Entire Fairness Standard
ISS Publishes Guidance on New Methodology for Evaluating Pay-for-Performance Alignment and Updates to its Governance Risk Indicators
Recent SEC Staff Comments Challenge Reporting of Equity Compensation
SEC Proposes Pay Ratio Disclosure Rule
SEC Throws a Change-up in Conflict Minerals Rule Compliance
CFTC Issues Revised Interpretation Regarding Contracts with Embedded Volumetric Optionality
PCAOB Adopts New Auditing Standard Regarding Related Party Transactions and Amends Other Auditing Standards
AK Migration: DC Circuit Panel Vacates Proxy Access Rule
AK Migration: SEC Stays Proxy Access Rules
AK Migration: SEC Proposes Rules for Compensation Committees and Compensation Advisers
SEC Adopts Rules Implementing Dodd-Frank Requirements for Compensation Committees and Compensation Advisers
ISS Announces QuickScore 3.0 – Data Verification Period Ends November 14th
General Solicitation Permitted in Certain Rule 506 and Rule 144A Offerings; "Bad Actors" Disqualified from Rule 506 Offerings; Other Significant Amendments Proposed to Regulation D
Non-GAAP Financial Measures: New Scrutiny
D.C. Circuit Denies Petition for Rehearing Conflict Minerals Rule Case
SEC Issues Pay Ratio Disclosure Guidance
SEC Proposes Pay Versus Performance Disclosure Rule
ISS Updates Proxy Voting Policies for 2016 Proxy Season
The Conflict Minerals Rule: Important Recent Developments
Original Judgment in Conflict Minerals Case Reaffirmed
PCAOB Proposes New Audit Standard for Related Party Transactions and Excites Concern About Auditor Involvement in Executive Compensation Decisions
AK Migration: SEC Issues Interpretive Guidance Regarding Liquidity and Capital Resources Disclosures
CFTC Adopts Rule Implementing the Dodd-Frank End-User Exception to Mandatory Swap Clearing Requirement
SEC Proposes Executive Compensation Clawback Rule
D.C. District Court Upholds Dodd-Frank Conflict Minerals Rule
ISS Updates Proxy Voting Policies For 2015
SEC Proposes Dodd-Frank Disclosure Rule Regarding Hedging Policies
AK Migration: PCAOB Considers Changes to Standards for Auditors' Reports on Audited Financial Statements
AK Migration: PCAOB Floats Possibility of Mandatory Audit Firm Rotation
AK Migration: DC Circuit's Proxy Access Decision to Stand, but SEC to Allow "Private Ordering" of Proxy Access
SEC Adopts Dodd-Frank Conflict Minerals Rule
SEC Issues Partial Stay of Conflict Minerals Rule
SEC Provides Guidance on Dodd-Frank Conflict Minerals Rule
ISS Releases Voting Policy Updates for 2014 Proxy Season
NYSE Expands Material News Notification Policy and Trading Halt Authority Effective September 28, 2015
SEC Adopts Pay Ratio Disclosure Rule
Conflict Minerals Rule Update: Court Denies Request for Stay
Nasdaq Issues Guidance on the Post-Market Close Release of Material News
SEC Considering Possible Revisions to Audit Committee Disclosure Requirements
What Hath Dodd (and Frank) Wrought? Preparing for the 2011 and Future Proxy Seasons in a Dodd-Frank Environment, Securities Regulation Law Journal, Volume 38, Number 4
Meet our Firms and Professionals
WSG's member firms include legal, investment banking and accounting experts across industries and on a global scale. We invite you to meet our member firms and professionals.