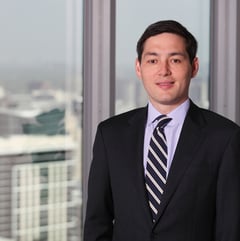 Practice Expertise
Consumer Financial Compliance and Litigation
FinTech
Blockchain
Litigation
Areas of Practice
Blockchain
Consumer Financial Compliance and Litigation
FinTech
Litigation
Profile
Eric's practice focuses on advising clients on federal and state consumer protection laws across a variety of industries including fintech, retail, hospitality, sale financing, non-traditional consumer lending, consumer leasing, buy-now-pay-later, and residential solar products.
Eric regularly advises investors, banks, and other participants that seek to facilitate the operations of consumer-facing companies through debt purchases, traditional lending facilities, tax equity transactions and other unique structures.
With clients who are often at the cutting edge of their respective industries with new and innovative consumer-facing products that challenge existing practices, Eric also provides counsel on a number of regulatory regimes. Among the regulatory regimes Eric advises on are the Truth in Lending Act, Fair Credit Reporting Act, the Fair Debt Collection Practices Act, the Electronic Funds Transfer Act, the Equal Credit Opportunity Act, the Telephone Consumer Protection Act, the Servicemember's Civil Relief Act, the Military Lending Act, student lending laws, state repossession laws, state marketing laws, state lending licensure requirements, state debt collection laws and state loan solicitation laws.
Finally, Eric has extensive experience litigating in federal courts on issues related to federal and state consumer financial services laws.
Relevant Experience
Advised on regulatory implications and requirements for SPAC transactions.
Advised fintech companies on consumer lending and solicitation licensing requirements in all fifty states and the District of Columbia.
Advised fintech, consumer lending, retail sales financing and other operating companies on loan, lease and retail installment sale agreements for compliance with state and federal law.
Advised fintech, consumer lending, retail sales financing and other operating companies on marketing and servicing requirements at a federal and state level.
Advised state chartered banks on fintech partnerships, including "true lender," Madden and rate exportation considerations.
Advised state-chartered banks, national banks, private equity groups and other investors on large debt purchases in the fintech space.
Advised national banks on consumer regulatory considerations for residential tax equity transactions. Such advice included the review of power purchase agreements, solar lease agreements and consumer financing products to ensure compliance with state and federal requirements.
Advised international hospitality companies on customer communication strategies.
Advised various international retailers on text message marketing and customer service campaigns.
Advised both national and state-chartered banks on financing transactions with consumer lending companies.
Advised utilities on text message marketing and customer services campaigns.
Education
BA, Vanderbilt University, 2006
Areas of Practice
Consumer Financial Compliance and Litigation
Articles
Second Circuit Issues Ruling Regarding Determination of a Debtor's Center of Main Interest Under Chapter 15, The Banking Law Journal
No Sole Method in Determining Cramdown Interest Rate in Chapter 11, The Texas Lawbook
Tenth and Eleventh Circuits Address Dismissal as Moot Under 11 U.S.C § 363(m) of Appeals Relating to Asset Sales, Journal of Bankruptcy Law
The CFPB Issues Rule Prohibiting Certain Arbitration Clauses, Payments Journal
Colo. 'true lender' settlement is path forward for bank-fintech partnerships, American Banker
Meet our Firms and Professionals
WSG's member firms include legal, investment banking and accounting experts across industries and on a global scale. We invite you to meet our member firms and professionals.