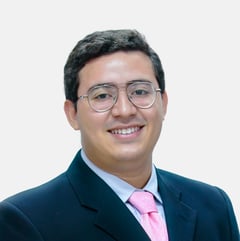 Gabriel Castillo
Associate

Managua, Nicaragua
Local Time: Wednesday 09:08
Practice Expertise
Areas of Practice
Profile
Gabriel is an associate at Consortium Legal – Nicaragua with 3 years of experience in legal advice in the private sector, particularly in the sectors of consumer goods, retail, infrastructure, health and life sciences; He was part of the departments of Litigation & Arbitration, Tax, and is currently a member of the intellectual property team.
He has participated in trademark registration investigations, trademark renewals and registrations, transfers, oppositions and objections, various civil and commercial judicial proceedings, institutional arbitration, tax audits and administrative proceedings, contentious-administrative lawsuits, appeals for protection, all related to domestic and foreign companies, of great importance in the region.
Education
Diploma in Civil Procedural Law, "Consultoría, Auditoría y Capacitación Corporativa" (CYCCO Consultores), Nicaragua (2020)
Law Degree (cum laude), "Universidad Centroamericana", (UCA), Nicaragua (2020)
Professional Career
Significant Accomplishments
Participated in compliance advice on regulatory matters, copyright, trademark law, and personal data protection, to a globally known company in the field of digital music streaming, podcasts, videos from creators around the world.
Participated in compliance advice on health regulatory matters, consumer rights and personal data protection, to one of the top five companies worldwide that offer DNA test analysis services for genetic genealogy purposes.
Participated in advising on compliance matters on copyright, telecommunications regulatory matters, consumer rights, and personal data protection, to a world-renowned company, a pioneer in the transmission of multimedia content services in line, and in hardware manufacturing for OTT media consumption.
Advisor in the management of protection of industrial property assets of a company, world leader in the manufacture, marketing and distribution of low, medium and high-end technological devices.
Member of the legal team that represented a Fortune Top 10 company in an arbitration process consisting of a claim for breach of contract and damages for more than 10 million US dollars. The process concluded with a favorable resolution for the client, reflected in an award that ordered to pay less than US$600 thousand.