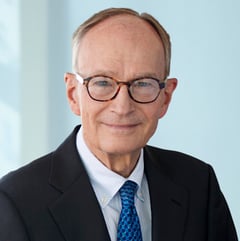 Hans Severin Hansen
Partner

Copenhagen, Denmark
Local Time: Tuesday 15:46
Practice Expertise
Areas of Practice
Corporate Law
Tax Law
Estate Planning
Profile
Hans Severin Hansen is a partner our Tax Law team and he is recognised as the leading tax attorney in Denmark. He is the only Danish tax attorney rated a "Star Individual" by Chambers and has been selected for The Legal 500 Hall of Fame.
Hans advises Danish and foreign business enterprises and he conducts the biggest and most complex tax cases. Hans's track record is unique. A lot of his cases are test cases which subsequently result in the reopening of similar cases and statutory amendments or changes in administrative practice.
Most recently Hans represented
Nordea in a case
in which the Court of Justice of the European Union upheld Nordea's claim that the previous rules (re-enacted in the shadow taxation) on retaxation in full of the losses of foreign branches is contrary to the right of free establishment of the EC Treaty. Thanks to this judgement other enterprises are now entitled to reopen cases from the income year 2003 or later.
Hans is the chairman of the Danish branch of the International Fiscal Association (IFA) and was a member of its Executive Committee in the period 2009-2015. He was the President of the IFA 2013 Congress in Copenhagen.
In 2006 Hans was awarded Magnus Prisen, a Danish award given to a tax specialist who has made a significant contribution to the advancement of Danish tax law. In 2010 he received Christrup Prisen, a Danish award given every three years to an attorney in recognition of his or her exceptional results in the courts.
At the moment Hans is working on a number of big cases, specifically including transfer pricing cases, the so-called beneficial owner cases about withholding dividend tax and tax on interest as well as cases about the right to deduct losses suffered by foreign subsidiaries.
A profile on Hans in the Danish weekly publication Berlingske Nyhedsmagasin can be read here.
Highlights
See Tax Law
Bar Admissions
Danish Association of Experienced Supreme Court Litigators

Danish Fiscal Association
International Fiscal Association
Danmarks Skatteadvokater (a Danish lawyers' tax law association) 
Danish Association for Corporate Law
Education
1984 Admitted to the Supreme Court1979 Admitted to the bar1976 Master of Laws, University of Copenhagen
Professional Career
Professional Activities and ExperienceAccolades
2016 Chambers Europe
2012 World Tax
2012 Chambers Europe
2011 Legal 500
2010 Chambers Europe
2014 Chambers Global
Articles
The Danish National Report to the IFA 2000 Munich Congress on "Tax treatment of hybrid financial instruments in cross-border transactions"
"Det store hykleri - om "beneficial owner" sagerne" (The great hypocrisy - the "beneficial owner" cases) Magnus Online, Article of the Month, June 2011.
Various articles, mainly about tax and duty related topics
Meet our Firms and Professionals
WSG's member firms include legal, investment banking and accounting experts across industries and on a global scale. We invite you to meet our member firms and professionals.