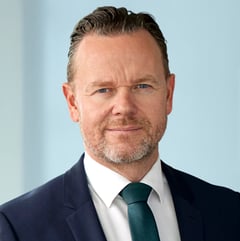 Jacob Ørskov Rasmussen
Partner

Copenhagen, Denmark
Local Time: Tuesday 17:16
Practice Expertise
Commercial Contracts
Corporate Law
Franchise
Areas of Practice
Commercial Contracts
Corporate Law
Franchise
Corporate Criminal Law
Export Control and Trade Sanctions
View More
WSG Practice Industries
WSG Leadership
Automotive Group - Member
WSG Coronavirus Task Force Group - Member
Profile
Jacob Ørskov Rasmussen is head of Plesner's Commercial, Franchise and International Trade team as well as the Automotive team and he has many years of experience in advising Danish and international clients on contractual relationships, both nationally and internationally. 
Jacob has acquired in-depth knowledge of and experience in a broad spectrum of commercial contract types, including sales and distribution agreements, agency agreements, franchise agreements, logistics and warehousing agreements, facility management agreements, supply agreements as well as purchasing contracts.

Jacob has extensive experience in franchising and licensing, including the drafting and negotiation of franchise agreements and licensing agreements, expanding franchise systems internationally, setting up franchise systems in Denmark and Danish and EU competition law related to franchising and licensing;. Jacob has amongst others been involved in franchise and licensing matters concerning such brands as Starbucks Coffee, Carl's Jr., Flying Tiger Copenhagen, KellyDeli (Sushi Daily), Pret A Manger, Joe & the Juice, Kentucky Fried Chicken (KFC), Skousen, IWG (Regus, Spaces, HQ and Signature by Regus), Berlitz, Gucci and Freedom Boat Club.

Jacob has contributed to a number of international publications on franchising, including "Getting the Deal Through - Franchise 2015", The Franchise Law Review (Edition 1-9) and The Legal 500: Franchise & Licensing Country Comparative Guide (2019, 2020, 2021, 2022).


In addition, Jacob has been designated as country expert regarding franchising in Denmark by the International Distribution Institute (idiproject.com). Jacob is also a member of ABA's (American Bar Association) Forum on Franchising.

Jacob is an expert in relation to distribution and agency law, and he has years of experience in advising national, international and multinational clients within this legal field.

Jacob also provides legal advice on export control and trade sanctions, contract management, and compliance and legal risk management. Jacob has contributed the Danish chapter in "International Comparative Legal Guide to: Sanctions 2020".

The automotive industry is also one of Jacob's special areas of expertise and he has in-depth knowledge of this industry. Jacob's clients include car factories, factory-owned and private car importers as well as banks and financing companies.
Bar Admissions
Danish Association for Corporate Law
Education
2005 Admitted to the bar

2005-2006 External lecturer in intellectual property law and marketing law, Aarhus University2002 Master of Laws, University of Copenhagen
Areas of Practice
Commercial Contracts
Corporate Law
Export Control and Trade Sanctions
Professional Career
Professional Activities and ExperienceAccolades
2020 2021 2022 Legal 500
2022 WWL Franchise
2021 WWL Franchise
2020 WWL Franchise
2019 WWL Franchise
2018 WWL Franchise
2017 Legal 500
2017 WWL Franchise
2016 Legal 500
Articles
Additional Articles
"Beskyttelse af virksomhedsnavne" (Protection of company names), Nyt Juridisk Forlag, 2003



"Selskabsnavne, binavne og brugspligt" (Company names, subsidiary names and use requirement), UfR (the Danish weekly law reports) 2005B.75
"Franchise 2014 in 30 jurisdictions worldwide", Law Business Research Ltd (Danish Chapter)
Meet our Firms and Professionals
WSG's member firms include legal, investment banking and accounting experts across industries and on a global scale. We invite you to meet our member firms and professionals.