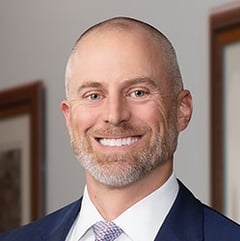 Indiana, USA
Local Time: Thursday 23:08
Practice Expertise
Litigation & Dispute Resolution
Banking & Financial Institutions
Health & Life Sciences
Long-Term Care and Senior Housing
Areas of Practice
Banking & Financial Institutions
Health & Life Sciences
Litigation & Dispute Resolution
Long-Term Care and Senior Housing
Banking & Financial Institutions
Financial Institutions Litigation
Litigation & Dispute Resolution
Professional Liability
Securities Litigation
Securities Litigation and Enforcement
View More
Profile
Seasoned litigator and business problem solver
Jake Bradley leverages his broad experience to bring innovative solutions to every stage of his clients' litigation challenges, from pre-suit negotiation through appeal. The breadth of his practice allows him to remain agile, see all the angles and create a business-aware solution that goes beyond solving the specific litigation issue presented. His financial institution clients further benefit from his practical experience as a licensed financial specialist at a national bank, where he gained experience in investment sales, consumer lending and business lending. He has special emphasis representing:
Financial institutions, grounded in his prior banking experience
Businesses-facing contract disputes of all sorts, including buy/sell agreements, distribution agreements, specialized machinery and buyout agreements
Individuals facing criminal allegations, licensing issues and student disciplinary proceedings
In every matter, Jake works with his clients to develop a strategy that balances business and personal interests with litigation risks.
Bar Admissions

Education

Indiana University Robert H. McKinney School of Law (J.D., 2008)

Indiana Health Law Review (Business Editor)
Northwestern University, Kellogg School of Management, Certificate, Quarles & Brady Leadership Program (2018)
Wabash College (B.A., 2001)
Areas of Practice
Banking & Financial Institutions
Health & Life Sciences
Litigation & Dispute Resolution
Long-Term Care and Senior Housing
Banking & Financial Institutions
Financial Institutions Litigation
Litigation & Dispute Resolution
Professional Liability
Securities Litigation
Securities Litigation and Enforcement
Articles
"Corporate Counsel Roundtable with Networking Lunch"
"Daubert in Indiana, Fifteen Years Later-Still Reliable and Still Inconclusive"
"Hot Topics in Defensive, Mortgage-Related Litigation"
"Recent Application of Wyeth v. Levine Preemption Outside the Prescription Drug Context"
11th Circuit Limits ATDS to Random or Sequential Number Technology
CFPB to Delay TRID Implementation by Two Months
Hold the Phone! Florida Passes New Telemarketing Bill
In Huge Victory for Businesses, Supreme Court Adopts Narrow Interpretation of Autodialer Under TCPA
Indiana Supreme Court: No Duty to Protect Against Certain Criminal Acts
IndyBar Review's Multi-state Professional Responsibility Exam Review Session and Multistate Bar Exam Tips and Tricks Review Session
Quoth the SCOTUS, Nevermore - Third Party Counterclaim Defendants May Not Remove Diverse Lawsuits
​CFPB Proposes Modifications Relating to Small Creditors and Rural and Underserved Areas Under the Truth in Lending Act (Regulation Z)
Seminar
Hot Topics Impacting the Loan Servicing Industry
Hot Topics Impacting the Loan Servicing Industry
Hot Topics Impacting the Loan Servicing Industry
Hot Topics in Defensive, Mortgage-Related Litigation
Indy Fuel Game to benefit the Quarles Climbers Fight for Air Stair Climb team
Meet our Firms and Professionals
WSG's member firms include legal, investment banking and accounting experts across industries and on a global scale. We invite you to meet our member firms and professionals.