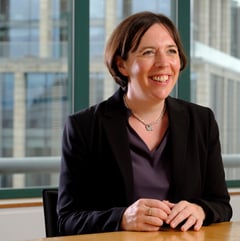 Jacqueline Moore
Head of Immigraton

Practice Expertise
Areas of Practice
Profile
An accredited Law Society of Scotland specialist in Immigration law, Jacqueline has practiced in immigration law for over 18 years. This experience covers both personal and business immigration. She considers any immigration problem from a 360 degree angle due to the depth and breadth of my experience. Through very regular appearance work at both tiers of the Immigration and Asylum Chamber, she has gained a reputation as being a skilful advocate with a very high success rate. In terms of the superior courts, Jacqueline has been the instructing solicitor in a number of reported cases, including Vikram Foods Glasgow Ltd v Secretary of State for the Home Department, 2016 SLT 902. This case was the first successful challenge in the UK to refusal of a Sponsor licence. Jacqueline has particular expertise on Right to Work issues and works closely alongside our employment team to provide joined up advice to HR professionals and HR Managers on areas where immigration/employment law overlap, for example on right to work issues and recruitment practices. Currently, she acts for a number of University clients, advising them on a wide range of immigration issues, including Sponsor compliance (Tier 2 and Tier 5), Brexit related issues and non PBS routes.
Articles
Additional Articles
18.SEP.2018
The MAC report: what businesses need to be aware of
Recommendations set out in Migration Advisory Committee (MAC) report will prove challenging for businesses reliant on low-skilled labour.
06.SEP.2018
Increasing availability of farmland to new entrants
An update on the James Hutton Institute report that identified various models to increase the availability of farmland to new entrants.
05.SEP.2018
Brexit Bulletin: what does a 'no-deal' Brexit mean for CAP payments?
The UK Government has released the first 25 of an expected 84 technical notices outlining what and who would be affected in a no-deal Brexit scenario. We take a look at what a 'no-deal' Brexit means for Common Agricultural Policy (CAP) payments.
Meet our Firms and Professionals
WSG's member firms include legal, investment banking and accounting experts across industries and on a global scale. We invite you to meet our member firms and professionals.