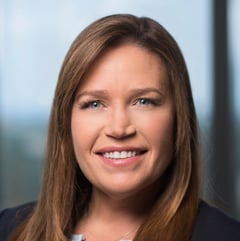 Jennifer Galloway
Counsel
Florida, USA
Local Time: Saturday 03:08
Practice Expertise
Banking and Financial Services
Consumer Financial Protection Bureau (CFPB)
Cybersecurity and Privacy
Areas of Practice
Banking and Financial Services
Consumer Financial Protection Bureau (CFPB)
Cybersecurity and Privacy
Governmental Affairs
Licensing and Examinations
Regulatory Compliance
Small Dollar and Unsecured Consumer Lending
View More
Profile
Jennifer Galloway's practice is dedicated to helping financial services clients successfully navigate increasingly complex regulatory and business environments. She is co-chair of Bradley's Small Dollar and Unsecured Consumer Lending team and focuses on consumer financial services laws and regulations affecting banks, non-depository banks, fintechs and other financial institutions. Jennifer provides skilled regulatory guidance and detailed knowledge of the laws impacting both traditional and innovative lenders in the consumer financial services market, with considerable experience in online consumer lending. Her compliance work includes assisting clients with developing, implementing and maintaining compliance management systems, performing internal compliance audits for clients, preparing clients for outside audits, as well as preparing related lending documents and disclosures. She also counsels financial services companies regarding CFPB preparedness, implementation and operational strategies for complying with the CFPB's regulations, and assists in defending regulatory enforcement actions.
Jennifer advises clients in connection with a variety of other laws, such as the Fair Credit Reporting Act (FCRA), Fair Debt Collection Practices Act (FDCPA), Equal Credit Opportunity Act (ECOA), Telephone Consumer Protection Act (TCPA), Unfair, Deceptive or Abusive Acts or Practices (UDAAP), Electronic Funds Transfer Act (EFTA), Truth in Lending Act (TILA), Gramm-Leach Bliley Act (GLBA) and other privacy laws, as well as laws related to marketing and military lending.
Jennifer offers pre-litigation compliance counseling, advises on sensitive state and federal enforcement matters, and assists in evaluating and lobbying for or against state or federal legislation. Her clients include retail and online lenders, service providers, FinTech companies, consumer reporting agencies, and other financial service entities.
In addition, Jennifer assists business with negotiating contracts and commercial transactions, litigation management, and assisting with regulatory compliance issues. With her strong background in business, she is recognized for her rare ability to translate complex legal issues to clients and assist with mitigating business risk.
Jennifer is an active member of the Online Lenders Alliance, the Consumer Financial Services Committee of the American Bar Association, and the Short-Term Lending Bar Association. She annually presents at several industry conferences on a diverse range of regulatory and compliance topics, writes several industry articles on the same, and is considered a thought leader in this industry.
Bar Admissions

Education

Stetson University College of Law, J.D., 2000
Stetson University, M.B.A., 1999
University of Georgia, B.B.A., Economics, 1996
Areas of Practice
Banking and Financial Services
Consumer Financial Protection Bureau (CFPB)
Cybersecurity and Privacy
Governmental Affairs
Licensing and Examinations
Regulatory Compliance
Small Dollar and Unsecured Consumer Lending