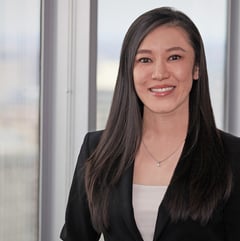 Practice Expertise
Real Estate, Development and Finance
Acquisitions and Dispositions
Commercial Real Estate Lending
Finance and Restructuring
Areas of Practice
Acquisitions and Dispositions
Commercial Real Estate Lending
Finance and Restructuring
Real Estate, Development and Finance
Profile
Jillian is dedicated to working with clients in the financial services industry, helping to find efficient legal solutions for their real estate needs.
Jillian has experience representing financial institutions with the financing of multifamily properties, shopping centers, office buildings, condominiums, mixed-use projects and other various types of real estate. She regularly assists with the drafting and negotiation of contracts involved in real estate financing and commercial lending deals.
Prior to law school, Jillian established a robust career in real estate, having started her own real estate management company. She leverages this industry experience to effectively collaborate with clients and develop a full understanding of each client's business and objectives.
Education
BS, The University of Texas at Dallas, cum laude, 2007
Areas of Practice
Acquisitions and Dispositions
Commercial Real Estate Lending
Finance and Restructuring
Real Estate, Development and Finance