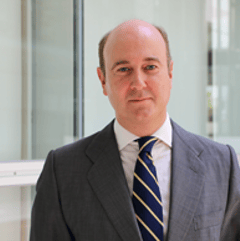 José Miguel Alcolea Cantos
Partner

Madrid, Spain
Local Time: Tuesday 05:20
Practice Expertise
Litigation and Arbitration
Energy
Areas of Practice
Energy
Litigation and Arbitration
Profile
José Miguel Alcolea joined Garrigues as partner in the Litigation and Arbitration practice in July 2016, after more than twenty years of professional practice both in the private sector and in the State Administration.
Jose Miguel has an extensive experience in providing legal advice to large corporations, mainly in the energy sector, in the field of businesses Law and corporate defense. He was included in The Legal 500 Iberia GC Power List in May 2016, among a series of awards, both personally (Iberian Lawyer, 2009) or collectively got (for Iberdrola Legal Department, like Esade 2008 or Forbes 2015, both as the best In-house in Spain).
In addition, he has a remarkable experience as lawyer for the State Administration in Spain, in relation to financial and insurance sectors supervision, Anti-trust, Tax and legal defense at Court.
Prior to joining Garrigues, from February 2004 José Miguel was Director of Business Legal Services at Iberdrola, position from which he was responsible for leading the provision of legal advice to all Iberdrola Group businesses in all the countries where it operates and where the company has a very relevant presence in the energy sector (electricity and gas), mainly Spain, UK, US, Mexico and Brazil. In this position he was also responsible for the direction of the legal defense for all Iberdrola Group companies at Court in the different jurisdictions where they develop their respective activities, before sectorial regulators, before UE Institutions and also in both investment and commercial arbitration procedures.
In this time, he was also responsible for the implementation of the company structure and the governance and compliance Iberdrola Group schemes in order to assure the effective integration and consolidation of all the businesses and the best legal defense for them, everything being accomplished during the Group internationalization process, which main milestones were the acquisitions of Scottish Power (one of the "Big Six" in its sector in UK, 2007), Enery East (today Avangrid in US, 2008) and the Brazilian company Elektro (2011).
He was a board member of Scottish Power Limited, the parent company of Scottish Power Group (from April 2007 to June 2016), and member of the boards of directors of a series of Iberdrola subsidiaries, all with a very relevant size of operations in Spain, the U.S. and other countries like Iberdrola USA, Inc., Iberdrola Ingeniería y Construcción, S.A., Central Maine Power Company, Rochester Gas and Electric Corporation, New York State Electricity and Gas Corporation, Connecticut Natural Gas Corporation and The Berkshire Gas Company. He was also member of the board of directors of Gamesa Corporación Tecnológica, S.A., that is a listed company in Spain (April 2008-November 2011) and he acted as secretary to the board of directors of Desafío Español 2007, S.A., the company set up to coordinate the successful Spanish syndicate participating in the 2007 America's Cup.
Prior joining Iberdrola José Miguel had also a remarkable experience in the State Administration in Spain (1996-2004). He served as chief state attorney for the Secretary of State for Economy, after having held several other positions within the State Legal Department, such as head of legal services at the Directorate-General of Insurance and Pension Funds, member of the Legal Service of the State Tax Agency, Secretary to the Catalan Regional Economic-Administrative Tribunal and state attorney at the Catalan High Court of Justice.
In his time working for the State Administration, he also acted as board secretary of Agencia Efe, S.A. and was a board member of various public entities (Consorcio de Compensación de Seguros, CLEA and SEIASA).
José Miguel has taught on various programs and has spoken at various institutions, such as Universidad Internacional Menéndez Pelayo, Instituto de Empresa, Centro Internacional de Formación Financiera, Club Español de la Energía, Fundación Torre del Clavero, Instituto de Estudios Bursátiles (Madrid Stock Exchange), Fundación Carolina, Instituto de Estudios Fiscales, Universidad Autónoma de Barcelona (School of Legal Practice) and Instituto Nacional de Administración Pública. He has also been a member of the Professional Council at ESADE Law School, representing Iberdrola.
He has been state attorney since March 1996 and is a corresponding member of the Spanish Royal Academy of Jurisprudence and Legislation since September 2014.
Education

Law degree, Universidad Complutense de Madrid (1993). Specialization in Business Law, Universidad CEU San Pablo (1994).
He has studied doctoral courses in law at Universidad Complutense de Madrid (1999-2000) and various postgraduate programs in business administration at IESE in Madrid (2007) and IMD in Lausanne (2012-2013).

Areas of Practice
Litigation and Arbitration
Articles
He has authored or co-authored several publications, including:
"Electricity Industry Taxes" (*), Thomson Reuters Aranzadi, 2013;
"Legal Commentaries for Engineers" (*), La Ley, 2009;
"Treaty for Regulation of the Electricity Industry" (*), Thomson Aranzadi, 2009;
"Law Manual for Engineers" (*), La Ley, 2008;
"Internet Law. E-procurement and digital signature" (*), Editorial Aranzadi, 2000;
"Tax Case Law (administrative rulings and judicial case law on tax-related decisions issued in Cataluña)" (*), Instituto de Estudios Fiscales, 1998.
(*) Originally published in Spanish. Please see Spanish CV for further details.
Meet our Firms and Professionals
WSG's member firms include legal, investment banking and accounting experts across industries and on a global scale. We invite you to meet our member firms and professionals.