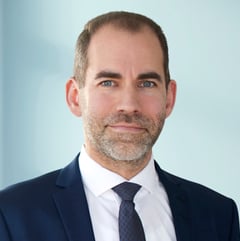 Kasper Frahm
Partner, LL.M.

Copenhagen, Denmark
Local Time: Tuesday 15:22
Practice Expertise
IP Law
Counterfeited Products and Design
Copyright
Areas of Practice
Copyright
Counterfeited Products and Design
IP Law
IP transactions
Patent Law
Trademarks and Domain Names
View More
Profile
Kasper Frahm is head of our Trademark Law and Design team.
Kasper is one of the leading IP law specialists in Denmark. His primary practice areas are trademarks, copyrights, product imitations and patents. Kasper provides advice to and litigates court cases for large Danish and foreign clients, including by means of preliminary injunctions and preservation of evidence. He also has extensive experience in trademark and design portfolio work.
Kasper is author of the book "Product Imitation Case Law" and has written several IP law articles. He lectures on IP rights both in Denmark and abroad and holds an LL.M. in IP law from King's College London. Kasper is a member of the European Trademark Law and Practice Team at MARQUES. On several occasions, he has been recognized by relevant rating publications as the leading attorney within his field of expertise in Denmark.
Highlights 
Andel Holding A/S (formerly SEAS-NVE) - court case about the trademark ANDEL 
Broadcom Inc. - court cases on trademarks and copyrights
Chr. Hansen A/S  - court case on the trademark BB-12
Danske Bank A/S and MobilePay A/S - registration of the first MP3 sound mark in Denmark
Duos A/S - court case on trade secrets in the form of client lists
ETU Forsikring A/S - court case on the trademarks 'Animal Insurance Denmark' and 'Pets for Life'
Harpun A/S - court case on alleged product imitations
Hempel A/S - opposition proceedings concerning trademarks before the EUIPO
Hero AG and Semper Danmark ApS - court case on product imitations
home A/S - court cases on the enforcement of the well-known home trademark 
HusCompagniet A/S - court case on copyright and marketing rights in digital objects and templates 
J.H. Schultz Information A/S - court case on alleged use of the trademark UfR
Linak - court case on patents
The Polo/Ralph Lauren Company L.P. - court case on trademarks
The We Company - court case on trademarks
Vibia Lighting SLU - court case on product imitations 
Education
2012 LL.M. (Intellectual Property), King's College London, England
2011 Admitted to the bar
2008 Master of Laws, University of Copenhagen
Areas of Practice
Copyright
Counterfeited Products and Design
Trademarks and Domain Names
Professional Career
Professional Activities and ExperienceAccolades
2016 2017 2018 2019 2020 2021 2022 IP star
2022 iam1000
2021 2022 Legal 500
2022 WTR 1000
2021 Client Choice
2021 iam1000
2021 WTR 1000
2020 Legal 500
2020 iam1000
2019 2020 WhosWho
2020 WTR 1000
2019 Legal 500
2019 iam1000
2019 WTR 1000
2018 Legal 500
2018 iam1000
2018 WTR 1000
2017 Legal 500
2017 iam1000
2017 WTR 1000
2016 WTR 1000
2016 Legal 500
2015 WTR 1000
Articles
"Brug af andres varemærker i søgeordsreklamer - en status", UfR 2013B.336 ("Use of trademarks in key word advertising - a status", the Danish Weekly Law Reports (UfR) 2013B.336
Chapter on Danish Law, "Intellectual Property in the Life Sciences", Globe Law and Business, 2011
"Denmark's first EU-wide Injunction on the Basis of a Community Trade Mark", article in Intellectual Property - Digital Guide, March 2010
"Den kendetegnsretlige regulering af annoncørers brug af søgeordsreklamer" (The regulation of advertisers' use of keyword advertising under the Danish law on distinctive signs), the Danish Weekly Law Reports (UfR) 2010B.279
Meet our Firms and Professionals
WSG's member firms include legal, investment banking and accounting experts across industries and on a global scale. We invite you to meet our member firms and professionals.