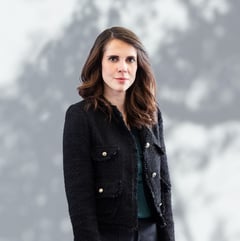 Marion Bähler
Managing Associate

Practice Expertise
Corporate & Commercial
Healthcare & Life Sciences
Industry & Commerce
Private Equity & Venture Capital
Areas of Practice
Corporate & Commercial
Healthcare & Life Sciences
Industry & Commerce
Private Equity & Venture Capital
Capital Markets
Corporate / M&A
Mergers & Acquisitions
Private Equity & Funds
Private Equity & Venture Capital
Start-ups & Venture Capital
View More
Profile
Marion Bähler is a managing associate in our Corporate/M&A-Team. Her preferred areas of practice include M&A, corporate, contract, stock exchange and capital market law. One focus of her work is on private equity and venture capital transactions. She regularly advises start-ups and investors on the entire range of venture capital aspects, including financing rounds, acquisitions, participation plans (ESOPs) and exits. She further advises companies on general corporate law matters, corporate governance and other legal issues surrounding their daily business.
Born in 1987, Marion Bähler studied at the University of Berne and UC Berkeley, School of Law. Before joining Walder Wyss, Marion Bähler worked as an intern at the Administrative Court of the Canton of Bern and as a lawyer in a leading Swiss business law firm in Zurich. She is registered with the Zurich Bar Registry and admitted to practice in all of Switzerland.
Her professional languages are German and English. She also speaks French.
Areas of Practice
Corporate & Commercial
Healthcare & Life Sciences
Industry & Commerce
Private Equity & Venture Capital
Capital Markets
Corporate / M&A
Mergers & Acquisitions
Private Equity & Funds
Private Equity & Venture Capital
Start-ups & Venture Capital
Professional Career
Significant Accomplishments
Walder Wyss advises WEG S.A. as Swiss counsel in the acquisition of the industrial electric motors and generators business of the Regal Rexnord Corporation
Walder Wyss berät Farmy AG bei CHF 10,5 Mio. Finanzierungsrunde
TP24 raises CHF 400m of additional funding from Barclays and M&G
Investcorp invested in Terra Quantum
Axiom group acquires Swisslinx
Porsche SE invests in ABB E-mobility's CHF 325m Pre-IPO Private Placement
Moderne Zahlungsplattform Imburse wird von Duck Creek Technologies übernommen
Walder Wyss berät Farmy bei Crowdfunding-Finanzierungsrunde
Baloise und UBS übernehmen Mehrheit an der Hausbesitzer-Plattform Houzy
Walder Wyss berät Planted Foods AG bei CHF 70 Mio. Series B Finanzierungsrunde
Terra Quantum AG raises a total of USD 75 million in series A financing round
Terra Quantum raises USD 60m Series A Financing
Imburse USD 12 Mio. Series A Finanzierungsrunde
Walder Wyss berät Planted Foods AG bei CHF 17 Mio. Serie A Finanzierungsrunde
Beförderungen bei Walder Wyss
Arkin Holdings beteiligt sich an der Fu Gen AG
Wise Road Capital übernimmt Huba Control von Siemens
Sunrise übernimmt den Web-TV-Pionier Wilmaa
DiNAQOR AG hat einen Kooperations- und Lizenzvertrag mit BioMarin Pharmaceutical Inc. abgeschlossen
SEED erwirbt Mehrheitsbeteiligung an der Sensimed AG
Schweizer FinTech Startup Tradeplus24 mit CHF 120 Mio. Serie A Finanzierungsrunde
CHF 15,5 Millionen Finanzierungsrunde des Schweizer Startups Oculis SA
Chinesischer Tech-Riese Baidu investiert in Schweizer Startup aiCTX
Schweizer Auris Medical Holding AG (Nasdaq) implementiert "Reverse Share Split" mittels Konzernfusion
Metall Zug (SIX: METN) übernimmt Mehrheit an der Haag-Streit Holding AG
Credit Suisse neue Investorin und Partnerin bei Tradeplus24
Articles
Switzerland's new corporate law – what startups and investors need to know
Was Verwaltungsratsmitglieder über das neue Aktienrecht wissen müssen!
Keine stillschweigende Verlängerung von Verwaltundsratsmandaten (Urteil des Bundesgerichts 4A_496/2021 vom 3. Dezember 2021)
IPO Readiness - Stolpersteine auf dem Weg zum Börsengang
Meet our Firms and Professionals
WSG's member firms include legal, investment banking and accounting experts across industries and on a global scale. We invite you to meet our member firms and professionals.