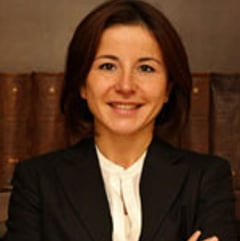 Meral Arabaci Seyfe
Partner

Practice Expertise
Commercial Law, Corporate Law, Business Law
Energy Law
Intellectual Property Law, Trademarks, ...
Litigation
Areas of Practice
Commercial Law, Corporate Law, Business Law
Energy Law
Intellectual Property Law, Trademarks, ...
Litigation
Employment Law
Mergers and Acquisitions
Property and Real Estate Law, Construction ...
View More
Profile
Meral Arabaci Seyfe specializes particularly in Litigation, Commercial Law, Corporate Restructurings, Mergers & Acquisitions, Real Estate Transactions, Energy Law, Contract Management, Corporate Transactions and Due Diligence.
Has been the leading counsel in various M&A projects relating to a range of companies acting in different sectors, such as advertisement, insurance, chemical-, automotive-, pharmaceutical industry, production, etc. and engaged in the drafting of and advised on share purchase agreements, shareholders' agreements, joint venture agreements, other corporate documentation required for completion of the merger and acquisition, license agreements, technology transfer agreements, antitrust matters, etc.
Has been the leading counsel in various real estate projects, involving among others structuring-, financing- and M&A transactions of international funds and engaged in drafting of numerous acquisition-, development-, management agreements in relation to real properties.
Currently focuses on international commercial litigation, handles a range of litigation and claim collection processes, provides ongoing legal consultancy services for a client base comprising of international and domestic reputable clientele in a wide range of civil cases and administrative law matters, including shareholding disputes, labor law cases, commercial claims, tax cases, administrative lawsuits, real estate disputes, bankruptcy and execution proceedings, competition law matters, decisions of regulatory authorities.
Meral Arabaci Seyfe has been with Pekin Bayar Mizrahi since 2005.
Bar Admissions
Bursa Bar Association 2003-2005
Admitted to Istanbul Bar Association (2005)
Education
Istanbul University, School of Law, Istanbul, Turkey LL.B
Gymnasium Essen Nord Ost, Essen - Germany

Areas of Practice
Commercial Law, Corporate Law, Business Law
Energy Law
Intellectual Property Law, Trademarks, Patents, Copyrights
Litigation
Employment Law
Mergers and Acquisitions
Property and Real Estate Law, Construction Law, Leases and Leasing, Planning and Land Use
Professional Career
Professional Activities and Experience
2011/01-2011/09: Legal Director at Alstom Grid Enerji End A.S. (on a temporary employment contract basis)
2005-2010: Associate at Pekin & Bayar Law Firm
2004-2005: Associate at Egemenoglu Law Firm