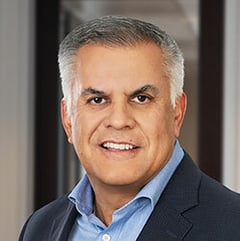 Practice Expertise
Areas of Practice
Labor & Employment
Class Action Defense
Employment Advice, Counseling and Training
Employment Litigation and Dispute Resolution
Financial Institutions Litigation
Higher Education
Internal Investigations and Compliance
Labor & Employment
Labor, Employment & Benefits
Research Institutions & Higher Education
Wage and Hour Compliance and Defense
View More
WSG Practice Industries
WSG Leadership
Employment and Labor Group - Member
Profile
Creating solutions and better experiences for clients
Mike Aldana serves as the chair and managing partner of Quarles and is responsible for leading the development of the firm's short- and long-term goals and strategies, as well as the daily management and operations of the business of the firm. Key to this work is fostering an innovative, client-focused and growth-minded firm culture with a focus on diversity, equity and inclusion.
Mike also advises employers in all facets of labor and employment law, working to understand each client's objectives and investing time to understand how employment strategies and policies align with a client's long-term business goals. He serves as outside general counsel for some clients, offering both strategic and practical advice with regard to crisis management, public relations and interactions with governmental agencies (e.g., regulatory bodies, law enforcement and lawmakers).
Bar Admissions

Education

Harvard Law School Executive Education (Leadership in Law Firms Program, 2016)
University of Michigan Law School (J.D., 1990)
University of Notre Dame, Mendoza College of Business (Certificate of Executive Management, 2013)
University of Wisconsin - Milwaukee (B.A., 1987)
Areas of Practice
Labor & Employment
Class Action Defense
Employment Advice, Counseling and Training
Employment Litigation and Dispute Resolution
Financial Institutions Litigation
Higher Education
Internal Investigations and Compliance
Labor & Employment
Labor, Employment & Benefits
Research Institutions & Higher Education
Wage and Hour Compliance and Defense
Articles
"Adventures in Social Media - R U Serious?"
"FDIC Narrows Offenses that Bar Employment with Banks"
"Labor Department Dramatically Changes Interpretation of Independent Contractor Classification"
"Your Agency Temps Can Now Form A Bargaining Unit With Your Own Employees"
21 States And More Than 50 Business Groups Seek To Block DOL Overtime Rule
Bring Your Gun to Work Day? Employers and Businesses: Get Ready for Wisconsin's New Concealed Carry Law
Checkmate: Dues Checkoff Limitations In Wisconsin's Right To Work Law Found Preempted By Federal Law
Department of Labor Proposes Compensation Increases for Overtime Exemption Tests, Including $50,440 Minimum Salary Basis
Department of Labor's Recent Interpretation Dramatically Changes the Independent Contractor Classification
DOL Overtime Rule Changes Blocked By Federal Judge
DOL Overtime Rule Officially Struck Down, What To Expect Next
FDIC Narrows Offenses That Bar Employment With Banks
Feds Require New Form When Conducting Background Checks
In Groundbreaking Decision, 7th Circuit Court of Appeals Finds Title VII Prohibits Sexual Orientation Discrimination
Labor and Employment Legislative Updates
Minnesota Joins "Ban the Box" Movement, Limits Inquiries into Convictions
National Labor Relations Board Adopts New Joint Employer Standards - Broad New Test Likely to Draw Legal Challenges
New DOL Overtime Rules Announced, Minimum Salary of $47,476
New Independent Contractor Misclassification Settlement Program
New School Year Brings New Bargaining Units—NLRB Rules That Student Teaching Assistants Can Unionize
New School Year Brings New Bargaining Units—NLRB Rules That Student Teaching Assistants Can Unionize
NLRB Affirms Decision Requiring Employers to Allow Employees to Use Work Email for Union Purposes . . . For Now
NLRB Gives Unions Another Win, Permitting Outside Temporary Employees to Vote in Union Elections
NLRB Issues Final Rules Allowing "Quickie Elections"
Say What? Concealed Knives and Switchblades Are Now Permissible Without a License
Seventh Circuit Court of Appeals Upholds Wisconsin's Right to Work Law
Stop Right There: Federal Court Permanently Blocks New Persuader Rules Nationwide
The Department of Labor is at it Again: DOL's New Interpretation Makes Joint Employment "As Broad As Possible" Under FLSA
The Department of Labor Revises Its Rule Regarding "Persuader" Agreements - New Rule Likely to Draw Court Challenges
The Incredible Shrinking Bargaining Unit - The NLRB Strikes Again
Update on Timing of Department of Labor's Final Overtime Rules
We're Not in Fairyland Anymore - Recent Ruling Gives Life to the DOL's Home Care Rule
Wisconsin Enacts Right to Work Law: Practical Consequences for Wisconsin Employers
Wisconsin's Right to Work Law Struck Down By Dane County Judge
Wisconsin's Right to Work Law Upheld by Wisconsin Court of Appeals
​Feds Step Up Enforcement of Transgender Student Rights
​NLRB Rules That Employers' Private Email Systems Aren't So Private Anymore
​Pro Plaintiff Pockets More Than $200k Targeting Businesses' Background Check Procedures: Is Your Company Next?
​Wisconsin Poised to Adopt Right to Work Law: Practical Consequences for Wisconsin Employers
Seminar
2019 Annual Legal Ethics Seminar
2020 Virtual Legal Ethics Seminar
Annual Labor & Employment Law Symposium - Listen. Execute. Succeed.
Annual Labor & Employment Symposium
Annual Labor & Employment Symposium - Get the Big Picture
Independent Contractors or Accidental Employees? The Latest On The Independent Contractor and Joint Employer Wars
Lunch and Learn Seminar: Immigration Law Update/Navigating Background Checks for Employers
Video Replay | 2019 Annual Legal Ethics Seminar
Video Replay | 2020 Annual Legal Ethics Seminar
Video Replay | 2020 Annual Legal Ethics Seminar
Meet our Firms and Professionals
WSG's member firms include legal, investment banking and accounting experts across industries and on a global scale. We invite you to meet our member firms and professionals.