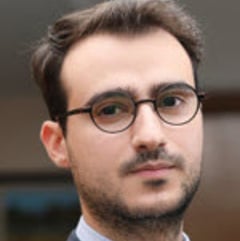 Orestis Anastasiades
Associate

Nicosia, Cyprus
Local Time: Thursday 20:00
Practice Expertise
Competition Law
Intellectual Property Law
Telecommunications, Media & Technology Law
Areas of Practice
Competition Law
Intellectual Property Law
Telecommunications, Media & Technology Law
Corporate & Commercial Law
Data Protection Law
European Union Law
View More
Profile
Orestis Anastasiades joined the firm as an Associate in March 2020, after completing his traineeship with the firm. He practises in competition law, EU law, corporate and commercial law, intellectual property law and data protection law.
Orestis advises on legal and regulatory matters and represents clients' interests before the competent authorities.
Orestis' engagement with competition law spans across the spectrum of this area of law – that is, both antitrust and merger control. Within the context of antitrust, he partakes in proceedings before the Cyprus Commission for the Protection of Competition for the benefit of clients that are active in a range of sectors, including Banking, Insurance, Energy and Waste Management. Additionally, Orestis reviews legal documents and appraises business practices to assess compliance with antitrust requirements.
With an effective understanding of relevant antitrust, telecommunications, cybersecurity, e-commerce, consumer protection, broadcasting, advertising and privacy legal provisions, Orestis regularly advises businesses that are active in various sectors. Clients include automobile enterprises, app development companies and digital media service providers.
Orestis advises on matters pertaining to EU law and regulation, including the legal and regulatory requirements that are applicable to business ventures, in sectors such as pharmaceuticals, food supplements, online platforms and audio-visual media services. Furthermore, he regularly reviews legal documentation to assist clients in complying with relevant local and EU consumer protection laws.
He provides legal expertise on various aspects of telecoms regulation, including the application of electronic communications, regulatory provisions to Internet of Things systems, automobile connected services, and machine-to-machine technologies.
Bar Admissions
Cyprus Bar Association (2020)
Education
LLB in Law, University of Kent, LLM in International Business Law, London School of Economics and Political Science
Areas of Practice
Competition Law
Intellectual Property Law
Telecommunications, Media & Technology Law
Corporate & Commercial Law