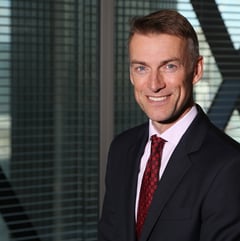 Practice Expertise
Capital Markets and Securities
Energy and Infrastructure
International and Cross-Border Transactions
Africa
Areas of Practice
Africa
Capital Markets and Securities
Energy and Infrastructure
International and Cross-Border Transactions
Energy Transition
International Renewable Energy and Clean ...
LIBOR Transition
Mergers and Acquisitions
Project Finance and Development
View More
Profile
Rob's practice focuses on international corporate and finance transactions, including debt and equity advice to corporates and lending institutions.
Rob is a counsel on the energy and infrastructure team in London. He is a corporate and finance specialist and advises on cross-border debt and equity investments, M&A and restructuring, with a focus on emerging markets businesses located in Eastern Europe, CIS and Africa. Rob also advises financial intermediaries and companies listed on the main market of the London Stock Exchange and admitted to trading on AIM. Rob's experience includes 18 months working within the Office of General Counsel of the European Bank for Reconstruction and Development where he advised on a variety of debt and equity deals across a range of sectors and jurisdictions.
Relevant Experience
Rob's recent experience includes advising:
A company listed on the premium segment of the main market of the London Stock Exchange on a Class One Transaction.
An international lender to finance new 40MWp and 63MWp solar plants in Kazakhstan to be constructed and operated by a leading Chinese manufacturer of solar modules.
A consortium of multinational lenders on a project finance matter that entailed the construction and operation of a 108MWp hydropower plant and a substation in Georgia.
A multinational lender to finance two new 4.5MWp and 11.5MW solar plants in Ukraine.
A consortium of lenders on a project finance transaction to construct and operate a district cooling and heating plant in Amman, Jordan.
A multinational lender on a secured loan facility to the Egyptian subsidiary of the biggest yeast manufacturer in the world supported by a guarantee from the Chinese parent company.
An international lender on a long-term senior loan to an Egyptian subsidiary of the largest ready-mix company in the world.
An international lender on an acquisition finance transaction to one of the leading consumer product companies listed on Athens Stock Exchange.
A consortium of multinational and domestic lenders on various transactions with one of the largest power utilities' group in Poland.
A multinational lender on its first transport project in Mongolia by extending a debt financing to a leading local mining logistics service provider.
An international lender on a loan facility to a global leader in the assessment and certification of professional skills to finance the expansion of the company's software and IT platform.
An IFI on a complex equity swap in one of the largest media and telecommunication corporations in Poland.
A syndicate of global banks in the first private restructuring in the Ukrainian banking sector.
Education
BA, King's College London, Honors, 1987
Areas of Practice
Africa
Capital Markets and Securities
Energy and Infrastructure
International and Cross-Border Transactions
Energy Transition
International Renewable Energy and Clean Power
LIBOR Transition
Mergers and Acquisitions
Project Finance and Development