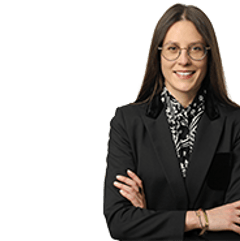 Roxane Allot
Senior Associate

Practice Expertise
Areas of Practice
Arbitration
Corporate & Commercial
Financial Services
Industry & Commerce
Litigation
White Collar Crime & Investigations
View More
Profile
Roxane is a senior associate in our Dispute Resolution and Arbitration Department of Walder Wyss in Geneva. She represents clients in all type of contractual and commercial disputes and represents both companies and individuals before state courts (civil and criminal) and before arbitral tribunals. Her expertise includes namely contractual, corporate, and banking law as well as white collar crime.
Roxane obtained in 2013 a Bachelor of Law from the University of Geneva, after having spent a year at the University of Zurich. In 2015, she studied at the Universities of Geneva and Basel where she received a Bilingual Master in Business Law. She was admitted to the Geneva bar in May 2017 after her traineeship with a reputed Geneva law firm specialized in commercial disputes and corporate law. During her studies, she participated with the University of Geneva to the 21st Willem C. Vis International Commercial Moot, where her team won notably the second place in the Pieter Sanders Award for Best Memorandum for Claimant. In 2015, Roxane and her team from the University of Basel won the 30th Concours René Cassin in Strasbourg. In addition, she was awarded with the price of the best oralist of the competition. During her traineeship, Roxane was finalist of the human rights Moot Court of the Memorial de Caen. Prior to joining Walder Wyss, she worked as an associate in the law firm where she has been trained. In parallel, she was a teaching assistant at the University of Geneva, in charge of coaching the team of the Willem C. Vis International Commercial Arbitration Moot between 2016 and 2019, which obtained outstanding results.
Roxane is currently drafting a PhD in the fields of corporate law and arbitration under the supervision of the Prof. Christoph Müller at the University of Neuchâtel.
She works in French, English and German. Roxane is registered with the Geneva bar and is a member of the Geneva Bar Association, the Swiss Arbitration Association and the Internal Bar Association.
Areas of Practice
Arbitration
Corporate & Commercial
Financial Services
Industry & Commerce
White Collar Crime & Investigations
Professional Career
Significant Accomplishments
Confirmation on appeal of the status of complainant party of a merged entity
Chambers and Partners has moved Walder Wyss's Arbitration Team up to Band 2 in its 2023 Global Ranking
Articles
Doing Business in Switzerland – A Practical Guide
Revisione del diritto societario svizzero
Révision du droit suisse des sociétés
Revision des schweizerischen Aktienrechts
Revision of Swiss Corporate Law
Meet our Firms and Professionals
WSG's member firms include legal, investment banking and accounting experts across industries and on a global scale. We invite you to meet our member firms and professionals.