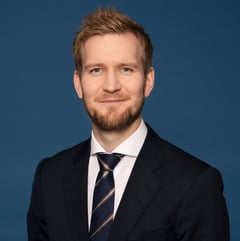 Tage Brigt A. Skoghøy
Associate Partner

Practice Expertise
Litigation and arbitration
Areas of Practice
Litigation and arbitration
Aviation
Banking, Finance and Insurance
Construction
Shipping and Offshore
Technology and Telecom
View More
Profile
Tage Brigt A. Skoghøy is a litigator admitted to the Supreme Court, ranked among Norway's leading lawyers for Dispute Resolution.
Tage is one of our litigation and arbitration specialists, and handles contractual and damages disputes within a number of fields of law and industries. He has considerable expertise pleading before the Norwegian ordinary courts, including the Supreme Court, arbitration panels and the Market Council. Tage's expertise includes also negotiation, court-sponsored mediation, temporary injunctions and enforcement proceedings.
Besides regularly assisting clients within transport and logistics, aviation and real estate/construction, Tage's matters litigated before the Supreme Court is quite illustrating for his broad expertise:
A commission claim-dispute within the shipping industry, clarifying the threshold for establishing a binding contract (2017),
An IPR-dispute within the film industry, clarifying the requirement of originality in the Copyright Act and the transfer of IP rights from employees to employers (2017),
A damages dispute within the shipping industry, concerning a seller's right of stoppage in transit and clarifying the carrier's liability for delivery of goods to the buyer in breach of the seller's instructions to hold (2019), and
A dispute within the aviation industry, clarifying the deadlines for filing compensation claims due to flight delays (2020).
Both national and international lawyer guides rank Tage among Norway's «top ranked lawyers» (Chambers and Partners), «Next Generation Partners» (Legal500) and «Up-and-Coming» (Finansavisen) for Dispute Resolution. He is a litigation lecturer and coach for associates engaged by Juristenes Utdanningssenter, has on several occasions been a litigation/arbitration coach by the Master of Maritime Law-program at UIO, and participates in the Scandinavian arbitration society, i.a. he was the Norwegian panellist on the subject «mandatory mediation» at the Nordic Arbitration Day in Stockholm in 2019.
Areas of Practice
Litigation and arbitration
Aviation
Banking, Finance and Insurance
Construction