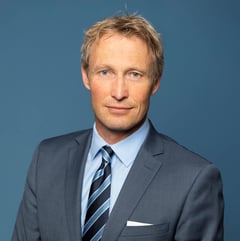 Practice Expertise
Aviation
Communications, IT and media
Banking and Finance
Contracts
Areas of Practice
Aviation
Banking and Finance
Communications, IT and media
Contracts
Automation and Mobility
China Desk
Commercial Contract Law
Corporate and M&A
Corporate Law
IT and Digitalisation
IT, Privacy and Data Security
Mergers and Acquisitions (M&A)
Retail and Groceries
Shipping and Offshore
Technology and Telecom
Venture Capital
View More
WSG Practice Industries
WSG Leadership
Mergers & Acquisitions Group - Member
Private Equity Group - Member
Technology, Media & Telecommunications Group - Member
Profile
Thom Erik Borgen is spesialised within Venture Capital and technology.
Thom Erik has more than 20 years of experience with negotiations and transactions as well as a strategic advisor to the C-suite for companies.
He has especially assisted in developing start-up companies for listed companies or other types of exit, both within the TMT sector, Oil Service and E&P oil companies. He also has significant expertise in automation & mobility and represents several key players in this segment. In addition, Thom Erik works on behalf of international insurance companies that issue Warranty & Indemnity policies in the Norwegian market related to M&A transactions.
Areas of Practice
Aviation
Banking and Finance
Communications, IT and media
Contracts
Automation and Mobility
China Desk
Commercial Contract Law
Corporate and M&A
Corporate Law
IT and Digitalisation
IT, Privacy and Data Security
Mergers and Acquisitions (M&A)
Retail and Groceries
Shipping and Offshore
Technology and Telecom
Venture Capital