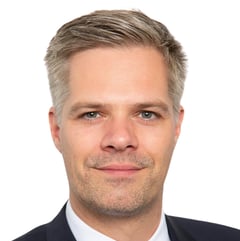 Duesseldorf, Germany
Local Time: Thursday 10:50
Practice Expertise
Energy Law
Renewable Energy
Infrastructure/Regulated Markets
Emissions Trading
Areas of Practice
Energy Law
Renewable Energy
Infrastructure/Regulated Markets
Emissions Trading
Combined Heat and Power
Compliance
Emissions Trading and Climate Protection
Energy Taxes
Mergers and Acquisitions
State Aids
View More
WSG Practice Industries
WSG Leadership
Profile
Tobias is a German lawyer specialising in energy law. His professional career began in early 2011 in White & Case's Duesseldorf energy law team. He joined Heuking Kuehn Lueer Wojtek in January 2017.
Tobias advises German and international energy suppliers, power plant operators, grid operators, investors and project developers as well as companies in the energy-intensive industry, operators of commercial real estate and other large energy consumers. His advisory focus are the European and German regulation of the energy sector, energy trading and energy supply contracts (e.g. financial and physical OTC-agreements, Corporate PPAs) and the European and German emissions trading systems (EU ETS and German national ETS). Moreover, Tobias has broad experience with regard to renewable energies and the legal framework for their promotion under the German Renewable Energy Act (EEG) as well as with respect to new technologies in the energy sector (e.g. e-mobility, power storages) and energy compliance (e.g. REMIT and transparency regulation). Tobias regularly advises on projects and M&A transactions in the energy sector.
Bar Admissions
Admitted to the Bar since 2011
Education
Legal Traineeship Higher Regional Court Duesseldorf (2008-2010)
Universite Rene Descartes (Paris 5) (2003-2004)
University of Muenster (2001-2007)

Areas of Practice
Energy Law
Renewable Energy
Infrastructure/Regulated Markets
Emissions Trading
Combined Heat and Power
Compliance
Emissions Trading and Climate Protection
Energy Taxes
Mergers and Acquisitions
State Aids
Professional Career
Professional Associations
International Bar Association

AIJA; Forum Contracting e.V.
Professional Activities and Experience
Deloitte Legal Rechtsanwaltsgesellschaft mbH (2015-2016)
Client Secondment at Bayer AG (2012-2013)
White & Case LLP (2011-2014)