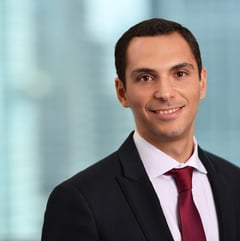 Practice Expertise
Insurance Coverage
Litigation
Areas of Practice
Insurance Coverage
Litigation
Profile
Yaniel advises companies in complex insurance coverage matters. This involves analyzing the company's risk profile to limit exposure and maximize recovery.
Yaniel handles insurance coverage disputes involving directors and officers, errors and omissions, cyber, environmental, and commercial liability policies. He also advises companies on insurance regulatory issues, including captive insurance structuring and compliance issues. This work involves, among other things, helping companies assess whether their operations violate state laws prohibiting companies from transacting in the business of insurance without a license.
Yaniel conducts comprehensive coverage evaluations tailored specifically to each client's business operations. Taking into consideration the company's risk profile, he advises clients on risk management and mitigation strategies. In addition to formidable preemptive efforts to minimize exposure, Yaniel advises clients throughout the lifecycle of claims. This cradle-to-grave approach ensures a deep understanding of the issues and allows for course corrections when necessary during representation. In addition to advising and preparing companies in reporting claims and of their rights and obligations through the handling of the claim by the insurer, Yaniel litigates insurance coverage disputes in state and federal courts.
Bolstering his coverage experience, Yaniel was in-house counsel for an international mobility company where he was exposed to a wide range of business and legal issues. During law school, Yaniel served as a judicial intern for the Honorable John W. Thornton Jr. in the Complex Business Litigation Division of the Eleventh Judicial Circuit of Florida. Yaniel is currently admitted to practice law in Florida, the District of Columbia and the United States District Courts for the Southern and Middle Districts of Florida.
Relevant Experience
Handled a nationwide class-action claim involving defective products and allegations of misrepresentations that implicated multiple lines of insurance, including the insured's D&O policy.
Advised client on compliance issues involving multi-state captive insurance operations.
Advised web-based services company about whether its business operations violated state laws prohibiting persons from transacting in insurance without the proper licensing.
Handled mediations of multimillion-dollar claims involving directors and officers liability, wrongful death and catastrophic injury.
Involved in bad-faith dispute where underlying judgment against the insured exposed its assets because the verdict exceeded the limits of the available insurance.
Education
BA, University of Florida, cum laude, 2011
Articles
Hearsay: An Expanded Residual Exception or More of the Same?, Daily Business Review
Maximizing executive protection under D&O policies: Common disputes and lessons learned from recent case law, Thomson Reuters Westlaw
Delaware Court Rejects Insurers' Argument That Insureds Breached D&O Policies by Settling Merger-related Lawsuits Without Consent, Thomson Reuters Westlaw
Priority Of Coverage Lessons From 2nd Circ. Insurance Ruling, Law360
Will Insurers Invoke the "War Exclusion" to Deny Coverage for Losses from Ransomware?, ACCC
Can Estoppel Coverage be Created if Defense Prejudices the Insured?, Law.com
My Insurance Company Is Bankrupt, But Is Reinsured. Can I Make A Claim Directly Against The Reinsurer?, Insurance Coverage Law Report
Hurricane insurance claims: key causation and coverage issues, WestLaw Insurance
Using the War Exclusion to Deny Computer Virus Claims, The Risk Report
Court: You Can Create Coverage by Estoppel if Insurer's Defense Prejudices the Insured, Daily Business Review
No Mask, No Service – Evolving COVID-19 Orders May Support Insurance Coverage for Retailers' Losses, HarrisMartin
Blogs
Updates, Analysis and Breaking News for Commercial Policyholders
Meet our Firms and Professionals
WSG's member firms include legal, investment banking and accounting experts across industries and on a global scale. We invite you to meet our member firms and professionals.